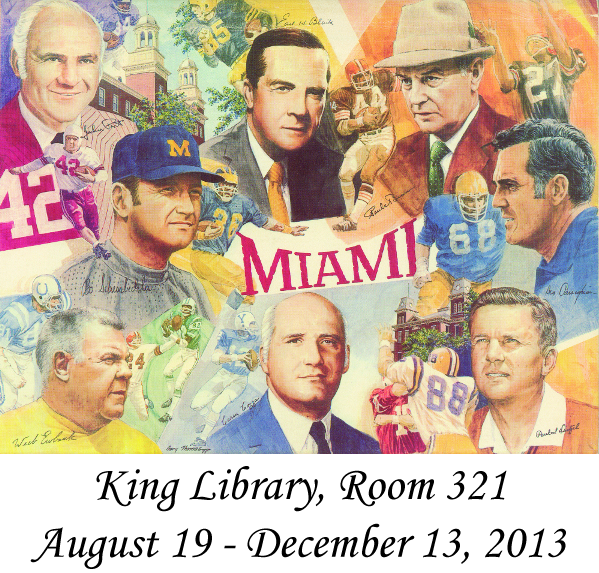 Miami University has a long and proud tradition of producing exceptional coaches. In 1959, Bob Kurz (Class of 1958) coined the term the 'Cradle of Coaches' in reference to the many star football coaches to have passed through Miami University. Since 1959, the term has come to reach beyond football and to all sports at Miami and in 1992, the Cradle of Coaches association was formed to recognize the accomplishments of these coaches. The first four inductees were: Weeb Ewbank (Class of 1928), John Pont ('52), Bob Kurz ('58), and Bill Narduzzi ('59), and the list has since grown to many more, including: Paul Brown ('30), Paul Dietzel ('48), Ara Parseghian ('48), and Carmen Cozza ('52).
In 2000, the Walter Havighurst Special Collections Library at Miami University received a generous donation of the materials of Weeb Ewbank from Gerald and Steve Stout and Nick Selvaggio and, like the Cradle itself, the Cradle of Coaches Archive has since grown.
This fall, Special Collections is pleased to announce the special exhibit The Cradle of Coaches: A Legacy of Excellence, on display in the exhibit room on the 3rd floor of King Library. The exhibit was designed and curated by John Cooper.
This website complements the physical exhibit as well as provides additional information on the coaches and the library's holdings for each. View items sorted by type from the top menu, or by coach from each coach's page.