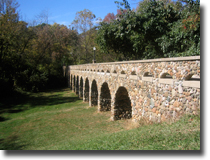 Prolific, scholarly, and considered daringly original, Edgar Stillman Kelley has been called the "dean of American composers."
Teachers were impressed with his early student compositions. Among them were a seminal Polonaise (reminiscent of Chopin, but also influenced by Kelley's reading of Polish historical novelist Henryk Sienkiewicz) and Confluentia (named for the ancient Roman outpost at the junction of the Rhine and Mosel rivers - a region dear to the Kelley's heart).
Professionally, Kelley first made his mark in the music world in 1885 with the orchestral score for Macbeth, but was most famous during his lifetime for the incidental music composed for the staged version of Ben Hur - performed some 6,000 times between 1901 and 1918.
1891 (the year in which he was married) was among Kelley's most productive and varied musically. He published Flower Seekers, based on Chaucer's The Canterbury Tales, Confluentia and Headless Horseman. Reviewers point to evidence of his talent for dramatization and characteristic humor in the latter piece, derived from the climax of Washington Irving's The Legend of Sleepy Hollow.
The New England Symphony (premiered on June 3, 1913 at the Norfolk Festival) is recognized as one of the truly great, indigenous American symphonies. Individual movements are named for quotations from William Bradford's Mayflower diary. (Kelley's mother, Mary Bingham Kelley, was a direct descendant of Plymouth Colony's Gov. William Bradford.) And considered by many to be his finest work, the oratorio Pilgrim's Progress was composed in the new studio on the Western College campus and first performed at the Cincinnati May Festival in 1918.
Kelley directed the premiere of Alice in Wonderland at the Norfolk Magic Festival, June 5, 1919, and an expanded orchestral version was presented as a ballet several times in Cincinnati. Elaborately staged with a cast of some 350 performers, it was performed for the Lewis Carroll centenary with proceeds benefiting the unemployed.
Master of both choral and orchestral music, he was in later life honored by the formation of the Edgar Stillman Kelley Society, which was dedicated to supporting the publication of American music.