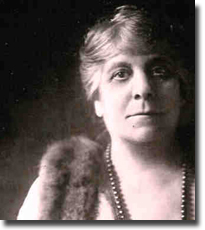 Edgar Stillman Kelley first met and befriended young "Jessie" Gregg in San Francisco, where he was working as a church organist. They kept in touch, but it was only after Edgar moved to New York to work and Jessie to study that their relationship became serious. Their mutual love of music drew them to one another, and they were married on July 23, 1891. Their marriage would last until Edgar's death in 1944.
Jessie Stillman Kelley played a crucial role in the success of her husband. Her love for him and selfless dedication to his work were obvious to all who knew them. An accomplished pianist and singer in her own right, she continued to perform with him but basically gave up her own career to devote her considerable managerial skills to promoting his. Throughout their 53-year marriage, Jessie was Edgar's partner, manager, publicist, inspiration and greatest fan.
Also a highly regarded piano instructor, Mrs. Kelley was, in fact, the one invited to join the Western College for Women faculty. She would head the piano department, and a fellowship in musical composition was established for her husband. It was a happy and productive arrangement for all concerned - especially the generations of Western students with whom the Kelleys shared their music and their lives.
Jessie Kelley's second love was music education. While in Oxford, she found time to lecture on musical subjects and contributed greatly to such organizations as the Ohio Music Teachers' Association, the Ohio Federated Music Clubs, and the National Federation of Music Clubs - all of which she served as president at one time or another.