Paul Brown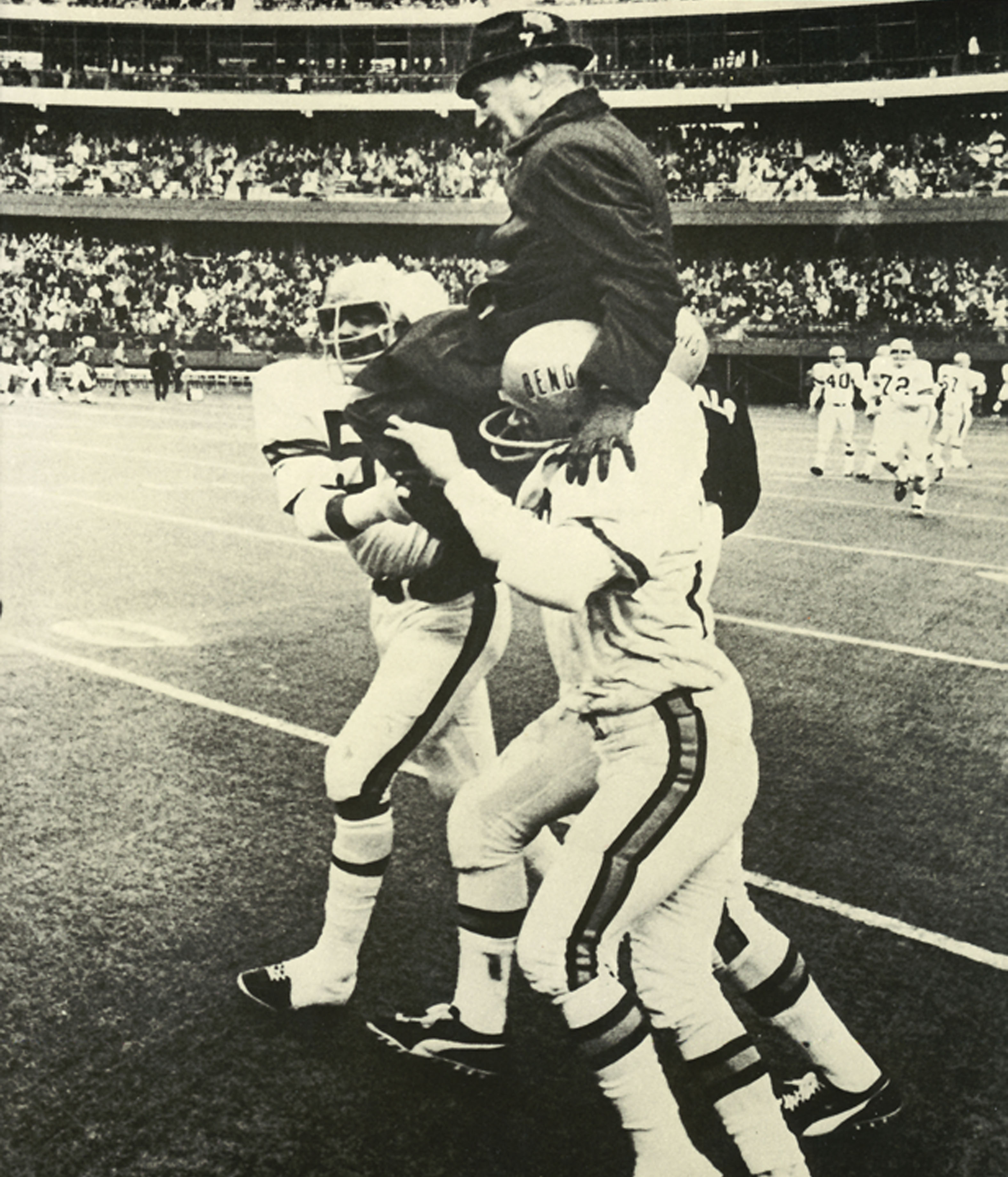 Biography
b. September 7, 1908 - d. August 5, 1991
Years at Miami: 1927-1930
Alma Mater: Miami University (1930)
Career Record: 338-127-15 (72.0%)
Paul Eugene Brown was born on September 7, 1908 in Norwalk, Ohio, where he lived with his parents Lester and Ida until he was nine years old. At this time his father, who was a railroad dispatcher in Norwalk, was transferred to Massillon, Ohio. At Washington High School is Massillon Brown played football, basketball, baseball and also ran track. As a starting quarterback Brown led the Tigers to a 15-3 record in two years. While at Washington High, PB also met his first wife Kathryn (Katie) Kester. It was during a fire drill his junior year that the sophomore Katie caught his eye. They were later married on June 10, 1929 and lived happily until Katie died of a heart attack in 1969. They had three kids; Robin, Mike and Pete.
In the fall of 1926, after graduating high school, Paul Brown enrolled at Ohio State University with the dream of suiting up for the Buckeyes football team. However, this dream came to an abrupt end when an assistant coach told him he was too small and was not even allowed to try out for the team. His time in Columbus only lasted one year and he transferred to Miami University that next fall.
Fortunately for Brown, Chester Pittser and the Miami coaching staff did not find him to be too small, and allowed him onto the team. Due to injuries, Brown was named the starting quarterback his junior year and never let go of it. He guided the Redskins to records of 6-2 as a junior, and 7-2 as a senior.
In 1930, after graduating from Miami, Brown moved from Oxford to Maryland to teach/coach at Severn Prep High School. Brown was only at Severn for two seasons, 1930 and 1931. They went 12-2-1 in his two seasons and won the state championship in 1930.
After the 1931 season the head coaching job in Massillon, Brown's alma mater, became available. Brown was named their next head coach. So in 1932 he returned to his hometown and would stay there for the next nine years. Along with coaching football, he also taught History and English.
When Brown got to Massillon the team was coming off a 2-10 season, and he knew the team had a long way to go. While they improved to 5-4-1 in his first year, it was still well below his standards. In 1933 they improved to 8-2, and again to 9-1 in 1934. In 1934 Brown was named athletic director in addition to his coaching duties. From 1935 to 1940 Brown's Tigers won 58 games, including 35 straight wins, 6 state championships and 4 national championships. He was also named Director of Recreation for the city of Massillon. His final record at Washington High School was 80-8-2. Due to the success of the team, in 1937 they were able to afford to build a new stadium. This was later renamed to Paul Brown Tiger Stadium.
While at Massillon, Brown invented the playbook. He gave every player a ring notebook to help memorize the plays. He believed that the playing field was only a part of learning football. He was also the first to use hand signals to call plays. This later developed into a messenger system of having a player (in this case guards) running the plays into the quarterback, which is still widely used in high school and college.
With his nationally recognized success Brown became the youngest coach in Big Ten history and took over as head coach of Ohio State University in 1941. In his second season at Ohio State, Brown led the Buckeyes to their first ever National Championship. The following year the nation was in the midst of World War II and after finishing his third season at Ohio State, Brown was sent to the Great Lakes Naval Academy, in Chicago, and took up the head coaching position for their football team. He left Ohio State with a record of 18-8-1 (68.5%).
In his two years at Great Lakes his teams went 15-5-2 with a memorable victory over Notre Dame in 1945. While in Chicago, Brown was stationed with future successful head coaches Weeb Ewbank, who served on his coaching staff, and Ara Parseghian and Bud Grant, who were both players on the team.
While things were wrapping up at Great Lakes, Brown was approached by Arch Ward about coaching a professional football team in Cleveland, in the new All-American Football Conference. He was hesitant at first but eventually accepted the position to coach the Cleveland Browns. Until Brown finished his Naval obligations he hired John Brickels to sign the players he wanted. Brickels would later go on to become the Athletic Director at Miami from 1949 to 1964 (when he died of a heart attack).
The Cleveland Browns came into existence, along with the All American Football Conference (AAFC) in 1946. The Browns won the AAFC league championship all four years of its existence, 1946-1949. After the 1949 season the AAFC disassembled and the Cleveland Browns and San Francisco 49ers joined the NFL.
In 1950, Cleveland's first year in the NFL, they won the league championship, making it five straight championships. From 1946 to 1955, they won titles 7 out of 10 years and were runners up the other three years. In 1962, due to conflict with Browns owner Art Modell, Paul Brown was fired as the head coach. In his 17 season with the Browns they amassed a record of 158-48-8, with 7 league championships, and 11 division titles.
After a few seasons off Brown was approached to coach numerous teams but declined, because he didn't feel like they were the right situations for him. This changed when he met with one of his former Ohio State players, Bill Hackett. This meeting laid the groundwork for the forming of the Cincinnati Bengals.
The Bengals officially joined the AFL in 1967, and played their first game in 1968. Two seasons later, the AFL merged with the NFL. In his six seasons with the Bengals in the NFL, Coach Brown went 48-36-0 winning two division championships. However, they failed to win a playoff game in those six years. After the 1975 season Paul Brown stepped down as head coach of the Cincinnati Bengals, but stayed on as team President until his death on August 5th, 1991.
In 45 years of coaching Paul Brown was 338-127-15 (72.0%). He won 7 league championships (4 in the AAFC and 3 in the NFL), 1 NCAA championship (1942 Ohio State), 4 high school national championships, and 7 state championships (6 in Ohio, 1 in Maryland). His 213 professional football wins currently rank him 5th all time, and his 66.7% place him 9th (minimum 100 games coached). He was named Coach of the Year in 1957, 1969 and 1970 and was inducted into the NFL Hall of Fame in 1967 (one year before the Bengals joined the AFL). He is also credited with inventing the playbook, the facemask and the draw play. Brown was also instrumental in developing the West Coast offense along with his offensive coordinator, at the time, Bill Walsh. In 2000, the Bengals built a new stadium on the Ohio River in downtown Cincinnati and named it Paul Brown Stadium. After his death Paul Brown was buried at Rose Hill Cemetery in Massillon, Ohio.
Awards & Accomplishments
High School National Championship (1935, 1936, 1939, 1940)
NCAA National Championship (1942)
AAFC Championship (1946-1949)
Sporting News Coach of the Year (1949, 1951, 1953)
NFL Championship (1950, 1954, 1955)
UPI NFL Coach of the Year (1957, 1969, 1970)
NFL Hall of Fame Inductee (1967)
Miami Hall of Fame (1969)
Walter Camp Man of the Year (1989)
Miami University Cradle of Coaches Hall of Fame (1993)
Career Overview
Year

Team

Wins

Losses

Ties

%

Playoffs

1930

Severn Prep (Maryland)*

7

0

0

100.0%

NA

NA

1931

Severn Prep (Maryland)

5

2

1

68.8%

NA

NA

Severn Totals

12

2

1

83.3%

NA

NA

1932

Washington High School

5

4

1

55.0%

NA

NA

1933

Washington High School

8

2

0

80.0%

NA

NA

1934

Washington High School

9

1

0

90.0%

NA

NA

1935

Washington High School*

10

0

0

100.0%

NA

NA

1936

Washington High School*

10

0

0

100.0%

NA

NA

1937

Washington High School*

9

1

0

90.0%

NA

NA

1938

Washington High School*

9

0

1

95.0%

NA

NA

1939

Washington High School*

10

0

0

100.0%

NA

NA

1940

Washington High School*

10

0

0

100.0%

NA

NA

Washington Totals

80

8

2

90.0%

NA

NA

1941

Ohio State University

6

1

1

81.3%

NA

NA

1942

Ohio State University

9

1

0

90.0%

NA

NA

1943

Ohio State University

3

6

0

33.3%

NA

NA

Ohio State Totals

18

8

1

68.5%

NA

NA

1944

Great Lakes Naval Academy

9

2

1

79.2%

NA

NA

1945

Great Lakes Naval Academy

6

3

1

65.0%

NA

NA

Great Lakes Totals

15

5

2

72.7%

NA

NA

1946

Cleveland Browns (AAFC)

12

2

0

85.7%

1

0

1947

Cleveland Browns (AAFC)

12

1

1

89.3%

1

0

1948

Cleveland Browns (AAFC)

14

0

0

100.0%

1

0

1949

Cleveland Browns (AAFC)

9

1

2

83.3%

2

0

Cleveland (AAFC) Totals

47

4

3

89.8%

5

0

1950

Cleveland Browns (NFL)

10

2

0

83.3%

2

0

1951

Cleveland Browns (NFL)

11

1

0

91.7%

0

1

1952

Cleveland Browns (NFL)

8

4

0

66.7%

0

1

1953

Cleveland Browns (NFL)

11

1

0

91.7%

0

1

1954

Cleveland Browns (NFL)

9

3

0

75.0%

1

0

1955

Cleveland Browns (NFL)

9

2

1

79.2%

1

0

1956

Cleveland Browns (NFL)

5

7

0

41.7%

NA

NA

1957

Cleveland Browns (NFL)

9

2

1

79.2%

0

1

1958

Cleveland Browns (NFL)

9

3

0

75.0%

0

1

1959

Cleveland Browns (NFL)

7

5

0

58.3%

NA

NA

1960

Cleveland Browns (NFL)

8

3

1

70.8%

NA

NA

1961

Cleveland Browns (NFL)

8

5

1

60.7%

NA

NA

1962

Cleveland Browns (NFL)

7

6

1

53.6%

NA

NA

Cleveland (NFL) Totals

111

44

5

70.9%

4

5

1968

Cincinnati Bengals (AFL)

3

11

0

21.4%

NA

NA

1969

Cincinnati Bengals (AFL)

4

9

1

32.1%

NA

NA

Cincinnati (AFL) Totals

7

20

1

26.8%

NA

NA

1970

Cincinnati Bengals (NFL)^

8

6

0

57.1%

0

1

1971

Cincinnati Bengals (NFL)

4

10

0

28.6%

NA

NA

1972

Cincinnati Bengals (NFL)

8

6

0

57.1%

NA

NA

1973

Cincinnati Bengals (NFL)^

10

4

0

71.4%

0

1

1974

Cincinnati Bengals (NFL)

7

7

0

50.0%

NA

NA

1975

Cincinnati Bengals (NFL)

11

3

0

78.6%

0

1

Cincinnati (NFL) Totals

48

36

0

57.1%

0

3

High School Totals

92

10

3

89.0%

NA

NA

NCAA Totals

33

13

3

70.4%

NA

NA

AAFC Totals

47

4

3

89.8%

5

0

AFL Totals

7

20

1

26.8%

NA

NA

NFL Totals

159

80

5

66.2%

4

8

Professional Football Totals

213

104

9

66.7%

9

8

Career Totals

338

127

15

72.0%

9

8

* denotes High School State Championship

BOLD denotes National Championship

Italic denotes Conference Championship

^ denotes Division Championship