Weeb Ewbank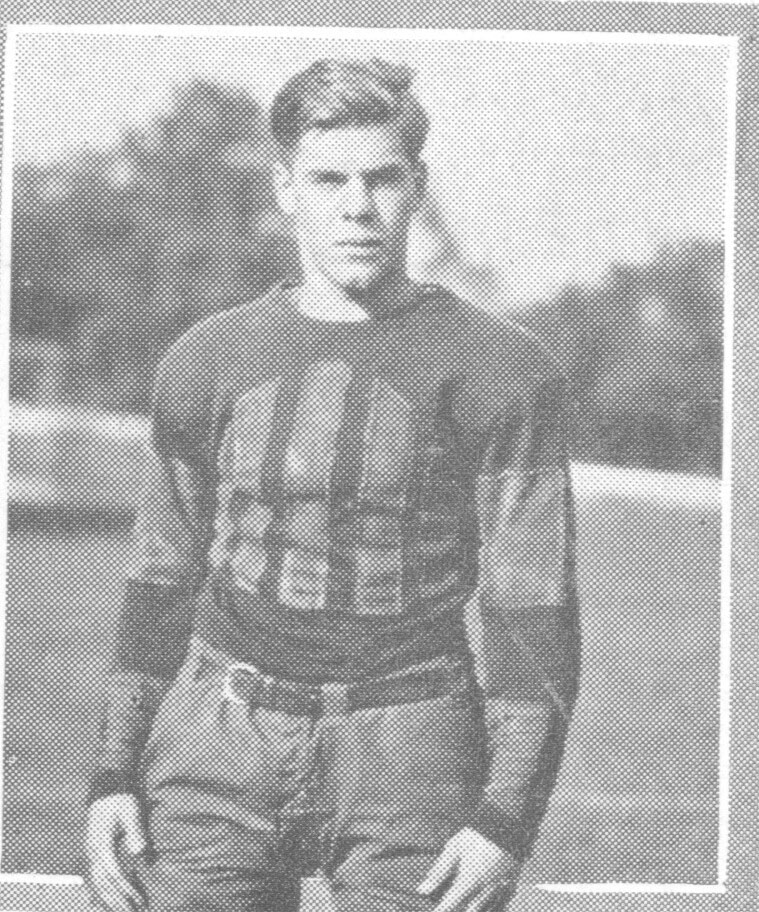 Biography
b. May 6, 1907 – d. November 17, 1998
Years at Miami: 1924-1928; 1930-1943
Alma Mater: Miami University (1928)
Career Record: 219-74-18 (73.3%)
Wilbur "Weeb" Charles Ewbank was born on May 6, 1907 in Richmond, Indiana. He was very active as a child playing every sport imaginable. This was apparent when he came to Miami University and played football, basketball and baseball. In football he was coached by Chester Pittser and was a teammate of Paul Brown.
Ewbank graduated from Miami in 1928 and accepted a position at Van Wert High School in Ohio that same year. In two seasons as the football coach Ewbank amassed a record of 3-14-2 (21.0%). From there Ewbank returned to Oxford as the coach of all sports at the McGuffey School. He remained in this position for fourteen season (1930-1943) with a record of 72-27-9 (70.8%)* with four conference championships (1934, 1936-1937, and 1940) and one state championship (1937).
Ewbank left McGuffey when he joined the Navy in 1944. He was stationed at the Great Lakes Naval Academy in Chicago. Here he was reunited with Paul Brown. Ewbank served as Brown's assistant with the football team. Another Miami legend, Ara Parseghian, was a member of this team. When Ewbank's service was complete, in 1946, he accepted an assistant coaching position under "Rip" Engle at Brown University. Future Penn State University head coach, Joe Paterno, was a member of that Brown team.
Ewbank left Brown after one season to be the head coach at Washington University in St. Louis. In two seasons he led the Bears to a record of 14-4-0 (77.7%). Ewbank then moved into the NFL as an assistant for his old friend Paul Brown and the Cleveland Browns. Ewbank held this position from 1949-1953.
In 1954 Ewbank became head coach of the Baltimore Colts. The Colts were a new franchise in only their second season of professional football. Because of this the talent level was low when Ewbank first came to Baltimore. After a few years of acquiring talent, like Johnny Unitas, Raymond Berry, Alan Ameche and Lenny Moore, Ewbank led the Colts to the NFL title in 1958 and again in 1959. After a couple of mediocre years, Ewbank was fired in Baltimore. His overall record in Baltimore was 59-52-1 (53.2%).
Ewbank was not unemployed for long before he became the head coach of another new franchise, this time with the AFL's New York Jets. This was the franchise's fourth season and had failed to produce a winning record in any of the previous three seasons. He began building the team from the bottom up and acquired talent like Joe Namath, Don Maynard and Emerson Boozer. In his fifth year, Ewbank led the Jets to the AFL championship and appearance against his former team, the Baltimore Colts, in Super Bowl III. Some were hailing the Colts as the greatest team ever and Ewbank's Jets were heavy underdogs. After a guaranteeing a victory, Jets quarterback, Joe Namath, helped Ewbank upset his former and win the Super Bowl. This was the first time the AFL had defeated the NFL in the Super Bowl and Ewbank is the only coach to win an NFL title, and AFL title and a Super Bowl. The two leagues merged a year later.
In eleven seasons with the Jets, Ewbank had a record of 71-77-6 (48.0%). He stepped down as head coach after the 1972 season, but remained as the team's General Manager. Ewbank's career record was: 130-129-7 (50.2%) in professional football; 14-4-0 (77.7%) in college football; and 75-41-11 (63.4%) in high school football. His total record, at all levels, was 219-174-18 (55.5%). Ewbank was inducted into the NFL Hall of Fame in 1978. "Weeb" Ewbank passed away on November 17, 1998.
Awards & Accomplishments
4x high school conference champ (1934, 1936, 1937, 1940)
1x Ohio high school state champ (1937)
1x Coach of the Year (1958) 2x NFL Champ (1958, 1959)
1x AFL Champ (1968)
1x Super Bowl Champ (1969)
Miami University Athletic Hall of Fame (1969)
NFL Hall of Fame (1978)
Miami University's Cradle of Coaches Hall of Fame (1992)
Named Head Coach of the All-Time AFL Team Member of the Indiana Football Hall of Fame
Career Overview
Year

Team

W

L

T

%

1928

Van Wert High School

3

6

0

33.3%

1929

Van Wert High School

0

8

2

10.0%

Van Wert Totals

3

14

2

21.1%

1930

McGuffey High School

5

3

0

62.5%

1931

McGuffey High School (?)

4

1

2

71.4%

1932

McGuffey High School

5

1

1

78.6%

1933

McGuffey High School

4

3

1

56.3%

1934

McGuffey High School*

3

3

2

50.0%

1935

McGuffey High School

3

3

2

50.0%

1936

McGuffey High School*

8

0

0

100.0%

1937

McGuffey High School^*

9

0

0

100.0%

1938

McGuffey High School

7

2

0

77.8%

1939

McGuffey High School

8

3

0

72.7%

1940

McGuffey High School*

8

0

0

100.0%

1941

McGuffey High School

3

5

0

37.5%

1942

McGuffey High School

5

3

1

61.1%

1943

McGuffey High School

0

0

0

NA

McGuffey Totals

72

27

9

70.8%

1944

Great Lakes Asst. (Paul Brown)

1945

Great Lakes Asst. (Paul Brown)

1946

Brown Assistant (Rip Engle)

1947

Washington University

5

3

0

62.5%

1948

Washington University

9

1

0

90.0%

Washington Totals

14

4

0

77.8%

1949

Cleveland Asst. (Paul Brown)

1950

Cleveland Asst. (Paul Brown)

1951

Cleveland Asst. (Paul Brown)

1952

Cleveland Asst. (Paul Brown)

1953

Cleveland Asst. (Paul Brown)

1954

Baltimore Colts (NFL)

3

9

0

25.0%

1955

Baltimore Colts (NFL)

5

6

1

45.8%

1956

Baltimore Colts (NFL)

5

7

0

41.7%

1957

Baltimore Colts (NFL)

7

5

0

58.3%

1958

Baltimore Colts (NFL)^

9

3

0

75.0%

1959

Baltimore Colts (NFL)^

9

3

0

75.0%

1960

Baltimore Colts (NFL)

6

6

0

50.0%

1961

Baltimore Colts (NFL)

8

6

0

57.1%

1962

Baltimore Colts (NFL)

7

7

0

50.0%

Baltimore Totals

59

52

1

53.1%

1963

New York Jets (AFL)

5

8

1

39.3%

1964

New York Jets (AFL)

5

8

1

39.3%

1965

New York Jets (AFL)

5

8

1

39.3%

1966

New York Jets (AFL)

6

6

2

50.0%

1967

New York Jets (AFL)

8

5

1

60.7%

1968

New York Jets (AFL)

11

3

0

78.6%

1969

New York Jets (AFL)^

10

4

0

71.4%

1970

New York Jets (NFL)

4

10

0

28.6%

1971

New York Jets (NFL)

6

8

0

42.9%

1972

New York Jets (NFL)

7

7

0

50.0%

1973

New York Jets (NFL)

4

10

0

28.6%

1974

Jets (Vice President)

Jets Totals

71

77

6

48.1%

High School Totals

75

41

11

63.4%

College Totals

14

4

0

77.8%

AFL Totals

50

42

6

54.1%

NFL Totals

80

87

1

47.9%

Professional Totals

130

129

7

50.2%

Career Totals

219

174

18

55.5%

*denotes Conference Championship

^denotes State or Professional Championship