John Pont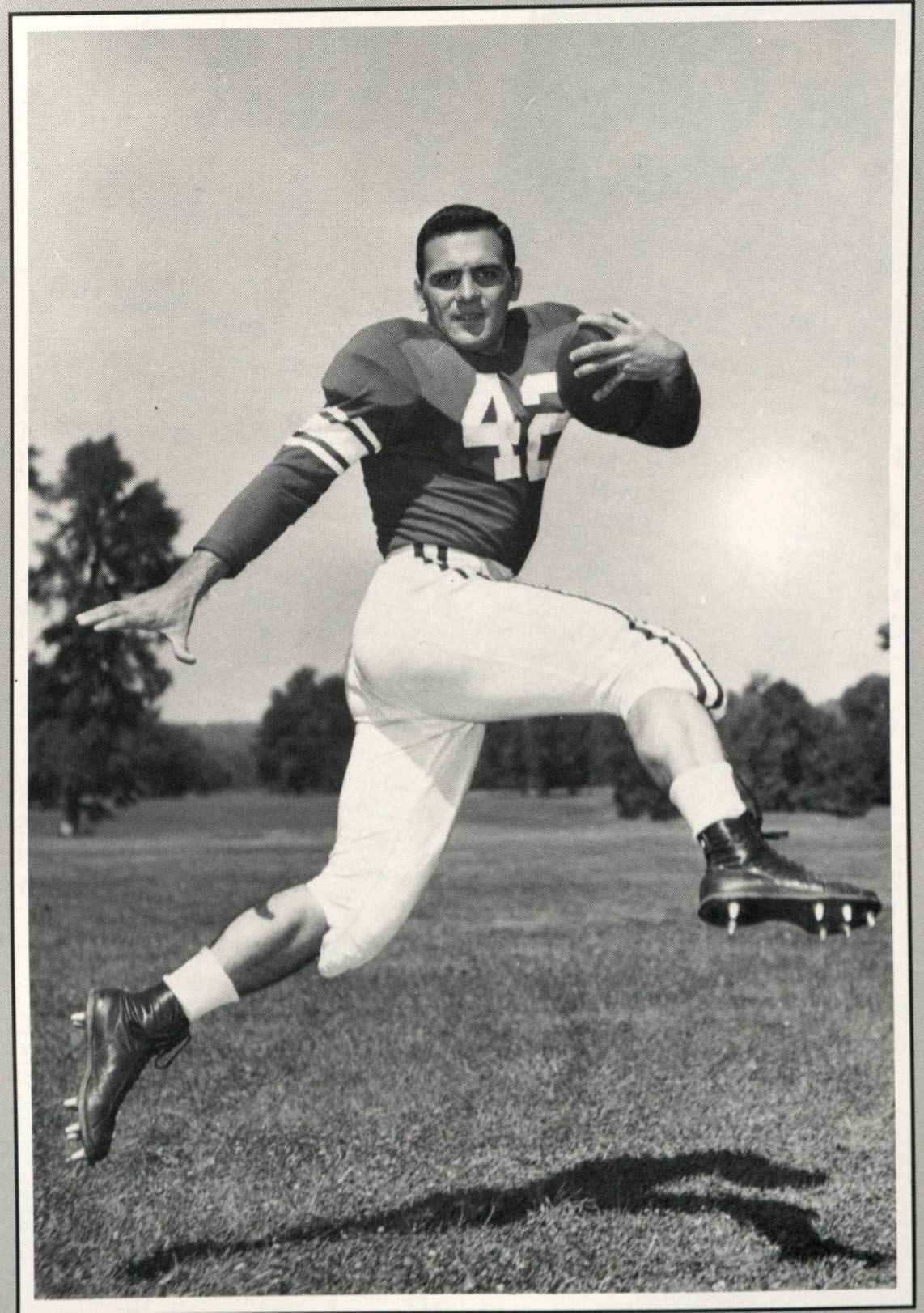 Biography
b. November 11, 1927 - d. July 1, 2008
Years at Miami: 1948-1952; 1953-1955; 1956-1962
Alma Mater: Miami University (1952)
Career Record: 194-206-10 (48.5%)
John Pont was born on November 13, 1927 in Canton, Ohio. Growing up in Canton John played football at Timken High School. After graduation he spent a few years in the military and then came to Miami University on the G.I. Bill.
He was a varsity starter at halfback from 1949-1951. In his three years starting for Miami, he led the nation in rushing (1949), was named All-Mid-American Conference (MAC) three times, and honorable mention All-American twice, while playing for Woody Hayes and Ara Parseghian. John Pont's football number 42 was retired in 1951, and was the first of three numbers to be retired by Miami University (Bob Hitchens-40; and Ben Roethlisburger-7). He was also a member of the Sigma Chi Fraternity. His career totals include 2,457 rushing yards and 27 total touchdowns, both school records at the time.
Upon graduating from Miami John served one tour as a Navy submariner. After his tour he played one year of football in Canada for the Toronto Balmy Beach Beachers in the Ontario Rugby Football Association. He won the Imperial Oil Trophy as league MVP for the 1952 season, his one and only season.
In 1953, then Miami head coach Ara Parseghian asked John to coach the freshman team for Miami. He served as an assistant from 1953 to 1955. After the 1955 season Ara left Miami to be the head coach of Northwestern University. John Pont was named the new Head Coach for Miami and became the youngest head coach in the country at 27.
In his years at Miami (1956-1962) John Pont went 43-22-2 (66.2%). Miami won two MAC championships under John Pont in 1957 and 1958. They were also chosen to play in the Tangerine Bowl after the 1962 season.
After seven successful seasons at Miami, John left to be the head coach of Yale University. He coached there for two seasons, 1963 and 1964, and went 12-5-1 (69.4%). In 1965 he was named the head coach of the Big Ten's Indiana Hoosiers where he coached for eight years (1965-1972). In 1967 Coach Pont led the Hoosiers to their first and only Rose Bowl appearance and their last Big Ten Championship. That year he won the AFCA Coach of the Year Award.
In 1973 John left Indiana for Northwestern University. He was the head coach for the Wildcats from 1973 to 1977. In 1975 the athletic director resigned and Coach Pont was named the new athletic director in addition to his coaching duties. After performing both duties for a few years, he resigned as head coach in 1977 and was solely the athletic director. He performed this duty until 1980.
In 1984 he got back into coaching at Hamilton High School in Hamilton, Ohio, where he was the head coach from 1985 to 1987 with a record of 12-17-0 (41.4%). After two more seasons off Pont became head coach of the College of Mount St. Joseph, in Cincinnati, as they were looking to start a football. He coached at Mount St. Joseph until 1992. His record at Mount St. Joseph was 9-20-0 (31.3%).
Starting in 1993 Pont spent his summers in Japan coaching football for ROCBULL in Japan's X-League. In nine seasons he was 41-15-3 (72.0%). They went 21-0 in Pont's first three seasons winning the league championship each year. They won another league title in 1999. Pont retired for good in 2004. His final career record at every level is 194-206-10 (48.5%). He died on July 1, 2008 in Oxford.
Awards & Accomplishments
All-MAC (1949-1951)
Honorable Mention All-American (1951)
Miami University Number Retired, 42 (1951)
Imperial Oil Trophy (1952)
2x MAC Champ (1957, 1958)
Big Ten Champ (1967)
AFCA Coach of the Year (1967)
Miami University Athletic Hall of Fame (1969)
Indiana University Athletic Hall of Fame (1969)
Miami University Cradle of Coaches Hall of Fame (1992)
MAC Hall of Fame (1992)
4x Japan League Champ (1993, 1994, 1995 and 1999)
Career Overview
Year

Team

W

L

T

%

1953

Miami University Assistant (Ara Parseghian)

1954

Miami University Assistant (Ara Parseghian)

1955

Miami University Assistant (Ara Parseghian)

1956

Miami University

7

1

1

83.3%

1957

Miami University*

6

3

0

66.7%

1958

Miami University*

6

3

0

66.7%

1959

Miami University

5

4

0

55.6%

1960

Miami University

5

5

0

50.0%

1961

Miami University

6

4

0

60.0%

1962

Miami University

8

2

1

77.3%

Miami Totals

43

22

2

65.7%

1963

Yale University

6

3

0

66.7%

1964

Yale University

6

2

1

72.2%

Yale Totals

12

5

1

69.4%

1965

Indiana University

2

8

0

20.0%

1966

Indiana University

1

8

1

15.0%

1967

Indiana University*

9

2

0

81.8%

1968

Indiana University

6

4

0

60.0%

1969

Indiana University

4

6

0

40.0%

1970

Indiana University

1

9

0

10.0%

1971

Indiana University

3

8

0

27.3%

1972

Indiana University

5

6

0

45.5%

Indiana Totals

31

51

1

38.0%

1973

Northwestern University

5

6

0

45.5%

1974

Northwestern University

2

8

0

20.0%

1975

Northwestern University

3

8

0

27.3%

1976

Northwestern University

1

10

0

9.1%

1977

Northwestern University

1

10

0

9.1%

1978

Northwestern University Athletic Director

1979

Northwestern University Athletic Director

1980

Northwestern University Athletic Director

Northwestern Totals

12

42

0

22.2%

Did Not Coach (1981-1984)

1985

Hamilton High School

4

6

0

40.0%

1986

Hamilton High School

4

5

0

44.4%

1987

Hamilton High School

4

6

0

40.0%

Hamilton Totals

12

17

0

41.4%

Did Not Coach (1988-1989)

1990

College of Mount St. Joseph

1

9

0

10.0%

1991

College of Mount St. Joseph

4

6

0

40.0%

1992

College of Mount St. Joseph

4

5

0

44.4%

Mt. St. Joseph Totals

9

20

0

31.0%

1993

ROCBULL (Japan)*

7

0

0

100.0%

1994

ROCBULL (Japan)*

7

0

0

100.0%

1995

ROCBULL (Japan)*

7

0

0

100.0%

1996

ROCBULL (Japan)

3

1

1

70.0%

1997

ROCBULL (Japan)

4

1

0

80.0%

1998

ROCBULL (Japan)

3

1

1

70.0%

1999

ROCBULL (Japan)*

5

0

0

100.0%

2000

ROCBULL (Japan)

1

4

0

20.0%

2001

ROCBULL (Japan)

2

3

0

40.0%

2002

ROCBULL (Japan)

2

3

0

40.0%

2003

ROCBULL (Japan)

1

3

1

30.0%

2004

ROCBULL (Japan) Advisor

ROCBULL Totals

42

16

3

71.3%

High School Totals

12

17

0

41.4%

NCAA Totals

107

140

4

43.4%

Japan Totals

75

49

6

60.0%

Career Totals

194

206

10

48.5%

*denotes Conference or League Championship