Ara Parseghian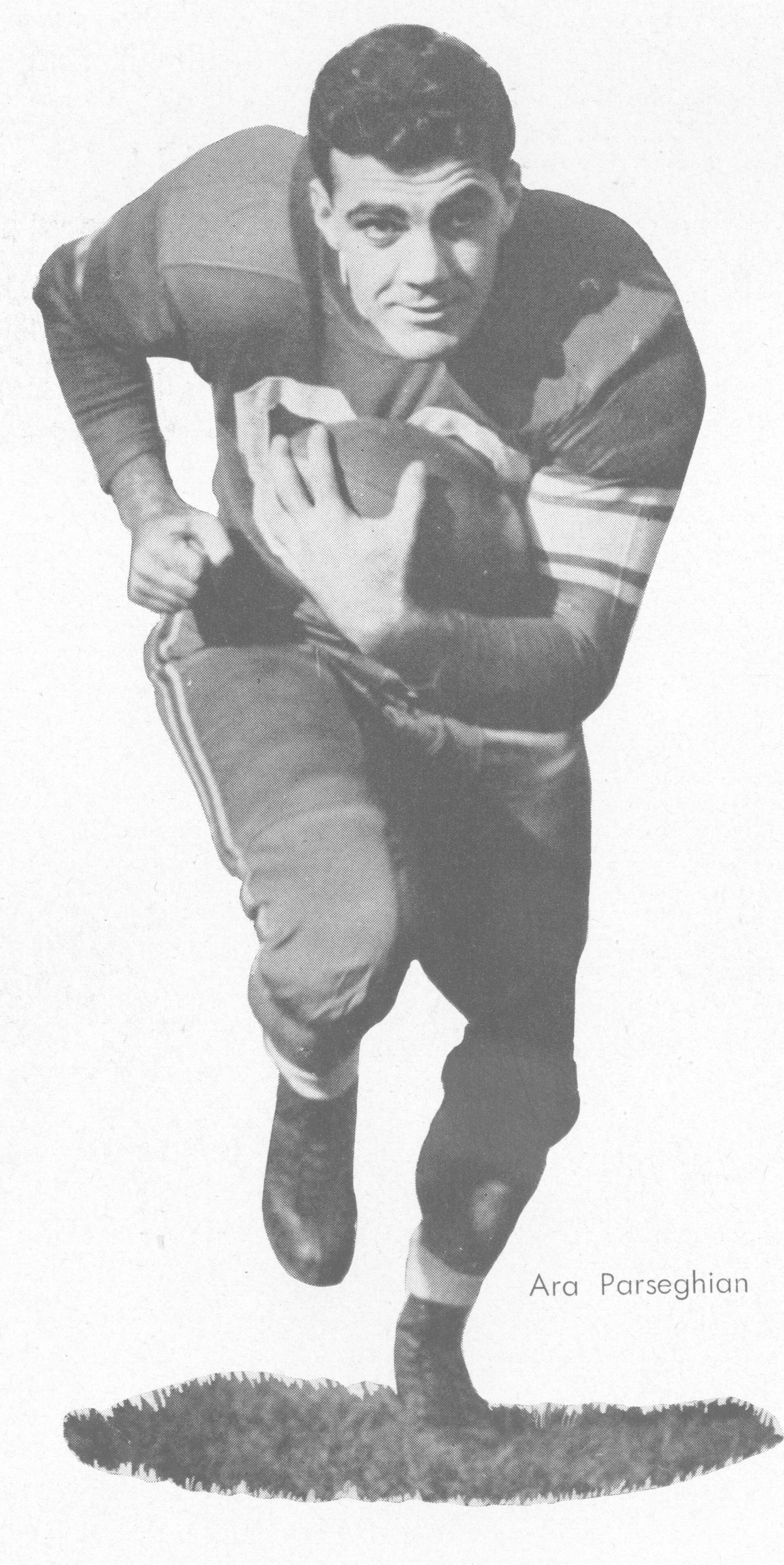 Biography
b. May 21, 1923
Years at Miami: 1945-1947; 1950; 1951-1955
Alma Mater: Miami University (1948)
Career Record: 170-58-6 (73.9%)
Ara Raoul Parseghian was born on May 21, 1923 in Akron, Ohio, to Armenian and French parents. While growing up in Akron, Ara was a four sport star at Akron South High School: football, basketball, baseball and golf. After high school Ara served in the Navy and World War II. He was stationed at the Great Lakes Naval Academy and played on their football team coached by Paul Brown in 1944. When he returned from the Navy he enrolled at Miami University in Oxford, Ohio, where he played three sports: football, basketball and baseball and lettered in all three. Miami's head coach at this time was the legendary Sid Gillman. Ara started for Gillman in both 1946 and 1947. Ara was named little All-America (award for smaller schools) in 1947 and already being married went into professional football to support his family.
Ara played for the Cleveland Browns of the All-American Football League (AAFL) and his former coach Paul Brown. He played two years for the Browns, 1948-1949 before suffering a career ending hip injury. While with the Browns Ara gained 199 yards, scored two touchdowns and intercepted one pass.
Ara's career coaching record is 170-58-6 (73.9%) with two National Championships with Notre Dame. He was inducted into the College Football Hall of Fame in 1980. After retirement Ara worked as a play-by-play announcer for ABC (1975-1981) and NBC (1982-1988). He also has a statue at the Miami University Cradle of Coaches Plaza outside of their football complex.
Awards & Accomplishments
2x National Champion (1966, 1973)
2x MAC Champion (1954, 1955)
AFCA Coach of the Year (1964)
Sporting News Coach of the Year (1966)
Miami University Hall of Fame (1969)
College Football Hall of Fame (1980)
Miami University Cradle of Coaches Hall of Fame (1993)
Amos Alonzo Stagg Award (1997)
Career Overview
Year

Team

Wins

Losses

Ties

%

Bowl

W/L

1950

Miami University Assistant (Woody Hayes)

1951

Miami University

7

3

0

70.0%

NA

NA

1952

Miami University

8

1

0

88.9%

NA

NA

1953

Miami University

7

1

1

83.3%

NA

NA

1954

Miami University*

8

1

0

88.9%

NA

NA

1955

Miami University*

9

0

0

100.0%

NA

NA

Miami Totals

39

6

1

85.9%

NA

NA

1956

Northwestern University

4

4

1

50.0%

NA

NA

1957

Northwestern University

0

9

0

0.0%

NA

NA

1958

Northwestern University

5

4

0

55.6%

NA

NA

1959

Northwestern University

6

3

0

66.7%

NA

NA

1960

Northwestern University

5

4

0

55.6%

NA

NA

1961

Northwestern University

4

5

0

44.4%

NA

NA

1962

Northwestern University

7

2

0

77.8%

NA

NA

1963

Northwestern University

5

4

0

55.6%

NA

NA

Northwestern Totals

36

35

1

50.7%

NA

NA

1964

University of Notre Dame

9

1

90.0%

NA

NA

1965

University of Notre Dame

7

2

1

75.0%

NA

NA

1966

University of Notre Dame^

9

0

1

95.0%

NA

NA

1967

University of Notre Dame

8

2

0

80.0%

NA

NA

1968

University of Notre Dame

7

2

1

75.0%

NA

NA

1969

University of Notre Dame

8

2

1

77.3%

Cotton

L

1970

University of Notre Dame

10

1

0

90.9%

Cotton

W

1971

University of Notre Dame

8

2

0

80.0%

NA

NA

1972

University of Notre Dame

8

3

0

72.7%

Orange

L

1973

University of Notre Dame^

11

0

0

100.0%

Sugar

W

1974

University of Notre Dame

10

2

0

83.3%

Orange

W

Notre Dame Totals

95

17

4

83.6%

Career Totals

170

58

6

73.9%

5

3-2

*denotes Conference Championship

^denotes National Championship