Unfinished Legacies
Those That Have Left Us...
While many of the coaches associated with the Cradle of Coaches have passed away, a handful of them left us while they were still coaching. Their legacy will always end with a question mark of what could've been.
Randy Walker had turned Northwestern into a consistent winner and perennial bowl team, could he have taken them to the next level, or found success with a "bigger" football program? Terry Hoeppner had Indiana on the verge of becoming relevant in the Big Ten, could he have maintained that success and built them into a consistent winner? Dave McClain had led Wisconsin to bowl games in three of his last five seasons including the first bowl victory in school history, were the Badgers and McClain heading towards becoming Big Ten contenders? Bill Narduzzi had been fired from Youngstown State after being one of the most successful coaches in school history before passing away two years later, where would his next head coaching job have been and what kind of success would he have had? This case is to honor these coaches who left us before their real greatness could be realized.
Dave McClain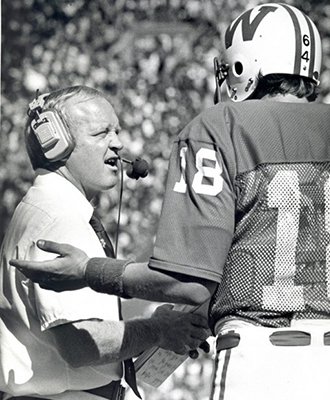 Dave McClain, a graduate of Bowling Green State University, was an assistant coach at Miami from 1963-1966, under the legendary Bo Schembechler. He would later become head coach at Ball State University in 1971, a position he would hold for seven seasons. While at Ball State, McClain accumulated a record of 46-25-3 (64.2%) including a MAC Championship (1976) and a MAC Coach of the Year Award (1975). His success at Ball State led to his hire at the University of Wisconsin. After eight seasons at Wisconsin, McClain died on April 28, 1986. His career record was 92-67-6 (57.6%).
Bill Narduzzi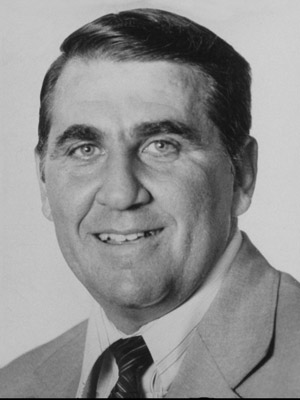 Bill Narduzzi played football at Miami for Ara Parseghian and John Pont. After graduating in 1959, Narduzzi coached high school football for a few years and had assistant coaching stints at the University of Pittsburgh and Brown University before becoming Carm Cozza'a defensive coordinator at Yale in 1965. He eventually became head coach at Youngstown State University in 1975, a position he would hold until he was inexplicably fired in 1985. In eleven seasons guiding the Penguins, Narduzzi had a record of 68-51-0 (57.1%) including two conference championships, two playoff appearances, the first playoff victory in school history and the first National Championship Game appearance in school history. After his termination he became the defensive coordinator at Columbia University for two seasons before passing away on February 4, 1988.
Terry Hoeppner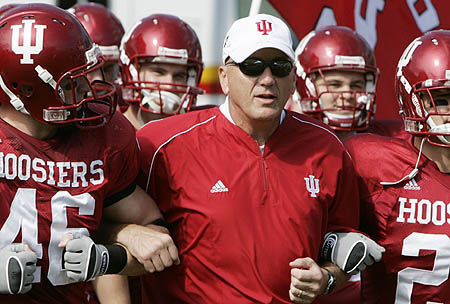 After graduating from Franklin College in 1969, Terry Hoeppner spent several years as a high school football coach, and later as defensive coordinator at his alma mater, Franklin before coming to Miami University in 1986 as the linebacker coach for Tim Rose. In 1990, Randy Walker took over as Miami's head coach, but Hoeppner remained on staff and in 1993 was promoted to assistant head coach. Randy Walker would leave Miami to become head coach at Northwestern University in 1999 and Hoeppner replaced him as head coach. Hoeppner would remain in that position until 2004, guiding the Redhawks to a record of 48-25-0 (65.7%), including a 2003 season that saw the Redhwaks finish 13-1, win a MAC Championship and finish ranked #10 in the AP Poll. His success at Miami led to his hire at Indiana University, a perennial bottom dweller in the Big Ten Conference. Hoeppner was starting to bring the Hoosiers out of the basement of the Big Ten when he passed away on June 19, 2007 from brain cancer.
Randy Walker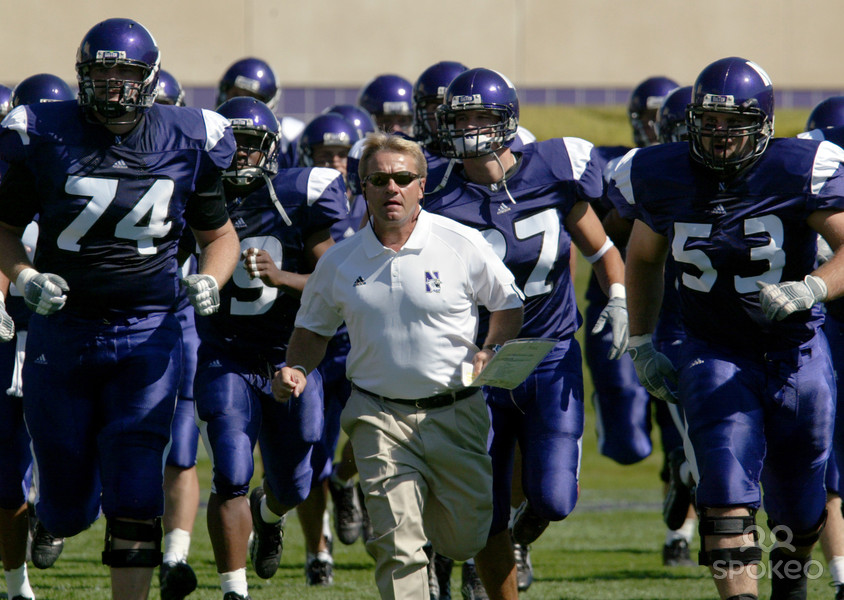 Randy Walker played football for Miami from 1972-1975 under coaches Bill Mallory and Dick Crum. After graduating in 1976, Walker remained in Oxford as an assistant coach under Dick Crum. When Crum accepted a position at the University of North Carolina in 1978, Walker went with him. He eventually found his way back to Miami as head coach in 1990. He spent nine seasons at the helm in Oxford and is the all-time winningest coach in school history with a record of 59-36-5 (61.5%). In 1999 he became the head coach at Northwestern University and led them to a share of the Big Ten Championship in 2000. After leading the Wildcats to a 7-5 record in 2005, Randy Walker died of a heart attack on June 29, 2006.