Carmen Cozza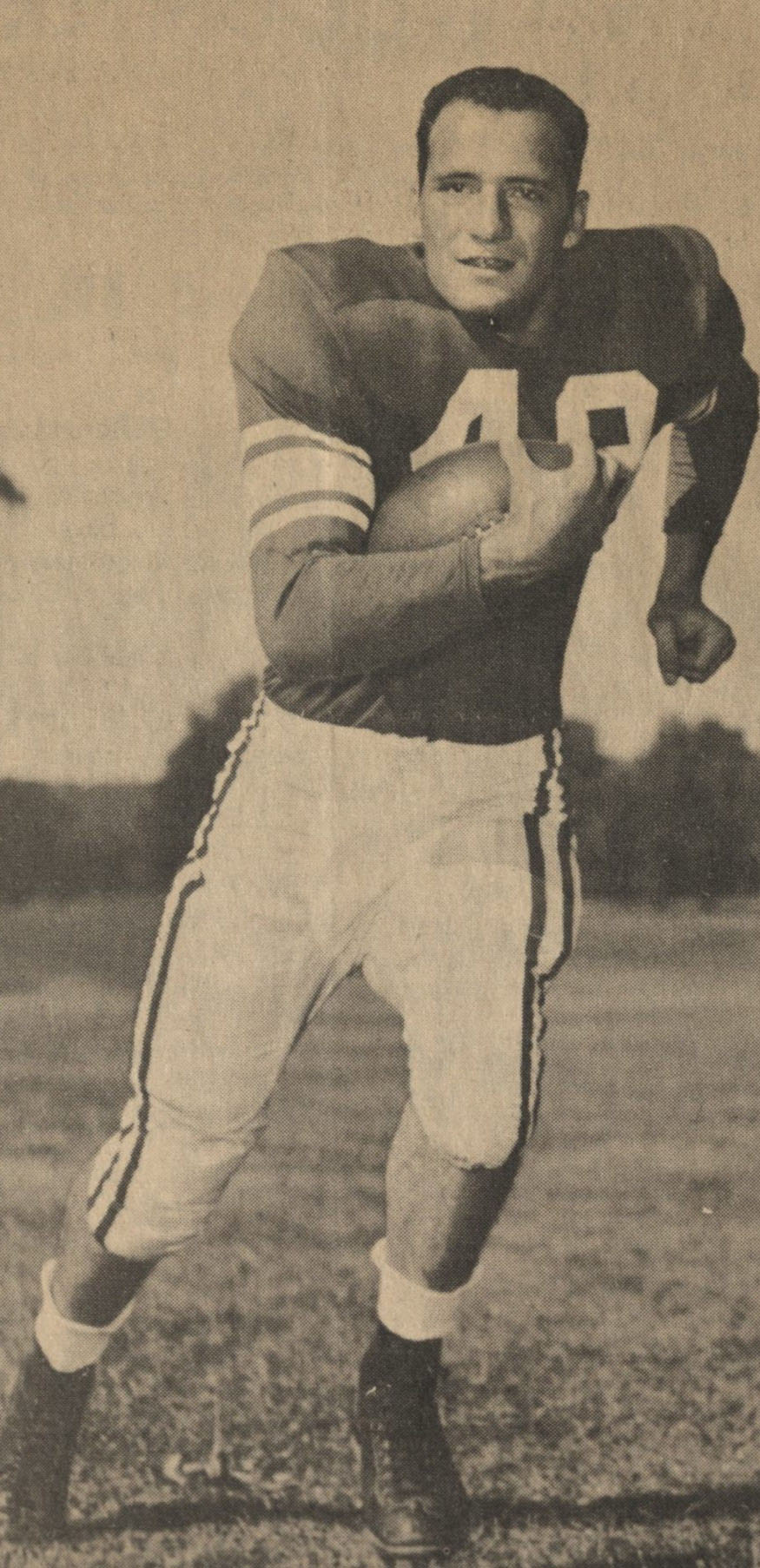 Biography
b . June 10, 1930
Years at Miami: 1948-1952; 1956-1962
Alma Mater: Miami University (1952)
Career Record: 187-120-5 (60.7%)
Born on June 10, 1930 in Parma, Ohio to Italian immigrants, Carmen (Carm) Cozza was the youngest of five children and the only boy. His parents, James and Carbita Cozza, came to American from Italy with their parents when they were children. Cozza met his future wife, Jean, in second grade: they lived on the same block. They would eventually get married after they both graduated from college (Jean graduated from Ohio State) on June 28, 1952. They had three daughters: Kris, Karen and Kathy. Growing up Cozza played sports as often as he could and he was quite good at them too. At Parma-Schaff High School he played football, basketball, baseball and also ran a little track. He was an eleven time letter winner as well as team captain in basketball and baseball, MVP in football and baseball and class president. His senior year of high school he was offered a scholarship to play football and baseball (his better sport) at Miami.
While at Miami, Cozza was coached by George Blackburn, Woody Hayes and Ara Parseghian. He also roomed with fellow player, and future coach John Pont (who would later be the best man at Cozza's wedding). When Cozza left Miami he was the Miami record holder for interceptions in a game (4), season (6) and career (12).
Cozza finished his career with a record of 179-119-5 (59.9%) and 135-85-5 (61.1%) in the Ivy League (with ten conference championships), and, possibly more importantly, a winning record against Harvard (16-15-1). He coached five Rhodes Scholars (Tom Neville, Kurt Schmoke, Bill Crowley, Roosevelt Thompson and Chris Brown), 15 NFL players, 96 All-Ivy League players, 6 Ivy-League MVP's. Another amazing statistic, and in my opinion, the most impressive: over 99% of his players received degrees. He was inducted into the College Football Hall of Fame in 2002.
Awards & Accomplishments
Miami University Hall of Fame (1970)
Walter Camp Distinguished American Award (1992)
Miami University Cradle of Coaches Hall of Fame (1998)
College Football Hall of Fame (2002)
Career Overview
Year

Team

W

L

T

%

1952

Miami University Graduate Assistant (Ara Parseghian)

1953

Gilmour High School Assistant (Ray Janasek)

1954

Collinwood High School Assistant (????)

1955

Gilmour High School*

8

1

0

88.8%

Gilmour Totals

8

1

0

88.8%

1956

Miami University Assistant (John Pont)

1957

Miami University Assistant (John Pont)

1958

Miami University Assistant (John Pont)

1959

Miami University Assistant (John Pont)

1960

Miami University Assistant (John Pont)

1961

Miami University Assistant (John Pont)

1962

Miami University Assistant (John Pont)

1963

Yale University Assistant (John Pont)

1964

Yale University Assistant (John Pont)

1965

Yale University

3

6

0

33.3%

1966

Yale University

4

5

0

44.4%

1967

Yale University*

8

1

0

88.9%

1968

Yale University*

8

0

1

94.4%

1969

Yale University*

7

2

0

77.8%

1970

Yale University

7

2

0

77.8%

1971

Yale University

4

5

0

44.4%

1972

Yale University

7

2

0

77.8%

1973

Yale University

6

3

0

66.7%

1974

Yale University*

8

1

0

88.9%

1975

Yale University

7

2

0

77.8%

1976

Yale University*

8

1

0

88.9%

1977

Yale University*

7

2

0

77.8%

1978

Yale University

5

2

2

66.7%

1979

Yale University*

8

1

0

88.9%

1980

Yale University*

8

2

0

80.0%

1981

Yale University*

9

1

0

90.0%

1982

Yale University

4

6

0

40.0%

1983

Yale University

1

9

0

10.0%

1984

Yale University

6

3

0

66.7%

1985

Yale University

4

4

1

50.0%

1986

Yale University

3

7

0

30.0%

1987

Yale University

7

3

0

70.0%

1988

Yale University

3

6

1

35.0%

1989

Yale University*

8

2

0

80.0%

1990

Yale University

6

4

0

60.0%

1991

Yale University

6

4

0

60.0%

1992

Yale University

4

6

0

40.0%

1993

Yale University

3

7

0

30.0%

1994

Yale University

5

5

0

50.0%

1995

Yale University

3

7

0

30.0%

1996

Yale University

2

8

0

20.0%

Yale Totals

179

119

5

59.9%

High School Totals

8

1

0

88.9%

NCAA Totals

179

119

5

59.9%

Career Totals

187

120

5

60.7%

*denotes Conference Championship