Bo Schembechler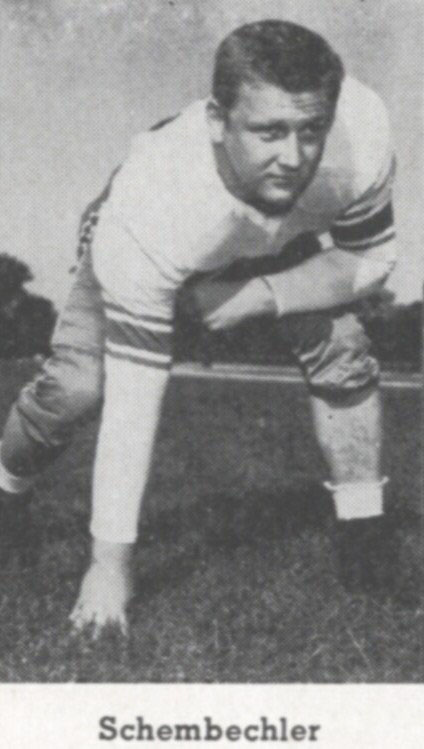 Biography
b. April 1, 1929 - d. November 17, 2006
Years at Miami: 1947-1951; 1963-1968
Alma Mater: Miami University (1951)
Career Record: 234-65-8 (77.5%)
Glenn "Bo" Schembechler was born on April 1, 1929 in Barberton, Ohio, a suburb of Akron. He attended Miami University and played football for Sid Gillman, George Blackburn and Woody Hayes. He graduated in 1951. After graduating he followed his former coach, Woody Hayes, to Ohio State University as a graduate assistant. He then served on year in the military before working as an assistant coach at Presbyterian College, Bowling Green State University, with legendary Doyt Perry, and Northwestern University under Ara Parseghian. In 1958 Bo returned to Ohio State to be an assistant under Hayes. He remained there for five seasons before earning his first head coaching job at Miami University, his alma mater.
Bo spent six seasons at Miami with a record of 40-17-3 (69.2%) and two MAC Championships. He left Miami in 1969 to become head coach at the University of Michigan. This began what is known as the "Ten Year War" between Bo and the University of Michigan and Woody Hayes and Ohio State University. During this time Ohio State or Michigan won the Big Ten Conference every year, and six of those years they tied for the Championship. The series was split 5-5 during those ten years. Hayes was fired in 1978 for hitting a player from an opposing team, ending the "War," but not the rivalry between the schools.
Bo retired from coaching in 1989. His record at Michigan was 194-48-5 (79.6%) with thirteen Big Ten Championships. While at Michigan he developed the motto "Those that stay will be champions." This proved true in that every player who stayed for four years won at least one Big Ten Championship and never endured a losing record. Bo was inducted into the College Football Hall of Fame in 1993. His final career record is 234-65-8 (77.5%). His 238 wins currently rank him twelfth among FBS coaches.
Awards & Accomplishments
MAC Coach of the Year (1965)
4x Coach of the Year (1969, 1977, 1985, 1989)
6x Big Ten Coach of the Year (1972, 1976, 1980, 1982, 1985, 1989)
Miami University Athletics Hall of Fame (1972)
Miami University Hall of Honor (1992)
College Football Hall of Fame (1993)
Amos Alonzo Stagg Award (1999)
Miami University Cradle of Coaches Hall of Fame (2004)
Career Accomplishments
Year

Team

W

L

T

%

1951

Ohio State University GA (Woody Hayes)

1952

Ohio State University GA (Woody Hayes)

1953

Did Not Coach (Military)

1954

Presbetyrian College Assistant (Bill Crutchfield)

1955

Bowling Green State University Assistant (Doyt Perry)

1956

Northwestern University Assistant (Ara Parseghian)

1957

Northwestern University Assistant (Ara Parseghian)

1958

Ohio State University Assistant (Woody Hayes)

1959

Ohio State University Assistant (Woody Hayes)

1960

Ohio State University Assistant (Woody Hayes)

1961

Ohio State University Assistant (Woody Hayes)

1962

Ohio State University Assistant (Woody Hayes)

1963

Miami University

5

3

2

60.0%

1964

Miami University

6

3

1

65.0%

1965

Miami University*

7

3

0

70.0%

1966

Miami University*

9

1

0

90.0%

1967

Miami University

6

4

0

60.0%

1968

Miami University

7

3

0

70.0%

Miami Totals

40

17

3

69.2%

1969

University of Michigan*

8

3

0

72.7%

1970

University of Michigan

9

1

0

90.0%

1971

University of Michigan*

11

1

0

91.7%

1972

University of Michigan*

10

1

0

90.9%

1973

University of Michigan*

10

0

1

95.5%

1974

University of Michigan*

10

1

0

90.9%

1975

University of Michigan

8

2

2

75.0%

1976

University of Michigan*

10

2

0

83.3%

1977

University of Michigan*

10

2

0

83.3%

1978

University of Michigan*

10

2

0

83.3%

1979

University of Michigan

8

4

0

66.7%

1980

University of Michigan*

10

2

0

83.3%

1981

University of Michigan

9

3

0

75.0%

1982

University of Michigan*

8

4

0

66.7%

1983

University of Michigan

9

3

0

75.0%

1984

University of Michigan

6

6

0

50.0%

1985

University of Michigan

10

1

1

87.5%

1986

University of Michigan*

11

2

0

84.6%

1987

University of Michigan

8

4

0

66.7%

1988

University of Michigan*

9

2

1

79.2%

1989

University of Michigan*

10

2

0

83.3%

1990

Michigan Athletic Director

Michigan Totals

194

48

5

79.6%

Career Totals

234

65

8

77.5%

*denotes Conference Championship