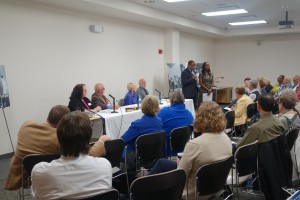 2014: "Telling Our Stories: Building the Freedom Summer Legacy" with Carol Gross Colca, Roland Duerksen, and Mark Levy
50 years after Freedom Summer 1964, Freedom Summer Participants and Donors to the Freedom Summer Archive will speak in a panel about their experiences. They will also take questions from the audience before a tour of the exhibit "Stories of Freedom Summer".
---
2013: "STUDIO 14, Miami University Television and Radio, 1966-1970" with Rick Ludwin, Miami alumnus and former NBC VP
Miami alumnus and former NBC vice president Rick Ludwin inaugurated our new Annual Special Collections Lecture Series with a fabulous presentation about his student days hosting Miami's Studio 14, under the mentorship of Professor Emeritus Bill Utter. Bill and David Beller, former student director of Studio 14, also spoke.