Portal to all our digital collections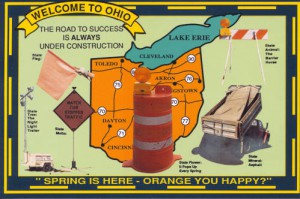 Bowden Postcard Collection Online: The Bowden Postcard Collection Online presents a fascinating visual display across 20th century America. Currently the project is focused on making available the approximately 28,000 postcards from Ohio. Developed from our postcard collection of over half a million cards, begun by donations by Clyde N. Bowden and Charles Shields.
---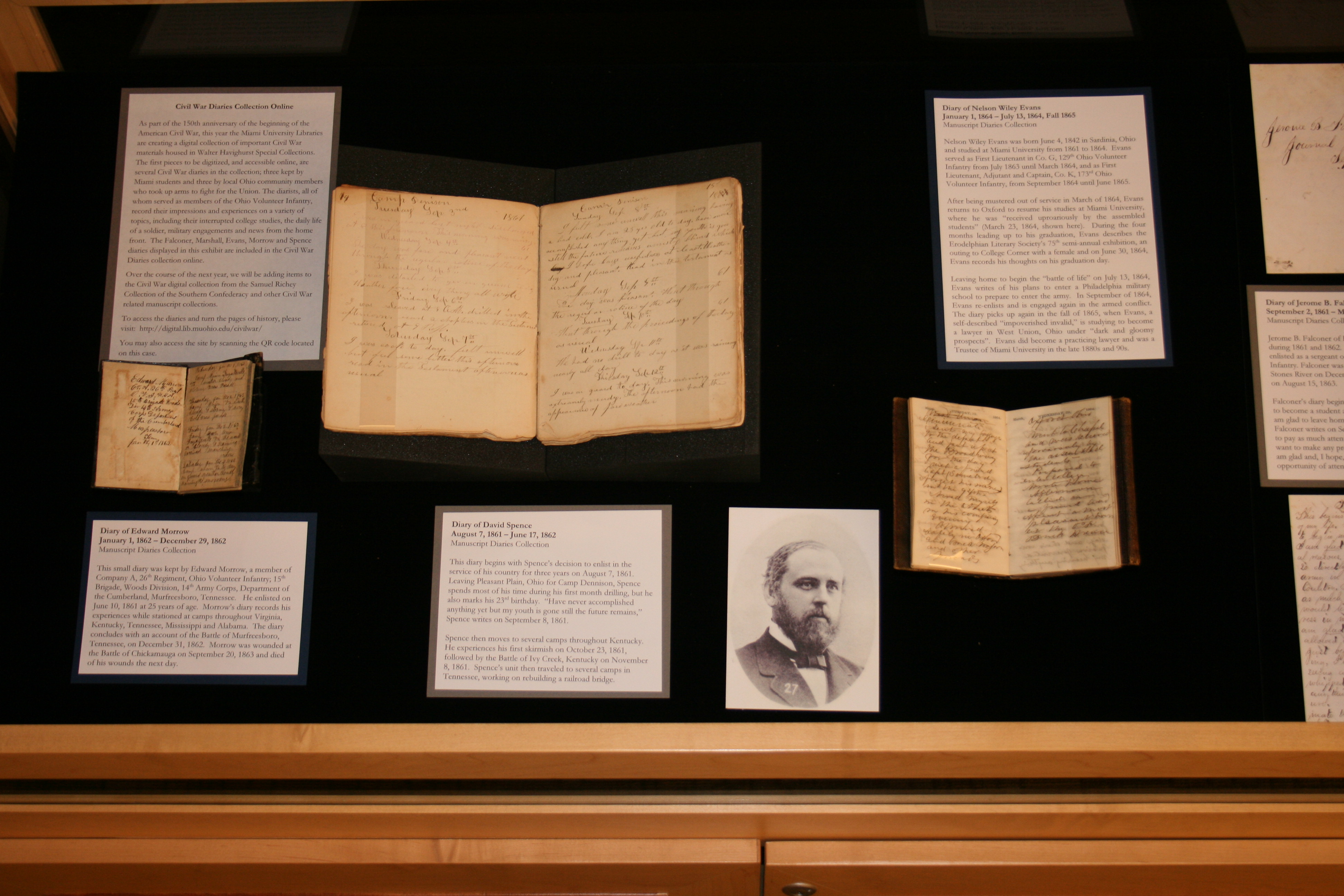 Civil War Diaries: As part of the 150th anniversary of the beginning of the American Civil War, in 2011 the Miami University Libraries began creating a digital collection of important Civil War materials housed in The Walter Havighurst Special Collections. The first pieces to be digitized and accessible online are several Civil War diaries in the collection; three kept by Miami students and three by local Ohio community members who took up arms to fight for the Union. The diarists, all of whom served as members of the Ohio Volunteer Infantry, record their impressions and experiences on a variety of topics, including their interrupted college studies, the daily life of a soldier, military engagements and news from the home front.
---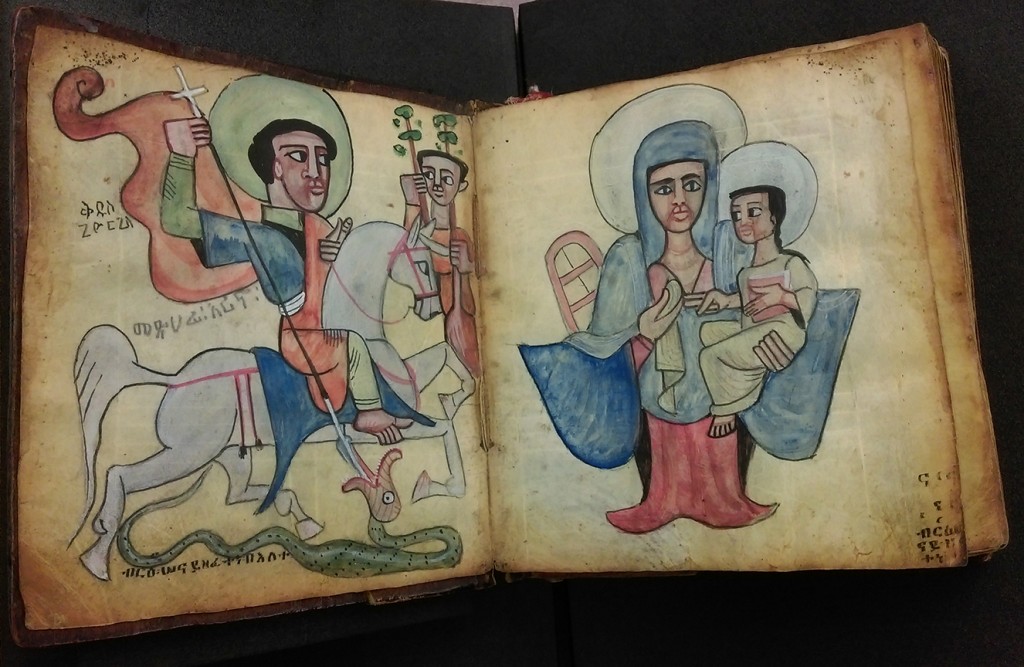 Ethiopian Prayer Book: In 1987, the assistant to the head of Special Collections & Archives, Frances McClure, came back from Kenya with a prayer book she had purchased. The illustrated manuscript is written on goat skin, bound in a wood cover, and was originally kept in a leather satchel. The text is written in Ge'ez, a Semitic language that is still used in the liturgy of the Ethiopian Orthodox Tewahedo Church.
---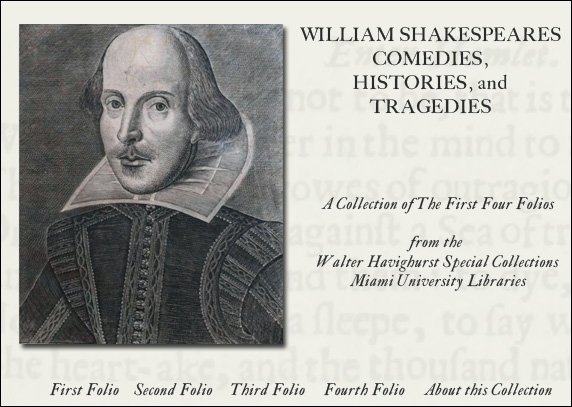 Folios of William Shakespeare: All four folios of Shakespeare's works are digitally available in this collection. 36 of his plays appear in the folios, including: A Midsummer Night's Dream, Romeo and Juliet, Richard II, The Merchant of Venice, Hamlet, and The Tragedy of King Lear.
---
Frank Snyder Photograph Collection: Frank R. Snyder was probably the leading Oxford, Ohio, photographer during the early twentieth century. He also worked for Miami University during this period, taking many of the photographs that were used in University publications. After his death in 1958, his son Frank King Snyder and daughter-in-law Lois gave the surviving collection of over 4000 Frank R. Snyder negatives to Miami University. In addition to providing a pictorial record of the community and citizens of Oxford, Ohio, the Snyder Collection chronicles buildings, organizations, students, and events at Miami University; Oxford College, which merged with Miami in 1928; and Western College, which merged with Miami in 1973.
---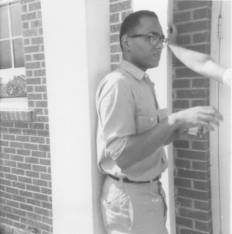 Freedom Summer Digital Archive: The Archive began in 2009 with a grant from the Ohio Humanities Council, the Miami University Libraries, and through the generous support of Catherine Ross-Loveland, a 1952 graduate of the Western College for Women. The Archive is split into two collections: the Freedom Summer Text & Photo Archive, and the Freedom Summer A/V Collection. Curriculum Guides are also available.
---
Indian Creek Baptist Church Meeting Minutes: This collection began with an electronic copy of the minutes of the Indian Creek Baptist Church meetings, 1810-1850, which was digitized and transcribed by Samantha Harris as part of a W.E. Smith Family Charitable Trust grant. The transcription of these minutes, along with the publication were made possible through the work Anne Jantzen and The Indian Creek Church and Pioneer Burial Ground Restoration Committee, and the W.E. Smith Charitable Trust Fund. Since then, the collection has expanded to include meeting minutes, treasury books, and other church records.
---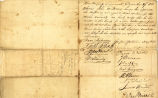 John W. Browne Collection: The collection includes correspondence, receipts, resolutions, financial documents, and miscellaneous items pertaining to John Browne's mission to secure donations of money and books for Miami University.
---
Miami Photo Archive: Miami University Photo Archive is an ongoing project to preserve Miami University's vibrant history. These photos capture the "pulse" of the campus depicting scenes from all facets of student life at Miami University. Student activities, campus housing, academic achievements, and more are displayed in digital format. This collection offers a pictorial view of Miami University in the 20th century and captures people, places and memorable experiences in hundreds of images.
---
Miami Stories Oral History Collection: Coordinated by the University Archives, Miami Stories invites groups of people with common experiences -current and former students, faculty, and staff, as well as friends of the University- to offer recollections of their Miami years and to hear reminiscences of those who shared them. A University Bicentennial legacy project that began in 2005, Miami Stories are recorded and stored in digital video formats so that future generations may enjoy and study them, and scholars may have ready access to a variety of perspectives on Miami's past.
---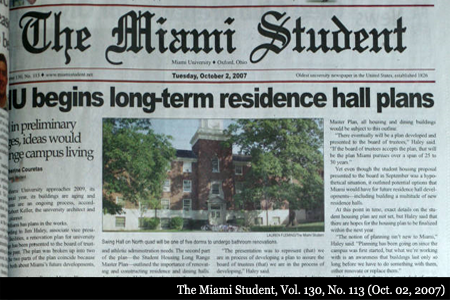 The Miami Student Online: The Miami Student Newspaper – Digital Collection aims to digitize and preserve both printed and digital-born issues. Currently, roughly 40,000 issues are available online and more will continue to be added as they are published.
---
Myaamia Collection Online: This collection contains materials related to the Miami (Myaamia) people in accordance with an agreement between the Miami University Libraries (Oxford, Ohio) and the Miami Tribe of Oklahoma. Items include original documents highlighting the relationship between the Miami Tribe and the United States federal government. This continually growing collection supports the libraries' collaboration with the Myaamia Center in Oxford, Ohio.
---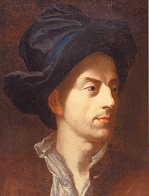 Matthew Prior Project: The Matthew Prior Project was originally conceived as a phased effort to provide an electronic edition of the extant correspondence of this eighteenth-century poet and diplomat, including the Calendar, a "mini edition" of six letters, and diplomatic transcripts of his letters. The Calendar, which is the gateway to all the letters in Prior's correspondence, has been updated throughout the course of the project and now lists a total of 3,002 letters.
---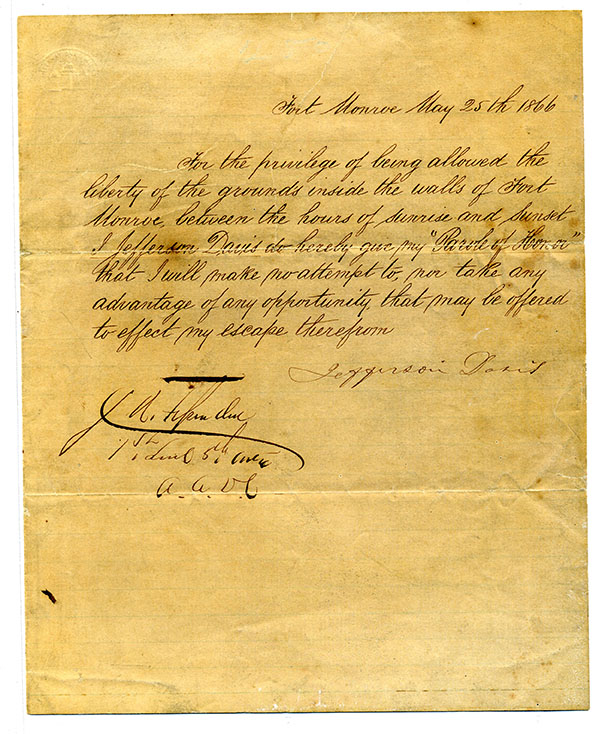 Samuel W. Richey Collection of the Southern Confederacy: This collection includes over 500 pieces of correspondence relating to Jefferson Davis, president of the Confederate States of America, and Confederate generals, including G.T. Beauregard, Braxton Bragg, Samuel Cooper, Joseph E. Johnson, Robert E. Lee, James A. Seddon, E. Kirby Smith, Richard Taylor, and William H. Thomas, among other noted figures of the Civil War and the mid- to late-19th century. Correspondence of Varina Davis, Mary Randolph Custis Lee, and Mary Custis Lee, together with some photographs and other pieces of ephemera, can also be found in the collection.
---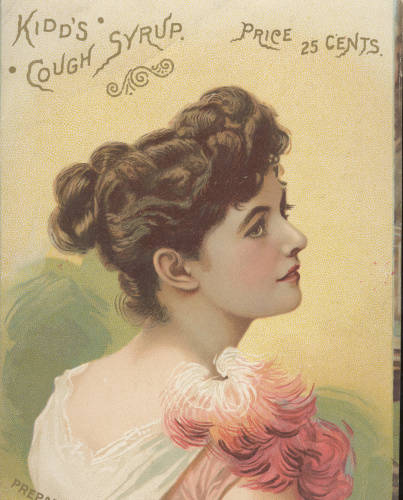 Shields Trade Card & Advertising Collection: Donated in 1987 by Charles Dohm Shields the collection contains over 2600 advertising trade cards from the late 19th and early 20th century. The collection was started by Charles's mother Laura Dohm Shields. Trade cards were typically used to advertise products and services such items as patent medicines, thread, sewing machines, food and beverages, and farm equipment. Trade cards reached the height of their popularity in the United States during the 1880s and 1890s.
---
Western College Oral Histories: This collection preserves the oral histories given by alumnae, faculty, and staff about their experiences at Western College for Women. The individual and group oral histories were recorded between 2008 and 2010.
---
Western Roundup Student Newspaper: The Western Round-Up project provides online access to student newspapers from Western College and made its official debut on Reunion Weekend, June 15-17. The collection aims to preserve, digitize and provide access to the student newspaper collection published at Western College from 1930 to 1971. Fifty-five years after serving as editor for the Western Round-Up, Catherine Ross Loveland, a graduate of the Western College for Women in 1952, was instrumental in getting the project off the ground, through her generous donation.
---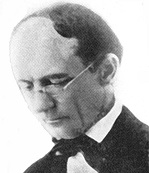 William Holmes McGuffey Family Papers: The resources available at this site consist of selected documents from the William Holmes McGuffey Papers, held by the Walter Havighurst Special Collections Library at Miami University in Oxford, Ohio. The major portion of the McGuffey Papers was collected by Mrs. Mary (Thompson) Hughes and purchased from her estate about 1948. The following persons are represented in the collection: John Ebenezer Annan, Catharine Esther Beecher, Albert Taylor Bledsoe, Joseph C. Cabell, John H. Corke, Daniel Drake, James Hoge, Andrew Dousa Hepburn, Charles M. Hepburn, Henrietta McGuffey Hepburn, Harriet McGuffey Love, Alexander H. McGuffey, Charles Spining McGuffey, William Holmes McGuffey, Edward Deering Mansfield, Robert Cumming Schenck, John Witherspoon Scott, Winthrop B. Smith, Robert Livingston Stanton, Charles L. Telford, Noah Webster, Henry A. Wise, and Andrew Wylie.
---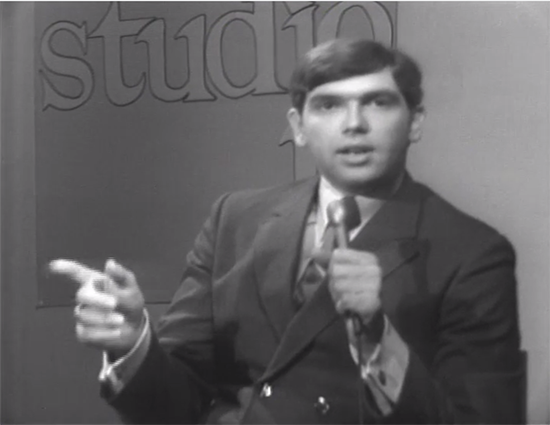 WMUB Archives: The WMUB Archives document student-produced radio and television programs that were broadcast on WMUB radio and television stations, as well as MUTV. The collection spans over 40 years of student work.