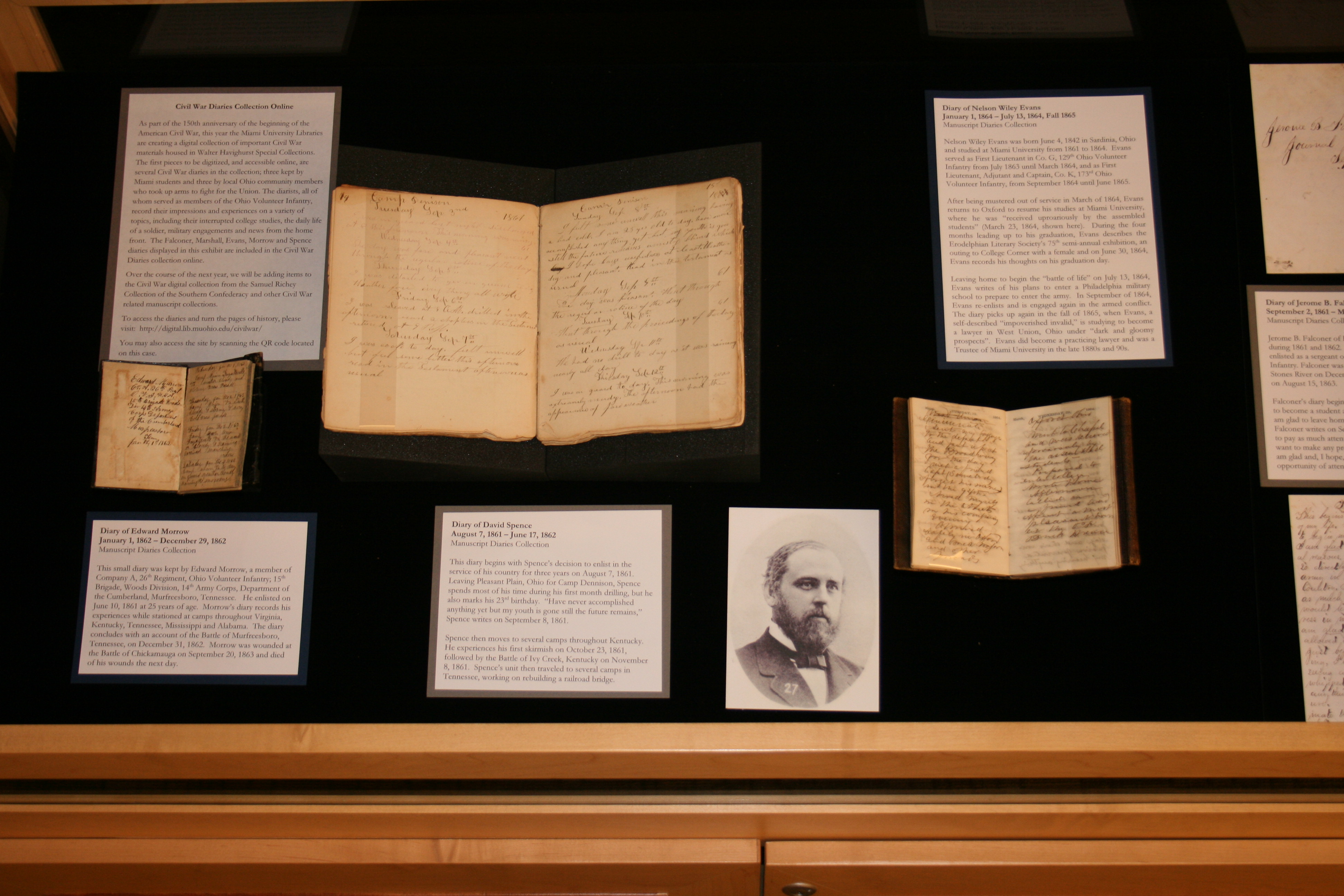 ABOUT THE COLLECTION
Diary of David Spence
This diary begins with Spence's decision to enlist in the service of his country for three years on August 7, 1861. Leaving Pleasant Plain, Ohio for Camp Denison, Spence spends most of his time during his first month drilling, but he also marks his 23rd birthday.
Diary of Edward Morrow
Another Civil War diary was kept by Edward Morrow, a member of Company A, 26th Regiment, Ohio Volunteer Infantry; 15th Brigade, Woods Division, 14th Army Corps, Department of the Cumberland, Murfreesboro, Tennessee.
Diary of George Hynds
This small notebook written in the hand of George H. Hynds records the Confederate experience at the siege of Vicksburg from May 16th to July 4th, 1863. Typical entries record daily combat, casualty numbers, and the general conditions of the troops. Hynds also makes note of his personal opinions of the battle, notably concluding that the Confederate troops were sold to the Union forces by their general, John Pemberton.
Diary of Nelson Wiley Evans
While studying at Miami University from 1861 to 1864, Evans served as First Lieutenant in Co. G, 129th Ohio Volunteer Infantry from July 1863 until March 1864, and as First Lieutenant, Adjutant and Captain, Co. K, 173rd Ohio Volunteer Infantry, from September 1863 until June 1865.
Diaries of Thomas B. Marshall
Marshall enlisted in Company K of the 83rd Ohio Volunteer Infantry Regiment on August 14, 1862. He mustered in as a Corporal on August 26, 1862, but was soon appointed First Sergeant. He mustered out July 24, 1865 in Galveston, Texas. Marshall graduated from Miami University in 1861 and was a member of
Alpha Delta Phi fraternity.
Diary of Theophilus Cannon Hibbett
Theophilus C. Hibbett was a student at Miami University from 1851 to 1854. While living in Oxford, he kept a diary describing many of his daily activities at the University.
Diary of Joseph Cannan Smith
Smith's diary records his daily routine as a Miami student. After attending Miami, Smith read law in Dayton, Ohio, and began practicing law in Cincinnati in 1857. He joined the Union Army as a cavalry officer in 1861. During the war, he rose to the rank of Major and fought at the battles of Shiloh, Corinth, and Missionary Ridge.
Diary of Jerome B. Falconer
Jerome B. Falconer of Hamilton, Ohio also kept a diary during his studies at Miami University in 1861 and 1862. Those same years, Falconer fought in the Civil War as a sergeant of Company C, 93rd Ohio Volunteer Infantry, but the diary does not include information about his wartime service. Falconer was mortally wounded at the battle of Stone River on December 31, 1862. He died in Hamilton on August 15, 1863.
Diary of Joe Bogue
Spanning the year 1889, Joe Bogue's diary includes details of a family's daily chores, such as making clothes and tending to their farm property. The planting of crops including peas, corn, beans, and sweet potatoes is documented in the diary, as is the family's efforts to sell eggs and strawberries.
Diary of Nancy (Nannie) Mae Coppock
During 1892, 21-year-old Nancy (Nannie) Mae Coppock from Tippecanoe City, Ohio kept a diary that recorded her daily activities. When she wasn't helping her mother keep house, she worked on quilt blocks, made pillow shams, and crocheted mittens for her little sister. Nettie's diary takes an interesting historic turn on March 22, 1892, when she left for an extended stay at the Battle Creek Sanitarium, where she heard lectures by Dr. John Harvey Kellogg and Susan B. Anthony.
Diaries of Joel Buttles
The collection includes three photocopied diaries kept by Joel Buttles (1787-1850). In 1804, Buttles settled with his family in Worthington, Ohio, where he also taught school until August 1811, when he went in partnership with George Smith and bought the weekly newspaper, Western Intelligencer. The following year, the partnership was dissolved and Buttles moved to Franklinton, Ohio.
FINDING AID
Manuscript Diaries Finding Aid (pdf)
DIGITAL COLLECTION
As part of the 150th anniversary of the beginning of the American Civil War, in 2011 the Miami University Libraries began creating a digital collection of important Civil War materials housed in The Walter Havighurst Special Collections. The first pieces to be digitized and accessible online are several Civil War diaries in the collection; three kept by Miami students and three by local Ohio community members who took up arms to fight for the Union. The diarists, all of whom served as members of the Ohio Volunteer Infantry, record their impressions and experiences on a variety of topics, including their interrupted college studies, the daily life of a soldier, military engagements and news from the home front.