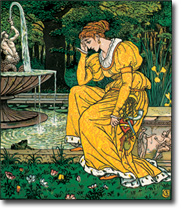 Edgar and Faith King Juvenile Literature Collection: Printed from the seventeenth century through the 1900s, the Edgar and Faith King Juvenile Literature Collection provides insight into the activities of children for more than three hundred years.
---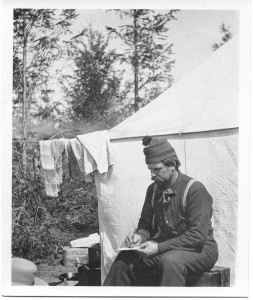 Eldon Hill Collection: Hill was a major scholar and acquaintance of American author Hamlin Garland. This collection includes Hill's research, correspondences and other documents by Garland, and autographed and annotated copies of Garland's work.
---

James Reiss Collection: This collection starts with correspondence and includes letters from colleagues and fellow writers, which offer valuable information on writing and publishing, from finding work and applying for grants to the writing process and getting published. Colleagues and former students sometimes included copies of their work in their correspondence for Reiss to read over and critique, while Reiss did the same with his new work. Reiss also wrote and received many congratulatory letters in response to new poems or books recently published. The collection also includes a large amount of correspondence from publishers, whether they were rejecting, accepting, or soliciting work, and offers information on the publishing process.
---

Percy MacKaye Collection: Percy MacKaye Collection includes correspondence of or about Percy MacKaye from 1920 to 1953; a typescript by MacKaye titled "Edison: The Planetary American," and a typescript address given by Miami University President Raymond Hughes to the National Association of State Universities about university fellowships in creative art. The collection also includes several items of printed material by or about Percy MacKaye and his wife, Marion Morse MacKaye. Photographs of Percy MacKaye complete the collection.
---
William Dean Howells Collection: This collection includes correspondence sent by William Dean Howells between 1861 and 1918; poems written by Howells between 1858 and 1886; an undated manuscript titled "The Novels and Stories of Frank R. Stockton;" prints and photographs of Howells; copy negatives of personal photographs of Howells and his Hamilton, Ohio home; and miscellaneous newspaper articles, correspondence and manuscripts regarding Howells.
---
William Holmes McGuffey and the McGuffey Readers: 120 manuscript letters, contracts + four volumes of an unpublished manuscript believed to be by William Holmes McGuffey on moral philosophy (one volume believed to be completely in McGuffey's hand). These papers cover the time period 1814-1955, the bulk between 1826-1874, in three archival boxes + more than 300 editions of the McGuffey readers and spellers.
---

William Merriam Gibson Collection: This collection includes correspondence and printed material pertaining to William Merriam Gibson's research and collecting efforts, together with student papers and newspaper articles regarding William Dean Howells.
---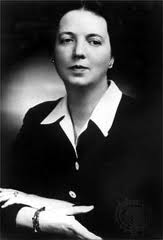 Working Library of Louise Bogan: Approximately 2,000 volumes, the collection includes many annotated review copies of the works of her contemporaries, as well as her general poetry and literary criticism collections. A complete list of the items in her working library available in Special Collections may be found in the main library catalog here.