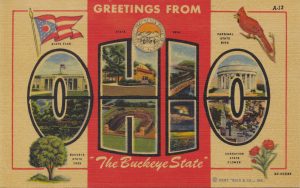 ABOUT THE COLLECTION
The Walter Havighurst Special Collections holds approximately half a million postcards from all places and times of the 20th-century world and continues to grow thanks to generous donations. The collection began with donations by Clyde N. Bowden and Charles D. Shields. Friends and Miami graduates, Bowden and Shields both took an interest in collecting postcards, particularly from the first half of the 20th century. Tragically, Shields fell ill in 1986. With Bowden's help, his collection was donated to the Miami University Libraries and held in Special Collections. Fifteen years later, in 2001, Bowden again contacted the library, offering to contribute his own incredible collection. Since then, we have continued to receive donations from other individuals and institutions.
If you would like to donate your postcards or have questions about the process, please see the Gifts and Donations page or contact William Modrow for more information.
DIGITAL COLLECTION
Bowden Postcard Collection Online
Clyde N. Bowden Postcards Collection Finding Aid
This project is a continually growing resource developed from the physical collection consisting of approximately 500-600 thousand postcards.
In the summer of 2014, thanks to generous donations from Clyde N. Bowden, Allen W. Bernard, and Virginius C. Hall, the bulk of the remaining Ohio postcards in both collections – roughly 26,000 in total – were digitized by a private company, allowing us to focus on developing the metadata and adding them to the online collection. In the Fall of 2022, the beginning efforts are underway to digitize the Kentucky postcard collection. This project is ongoing with new postcards added to the collection every few weeks.
We have also created a map to help visualize the locations depicted on the postcards on a map, which you can view from the link in the top navigation bar. Blue pins mark each individual postcard and the colored circles list the number of postcards in the region. Click on the circle to zoom in and see where individual postcards are. This is currently a project in its beta testing stages and we welcome any feedback. While we have done our best to accurately place each card, please note that some of these locations may be approximations. Some versions of Internet Explorer may not be compatible. If you do not see any pins or circles on the map, please try another browser or contact us for help.
In spring 2014 one of our students, Meghan Pratschler, completed an excellent series of guides to identifying the logos of various printers and publishers of postcards, as well as identifying common misspellings and alternative names to these companies. We are making these documents available on the About page of the digital collection website in the hopes that they will prove useful for other similar projects. Please feel free to reuse these guides, giving credit to Meghan for her work. Also, please note that these lists are based on our own collection only and are ongoing works.