New exhibit website launched: http://spec.lib.miamioh.edu/longform/freedomsummer
King Library, Room 321
August 25 – December 12, 2014
Friday October 10, 4-6 PM, Reception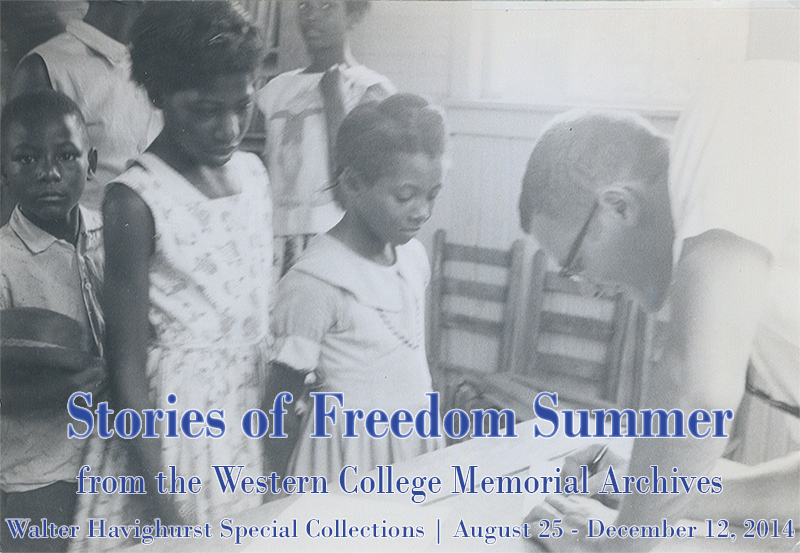 When the administration of the Western College for Women – now a part of Miami University – opened its campus to civil rights activists in 1964, the institution followed its long tradition of independence and innovation. An estimated 700 young, idealistic college students from across the north arrived in Oxford, Ohio for voter registration training. Sponsored by a coalition including the Congress of Racial Equality (CORE), National Association for the Advancement of Colored People (NAACP), Students for Nonviolent Coordinating Committee (SNCC), and the Southern Christian Leadership Conference (SCLC), and the National Council of Churches, this event is considered by scholars to be one of the pivotal events in civil rights history that would eventually reshape the electoral landscape of the United States. The college students were recruited nationally to serve in Mississippi to register African-Americans to vote and assist with local community projects, like Freedom schools and the building of community centers.
Today, the story of Freedom Summer has the power to evoke important questions about American identity, public life, engagement, and commitment. This exhibit will focus on local resident Roland Duerksen and former student volunteers Carole Colca and Mark Levy. They have left the legacy of their work in the Western College Memorial Archives. This exhibit, which includes photographs, letters, audio recordings, and an interactive map of Mississippi, will serve as a narrative of their dedication to civil rights and social justice.
This year marked the 50th anniversary of Freedom Summer. In addition to our exhibit, a number of other events in Oxford have been scheduled, culminating in the conference '50 Years After Freedom Summer: Understanding the Past, Building the Future'. To learn more about how Miami is remembering Freedom Summer, please click here.