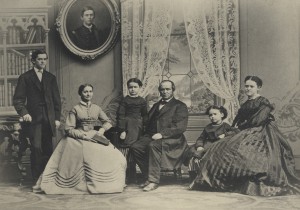 ABOUT THE COLLECTION
Samuel Fulton Covington (1819-1889) was a business, civic, and political leader in late 19th century Cincinnati whose personal collection of books and pamphlets on the Old Northwest Territory and the Ohio River Valley now constitutes a significant collection and subject strength in the Walter Havighurst Special Collections.
The history and settlement of the Old Northwest Territory and the Ohio River Valley is the primary focus of the Samuel Fulton Covington Collection of over 10,000 volumes that chronicle exploration, settlement and growth of these areas. Shedding light on the region are emigrant guides, books on farming and mechanical arts, early regional imprints, and territory, state, regional and local histories. Contemporary accounts and documentary material chronicle the history of transportation, including early railroads and river navigation, with special emphasis on the Ohio River system and Cincinnati's riverboats.
Early U.S. exploration is represented in materials by Lewis & Clark, Zebulon Pike, Stephen Long, Robert Stanton, and Henry Schoolcraft, as well as works on Arctic, Antarctic and Canadian expeditions. Works about British, French and European exploration are also represented. Writings and translations of early missionaries living in North America, together with early maps and atlases, enhance these collections.
The exploration of the United States is tied almost directly with the development of transportation. The collections include stagecoach, canal and railroad timetables, and materials documenting the development of inland river and steamboat transportation on the Ohio and Mississippi River systems.
These materials are cataloged and can be found by searching the library's online catalog.
In addition to the Covington library, Special Collections also houses the family papers of Samuel Fulton Covington and his descendants.  This substantial collection features correspondence, diaries, scrapbooks, notebooks, business papers, and photographs detailing life in late 19th century southwestern Ohio. In addition to documenting both the domestic and business life of Samuel Fulton Covington and his family, the collection also includes materials related to the American Civil War, the steamboat and insurance trades, and civic and industrial life in Cincinnati, Ohio. Additionally, the collection contains correspondence and other materials from the Riggs and Williams families, who married into the Covington family, and were missionaries in South Dakota and Japan respectively.
FINDING AID
Samuel Fulton Covington Collection: Family Papers Finding Aid (pdf)
EXHIBIT SITE