Recent acquisitions are the focus for our summer exhibits, and new additions to the Rick Ludwin Collection provide us an opportunity to feature some of our favorite pieces from this collection. Rick Ludwin is a Miami alumnus who had a long distinguished career with NBC and rose to become Executive Vice President for Late-Night and Primetime Series.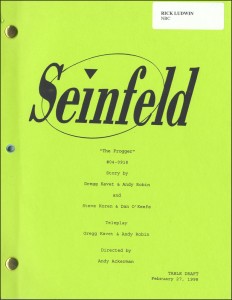 He is credited with the success of shows like The Tonight Show, Late Night with Conan O'Brien, Saturday Night Live, and Seinfeld. He continues a strong connection to Miami University, visiting the campus to talk with students in the Mass Communication Department.
Much of the focus of this exhibit centers on the television show Seinfeld. On display are five table draft scripts which use multi-colored pages to call out draft revisions.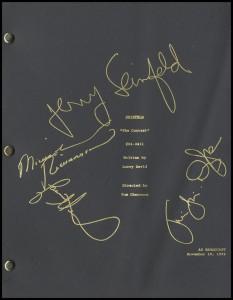 There is also a leather bound "as telecast" script of The Contest that was given to the cast, writers and others, including Rick Ludwin, as a souvenir of a landmark episode shortly after it originally aired.
Another highlight is a special "coffee table book" that was used as a promotional gift to television stations that bought the Seinfeld series in syndication. The set consists of a small wooden coffee table in the shape of a book with legs. The table opens and inside was an actual coffee table book about Seinfeld. This volume was signed by the cast members and contains anecdotes, synopses, and color illustrations from each episode. The coffee table book was inspired by Kramer's idea in the episode, The Cigar Store Indian.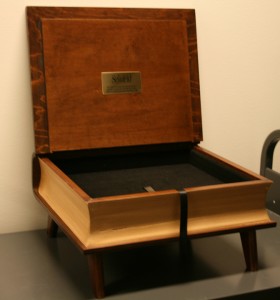 We have included a yearbook, Much Ado About Nothing, for the last season of Seinfeld. It includes photographs from the last year of the series, as well as photographs of actors and crew. There is also a variety of memorabilia on display: Ludwin's backstage passes from Late Night with David Letterman and The Tonight Show with Jay Leno, and the playbill from The 50th Anniversary of the Primetime Emmy Awards. Julia Louis –Dreyfus won the Award for Outstanding Supporting Actress in a Comedy Series at this ceremony.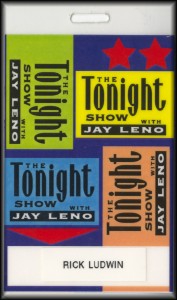 We have also displayed The Academy of Television Arts & Sciences awards that honored Rick Ludwin for his work on the 1999 Macy's Thanksgiving Day Parade and the Tonight Show with Jay Leno, along with other memorabilia from the Ludwin Collection.
We hope you will visit our Exhibit Gallery to see this exhibit along with other recent acquisitions.
Jim Bricker
Senior Library Technician