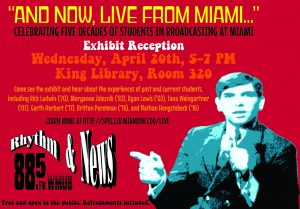 Our opening reception is Wednesday, April 20th, from 5-7 pm in King Library room 320. The reception is free and open to the public and will include a panel of current and former students, a chance to see the exhibit, and refreshments.
Beyond our department, I have also received tremendous support from the Department of Media, Journalism, & Film in Williams Hall and many former employees of the WMUB radio station as well as alumni. In particular, I would like to thank:
Steve Beitzel for digitizing and contributing many of the shows in the exhibit, for loaning the recording equipment on display, and for being the source of some of the best stories and secrets in the exhibit.
Darlene Chafin for keeping track of WMUB-FM people and materials even after the station closed. Nothing you see in the radio cases would have been possible without her.
Ringo Jones and his MAC 311 class for the photo used in the exhibit poster.
Rick Ludwin '70 for donating the Studio 14, Newspoint and 529-3521 recordings and scripts, as well as providing guidance, contacts, and advice for the exhibit.
Ray Smith '70 for contributing text and the Studio 14 images to the exhibit.
William Utter for donating photographs and documents for the exhibit.
Chad Wollett '02 for contributing the Passing Reality materials to the exhibit and donating to the archive a copy of the show.
…and, of course, all the students – known and unknown – who have and continue to put so much work into broadcasting here at Miami!
Marcus Ladd
Exhibit Curator & Special Collections Digital Librarian

I am very excited to announce the first exhibit being held in the new Special Collections & Archives space! As we move closer to finishing with both the renovations and the Archives move to the top floor of King Library, it is a great pleasure for me to be able to curate this exhibit drawing from both Special Collections & the Miami University Archives. The exhibit, which runs from today, April 18th, through August 12th, celebrates over 50 years of students in broadcasting here at Miami. Recordings and artifacts of broadcasts, as well as photos of many of the students who worked on them, are central to the exhibit. Clips from television programs and full radio broadcasts are also a part of the exhibit.