Now that the students have gone home for the holiday break, it's very quiet here in the library. Oxford and campus are blanketed by a picturesque layer of snow and all is calm after the flurry of activity surrounding this semester's classes, researchers, and programs. In fact, here in Special Collections, "not a creature [is] stirring – not even a mouse"…and that's the way we like it since mice are bad for rare books and manuscripts!  Of course, I'm quoting that most famous of Christmas poems, Clement C. Moore's "A Visit from St. Nicholas", also known as "The Night Before Christmas". The seasonal poem first appeared uncredited in a New York state newspaper, The Troy Sentinel, in 1823.  Though the poem was reprinted several times in the following years, Clement C. Moore was not identified as the author until the 1837 publication of the poem in The New-York Book of Poetry published by George Dearborn (which we do have a copy of here in Special Collections).  Moore (1779-1863) was a professor of literature and divinity at the General Theological Seminary in New York City. His poem, originally written for his own children, has appeared in a variety of formats since it's early appearances, including newspapers, periodicals, broadsides, and separate publications. Moore's portrayal of St. Nick, his reindeer, and his arrival on Christmas Eve to deliver toys to children is credited with influencing our modern conventions surrounding Santa Claus and Christmas.
In honor of this yuletide classic, I thought I'd share a selection of images from different versions of the poem that are housed here in Special Collections in the King Collection of Juvenile Literature and our other rare book collections.  Click on the image to enlarge.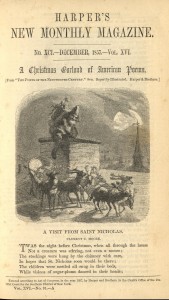 An early appearance in Harper's New Monthly Magazine in December 1857.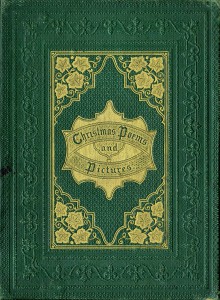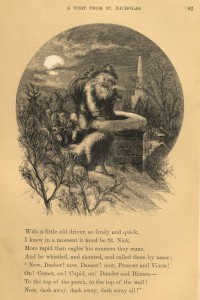 Christmas Poems and Pictures was published in New York in 1864 and features an illustration by Thomas Nast, the famous political caricaturist.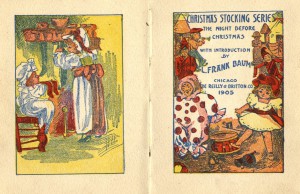 This tiny stocking stuffer edition from the "The Christmas Stocking Series" published by Chicago's Reilly & Britton in 1905 features an introduction by The Wizard of Oz author L. Frank Baum.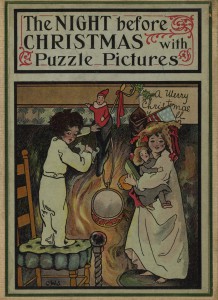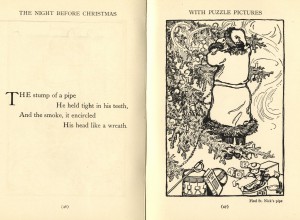 This edition from 1907 features a puzzle on each page so that the reading of the poem becomes an interactive experience.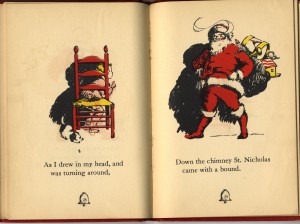 This 1926 edition with simple vignette illustrations by Constance Whittemore is particularly sweet because a child loved the book so much they had to color in the illustrations with crayon!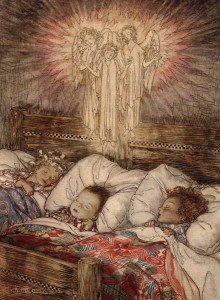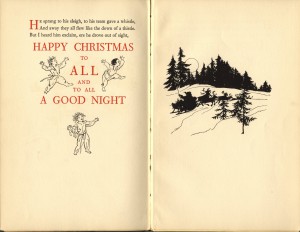 This 1931 edition features the distinctive style of Arthur Rackham, one of the giants of the Golden Age of Illustration.
This 1949 moveable book edition features illustrations and "animations" by Julian Wehr.  The page shown allows the reader to make Santa's belly shake like "a bowlfull of jelly".
From it's nineteenth century origins to classic versions by Tasha Tudor and other great illustrators, our collection of the different editions of this classic poem is varied and rich.  These are just a few of the many versions of Moore's "The Night Before Christmas" that we have in Special Collections and we are adding to the collection whenever possible.  One of our last additions was Robert Sabuda's gorgeous pop-up published in 2002.
From the staff of the Walter Havighurst Special Collections, "Happy Christmas to all, and to all a good night!"  See you next year!
Kimberly Tully
Special Collections Librarian