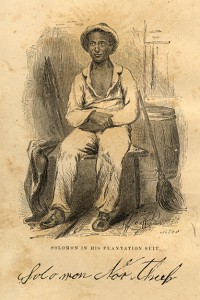 With the recent attention garnered by the movie version of Solomon Northrup's memoir Twelve Years a Slave, it occurred to me it would be a good idea to acquire a first edition of the book for Special Collections.
Not to worry – we already had it.
The original edition (1853) was one of a number of "slave narratives" published in the years leading up to the Civil War. Part of the larger genre of "captivity literature," these 18th and early 19th century accounts were published to educate white northerners about the inhuman conditions of slavery in the south and to gain supporters for the abolition movement.
Northrup's harrowing account of his experience as a free man sold into slavery is only one of several slave narratives in our rich 19th century Americana collection. Two other famous examples are Narrative of the Life of Frederick Douglass (1845) and Incidents in the Life of a Slave Girl, by Harriet A. Jacobs (1861). Following his escape to the north, Douglass became a leader of the abolition movement and a highly sought after speaker on the lecture circuit. Jacobs wrote about the sexual harassment and abuse she suffered as a female slave, gaining support from both the abolition and the women's rights movements.
Following passage of the 13th Amendment and the end of slavery, the slave narrative evolved into a memoir of transformation as former slaves wrote about their experience after slavery. An example of this type of memoir of particular local interest is that of Oxford, Ohio resident Peter Bruner: A Slave's Adventures Toward Freedom.  Bruner was born into slavery in Kentucky in 1845, and eventually made his way to Oxford, where he worked for both Oxford College and Miami University.
As we celebrate the 50th anniversary of Freedom Summer this year, we should remember that the efforts to achieve social justice for African Americans go back much further than 1964. And as we celebrate the achievements of African Americans throughout this month, we should remember there has always been much to celebrate.
Elizabeth Brice
Assistant Dean for Technical Services and
Head, Special Collections & Archives
Stop by the African American Read-In on Wednesday, Feb. 26, Howe Writing Center, King Library, between 11:30 a.m and 2:30 p.m. to hear more stories of the African American experience!