Ferdinand Bach Collection of Native American Materials: This collection includes autograph albums, scrap albums, scrapbooks of newspaper clippings, rewards of merit, religious cards, bookmarks, and friendship cards.
---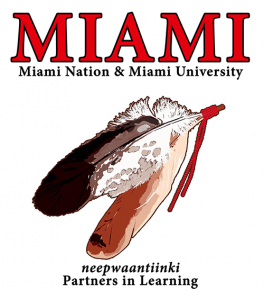 Myaamia Collection: The Myaamia Collection was established by Miami University and the Miami Tribe of Oklahoma as a repository for the Miami Indian historical and cultural materials. The collection has a language component that will reflects the efforts of members of the tribe to revitalize the Miami Language. The collection is in ongoing development, and already includes original annuity rolls, land grants, letters, and photographs. It is anticipated that the collection will also include tribal archives, historical documents, papers, cassette tapes, compact discs, and other ephemera from tribal members.
---
Native American Women Playwrights Archive: The Native American Women Playwrights Archive (NAWPA) is a collection of original materials by Native women playwrights of the Americas. NAWPA hopes to identify playwrights, collect and preserve their work, try to make it widely known, and encourage performances and continued creativity. Plays in manuscript, disk, videotape, or other format are cataloged, given appropriate preservation treament, and made available to anyone who wishes to read them in the library.
---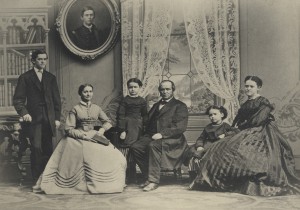 Samuel Fulton Covington Collection: Samuel Fulton Covington (1819-1889) was a business, civic, and political leader in late 19th century Cincinnati whose personal collection of books and pamphlets on the Old Northwest Territory and the Ohio River Valley now constitutes a significant collection and subject strength in the Walter Havighurst Special Collections.