Though it is not technically a "new" collection, the McKee family papers has recently been processed and is now available for use.  This collection has been in the department's backlog for awhile, but with the help of intern Kristie Salyers, the collection has been processed and the finding aid created.
The McKee collection consists largely of series of correspondence between George H. McKee (I) and his wife Maria (Marshall) McKee as well as later correspondence between George H. McKee (I)'s cousins Agnes M. McKee (Scott) and Jessie McKee and his son George H. McKee (II). The collection also includes correspondence from other family members, legal, financial, military, and tax documents collected by family members over the years. There are a number of photographs, photograph albums, prayer books, diaries, account books, and other bound materials included as well.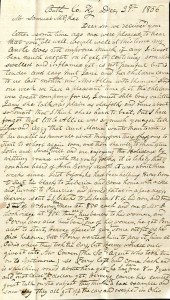 So who exactly is the McKee Family?
George H. McKee (I) (1842-1888)
George H. McKee (I) was the seventh of thirteen children born to William and Louise (Stipp) McKee. Born in Bourbon County Kentucky, George H. (I) was a lieutenant in the Union Army during the Civil War. Serving ones country was important in the McKee family as George's grandfather, John McKee, fought and died in the Revolutionary War. According to a biography of George (I)'s father, William McKee, in, A History and Biographical Cyclopaedia of Butler County Ohio, With Illustrations and Sketches of its Representative Men and Pioneers, Cincinnati Ohio "Four of his sons . . ." William McKee's sons, "were in the late war."(Pg. 558) George (I) volunteered as a member of the Ohio National Guard to serve in the war. In February of 1865 he was given the title Lieutenant of the 3rd U.S. Colored Artillery (Heavy). He was recommended for a full commission as a member of the Regular Army of the United States in April of the following year and was given a "Grand Army of the Republic, Honorable Discharge." (1866). Over the course of his life, as a soldier and after his discharge, George H (I) was a frequent traveler. He was a resident of Florida, Indiana, Kentucky, Ohio, and Tennessee. He married Maria Marshall in 1866 and had three sons. Two of those sons, Charlie and John, died before the age of twenty-five. After serving in the army, he became a journalist. George worked as the editor of The Saturday Review in Greenburg Indiana and continued his work as a journalist after moving to Florida with his second wife. After the death of Maria, George H. (I) married his first cousin, Ann E. (Lizzie) McKee, Samuel McKee's daughter. In a newspaper article it was written, "A Hoosier bachelor wants to marry his first cousin, who resides in Bourbon, and writes us to know if the laws of Kentucky prohibit the marrying of such relatives. They do not." George and Ann traveled to Covington, Kentucky to marry as it was illegal for them to do so in either Ohio or Indiana. In addition to working as a journalist, he was also the Post Adjutant of the "Pap Thomas Post" of the Grand Army of the Republic in Greensburg, Indiana. He received a letter from then Secretary of State, James G. Blaine, thanking him and the "Pap Thomas Post" for their condolences when President Garfield was wounded. George lived out the rest of his life living in Leesburg, Florida. He was forty-six at the time of his death in 1888.
Maria (Marshall) McKee (1844-1882)
A native of Bath County Kentucky, Maria (Marshall) McKee was born in 1844 to William and Nancy Marshall. Her sister was the wife of Samuel McKee, George H. (I)'s paternal uncle. She was a student of The Oxford Female Institute in Oxford, Ohio. As a student at the Female Institute, Maria wrote George telling him of events happening at the school, about her classes and schedule, and about the homesickness she occasionally felt. She sometimes wrote to George about his dream to serve in the army, and how she was not too fond of that dream. Often the topic of discussion was the Civil War and the rebel raids that passed through parts of Kentucky, including Maria's home town. The relationship between George and Maria was at times passionate and at times tumultuous. In October of 1863 Maria wrote to George about his reasons for entering school. It is unclear just what George said to upset May, but her understanding was "that you no longer love me" and that, "that was sufficient to break the engagement." She told George "you are free." In a letter written a few months later Maria writes, "I suspect I love you more than Jacob's Rachel did him . . ."(1-15-1864) Though they had their arguments, many letters expressed their love and devotion to one another. After years of correspondence navigating a long distance relationship, Maria became the wife of George H. (I) in 1866. She died in October of 1882 at the age of thirty-eight survived by her husband and three young children.
George H. McKee (II) (1880-1942)
The youngest of George (I) and Maria's three sons, George H. (II) was the only one of their children to reach full adulthood. His brothers died at the ages of nineteen and twenty-five. His mother died when he was two years old. This appears to be the reason for the large number of correspondences between himself and his father's cousins. A letter written in 1883, a few short months after Maria's death, from Lizzie McKee, George (I)'s second wife, to George (I) McKee discusses George (II) having been left with Lizzie and Jessie in Seven Mile, Ohio. It seems that George (II) spent part of his childhood being raised by his father's cousins until the marriage of George (I) and Lizzie (Ann E.) McKee. After the death of George (I) in 1888, George (II) remained in Florida with his step-mother, Lizzie McKee, and his brother, John. Born in Indiana, George H. (II) was very much like his father, a traveler. Throughout his life he lived in and traveled to Arkansas, Indiana, Ohio, Florida, California, Tennessee, and Washington. He also wrote a large number of correspondences to Agnes and Jessie from Europe. He worked as a hotel clerk and manager, and as US postal service clerk. In an undated letter, George wrote about finding work on the sets of silent films. It appears that, for a short time, George looked for work in Hollywood. He wrote "I went out Friday for my money and he said he could use me at a station sceen Saturday morning, I said all right I'd come; tho it did not mean much money as one simply went down to the station and got excited about someone arriving or departing." He was a member of the Phi Kappa Psi Fraternity. George (II) married somewhat later in life at the age of thirty-seven. He and his wife Celeste had three children, one daughter and two sons. George spent much of his married life living and working in California. George died at the age of sixty-two in California in 1942.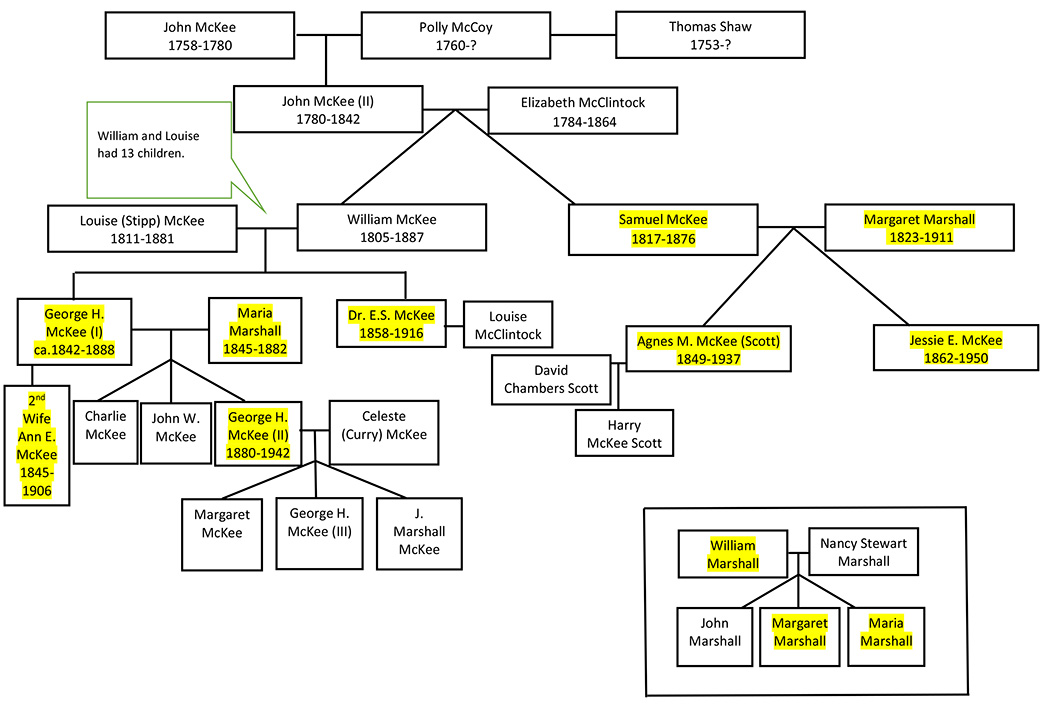 Jessie E. McKee (1862-1950)
Jessie was the youngest of Samuel McKee's five children and frequent correspondent of George H (II). Jessie's maternal aunt was Maria (Marshall) McKee, George (I)'s first wife. Her sister, Lizzie, was George (I)'s second wife. Jessie lived with Lizzie, John, and George (II) for a few years in Florida after the death of George (I). Jessie was a teacher. In a letter written in April of 1890, Jessie discussed her plans to "teach thru May." For some time, Jessie also taught painting. In a letter written to her mother dated June 2, 1891, she stated, "I have given up my town painting pupils." She was also a student. In a letter written by Lizzie February 23, 1892, she stated, "Jessie stayed home in the morning and studied her Dutch." During her time in Florida Jessie helped Lizzie, John, and George with the work to be done on their grove. She wrote to her mother in February of 1890 about helping Lizzie and getting the "home folks" out of debt. Letters written in 1892 discuss the families boxing and selling fruit, particularly oranges. Jessie was involved in culture and society often attending lectures and parties. Throughout her life she travelled to see her widely dispersed family. There are letters addressed to and from Jessie in Florida, California, and Ohio. Though she travelled often, Jessie always returned to the homestead in Seven Mile, Ohio. The family were regular attendees of church services. Jessie and Agnes were both members of a missionary society. They stayed involved with the happenings of their local church. She never married. As she was the youngest, and last remaining, member of her immediate family, she was responsible for the care and upkeep of the Seven Mile home. For this reason there are a number of legal and financial documents addressed to Jessie in regards to the family home. Jessie died in Seven Mile shortly after a stroke in December of 1950 at the age of eighty-eight.
Agnes M. McKee (Scott) (1849-1937)
Agnes Mary McKee was born in Bourbon County, Kentucky to Samuel and Margaret (Marshall) McKee. She married David Chamberlain Scott in 1874. They had one child, Harry McKee, born 1877. Both David and Harry died long before Agnes. Thou
gh it is unclear exactly when they died, a letter written to Agnes in July of 1904 mentions the deaths of both Agnes' husband, David, and son, Harry. Newspaper clippings further reveal an approximate date of death for both men. Harry died from "consumption" in February of 1902, while David died from
Along with Jessie, Agnes was very active in the church. She too was a member of the same missionary society as Jessie. After the death of their mother, Agnes and Jessie were responsible for the family estate in Seven Mile. They travelled to visit George (II) and his family. While they were away they received updates about the estate via the mail from whom they left in charge to look after things. Agnes died in Seven Mile, Ohio in 1937 at the age of eighty-eight.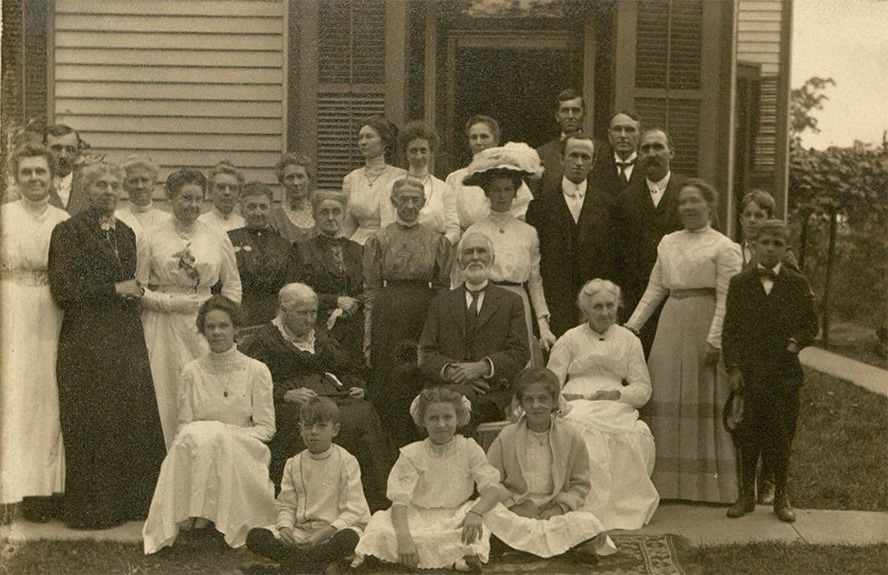 McKee Family Papers Finding Aid
Check back for more information about our collections!
Johnathan Cooper
Manuscripts Librarian
*Biographical content and family tree done by Kristie Sayler