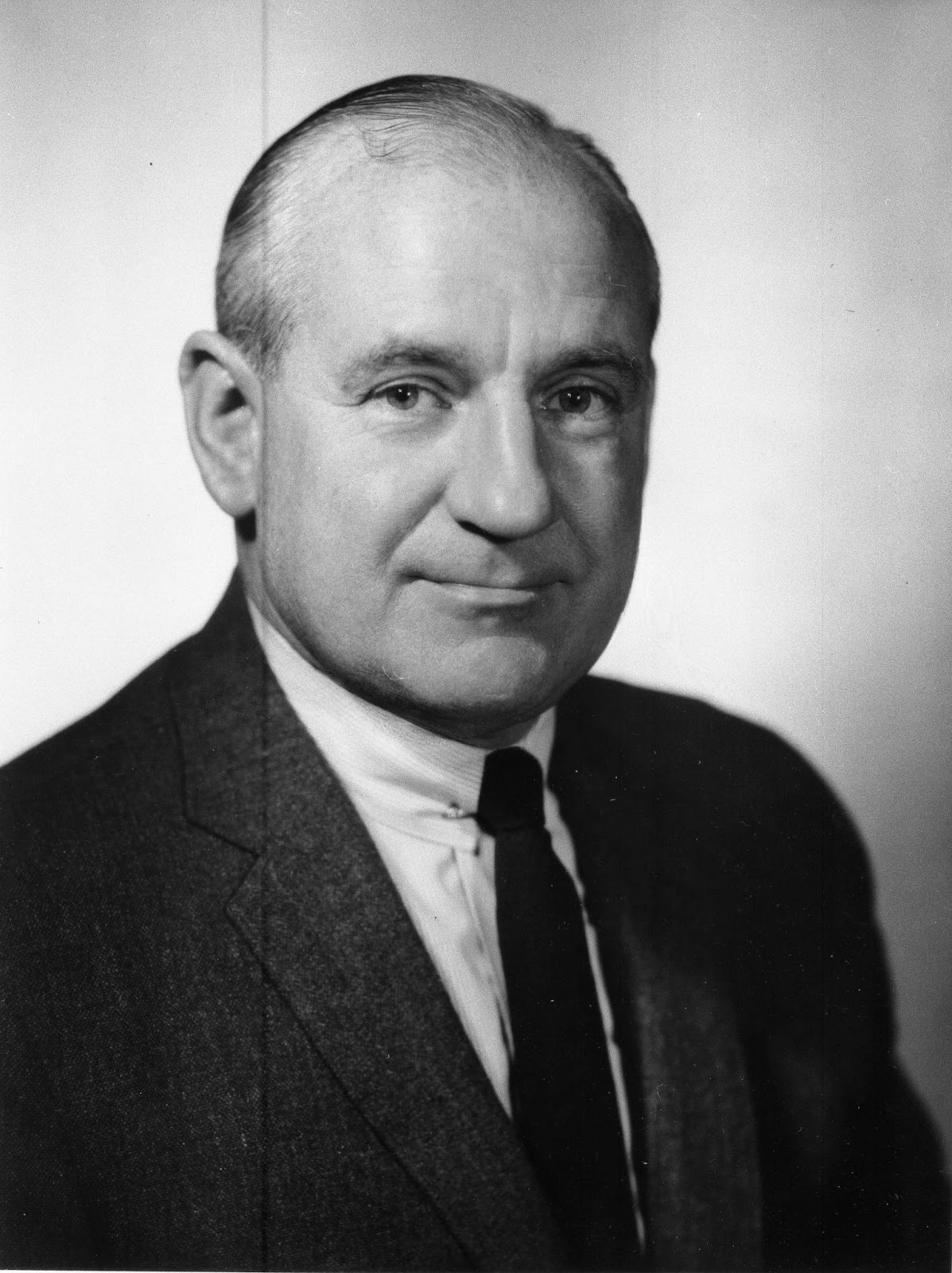 Throughout the years, we have posted about a number of collections or notable alum. On this very special day, the Walter Havighurst Special Collections and University Archives would like to pay tribute to a very special Miami University alum, Kenneth Grubb. While many come through our doors to access our resources, the story of how we were named has not been told enough.
Kenneth MacLeod Grubb was born on February 13, 1907, in Chicago, Illinois. During his academic career at Miami University, he would begin to live that message as he quickly got involved. He was initiated into Sigma Chi in 1928 and even played freshman football as a tackle and ran freshman track. He became Class President his sophomore year and was active in Student Senate. He was also a member of the Men's Chorus and German Club. He left Miami during his junior year to study at the University of Chicago but returned for his senior year. He graduated in the Spring of 1931. During his senior year, he was awarded a fellowship to study in Germany. This fellowship was sponsored by the American Student Exchange and would give him the opportunity to study German literature at the University of Tubingen. His first-semester experience was documented in the March 21, 1933 issue of the Miami Student. Afterward, he served as a part-time professor of German at Miami University for the 1933-1934 academic year as he completed his M.A. in German. From 1934 to 1937, he was an instructor in German at the University of Chicago. He married then Elenore Scheel on February 13, 1937.

WWII affected many lives and Grubb's was no exception. He enlisted in the Air Force in 1942 as a 1st Lieutenant. He was discharged in 1946 as a Major. We have a collection of letters and telegrams he sent and received during his time of enlistment, along with diaries and scrapbooks. Upon returning home, he returned to work at Prentice-Hall as the Manager of the Foreign Division. In 1950, he was elected Vice-President of Prentice-Hall and was in charge of the Educational Division. In 1953, he was elected as President and Director of Allyn and Bacon, Inc. At the 1964 Spring Commencement, he was presented with the Honorary degree of Doctor of Letters. He retired from Allyn and Bacon, Inc. in 1972.
During Grubb's freshman year, the yearbook published this message for its students:
"Today to every student comes the privilege of associating with those who, going before, have explored the paths of truth. To every professor comes the opportunity of participating in the onward surge of youth, of discovering its potentialities, and of inspiring it to higher endeavor. Tomorrow these associations will become a vital part in the life of each student. Through their influence he will think clearly, speak wisely, live well. For him life will hold the ideal as well as the practical. Upon a foundation thus obtained he will build the towers of life's achievements."


Miami University Recensio, 1928
Unbeknownst to Grubb and Havighurst, they would truly find that professor-student friendship during Grubb's senior year. Walter Havighurst was Grubb's English professor. There was a connection that they had which can be seen in the letters written between them from 1968-1979. It was very apparent in the frequency, length, and contents of the letters that they encouraged each other and they were adding value to each other's lives. These letters depicted the admiration Grubb had for Havighurst, which led to Grubb wanting to pay tribute to Havighurst by donating $50,000 in 1972 to supply furniture to the Rare Books Room and naming the Special Collections Library after Havighurst. In a letter dated December 1, 1972, Grubb wrote to Havighurst: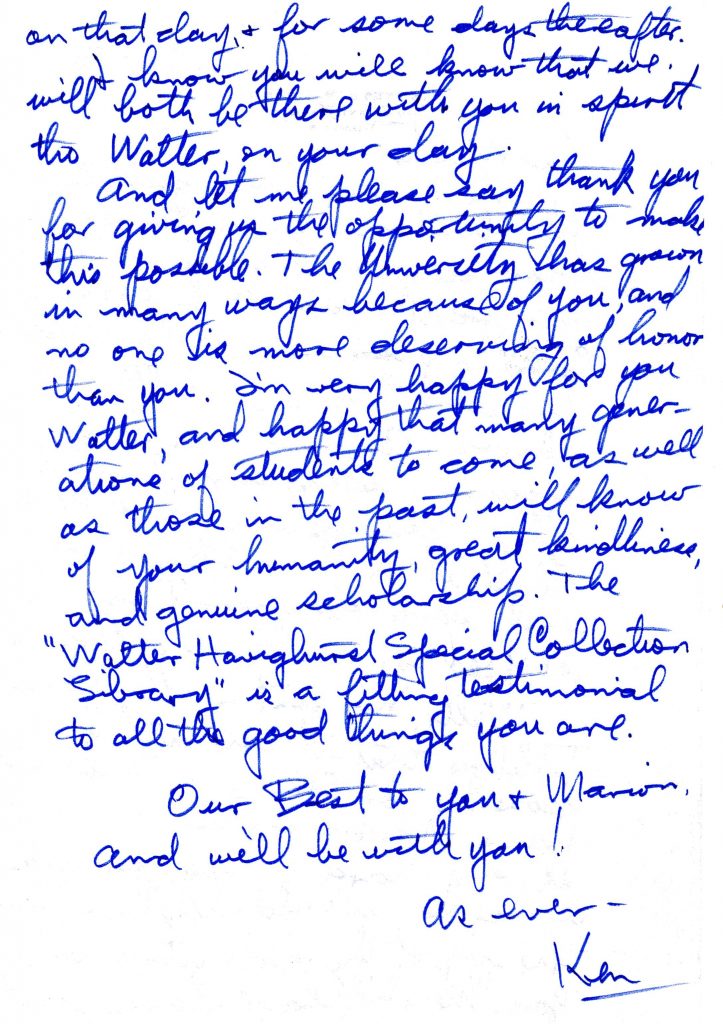 "…And let me please say thank you for giving us the opportunity to make this possible. The University has grown in many ways because of you and no one is more deserving of honor than you Walter, and happy that many generations of students to come as well as those in the past, will know of your humanity, great kindness, and genuine scholarship. The "Walter Havighurst Special Collections Library" is a fitting testimonial to all the good things you are.

Our Best to you & Miami and will be with you!

As ever-

Ken"

Written by Kenneth M. Grubb to Walter Havighurst, December 1, 1972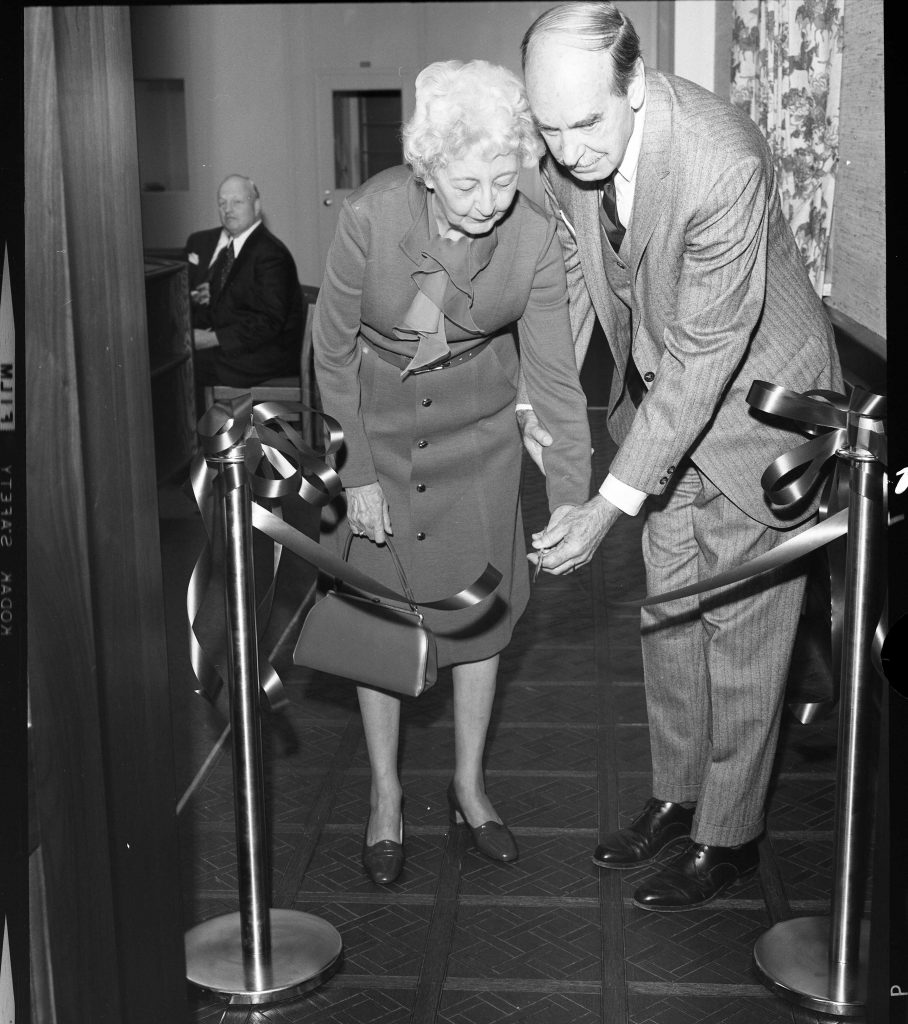 On December 16, 1972, the Walter Havighurst Special Collections Library opened its doors under its new name for the first time.
On May 31, 1979, Grubb passed away in his home. Several months after Grubb's death, Havighurst wrote to Elenore Grubb about his friendship with Grubb over the years.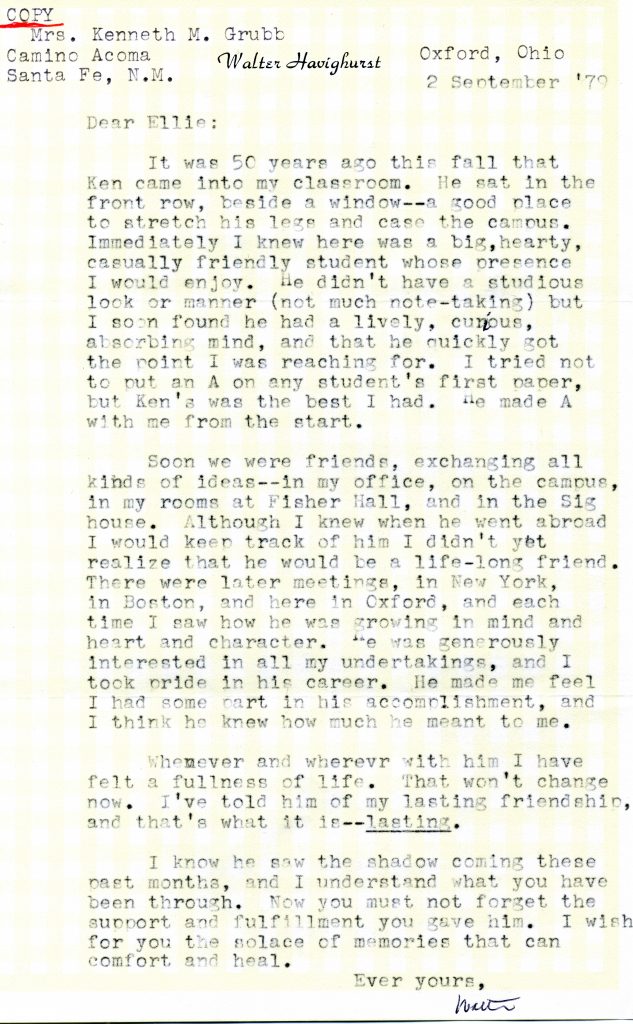 "It was 50 years ago this fall that Ken came into my classroom. He sat in the front row, beside a window — a good place to stretch his legs and case the campus. Immediately I knew here was a big, hearty, casually friendly student whose presence I would enjoy. He didn't have a studious look or manner (not much note-taking) but I soon found he had a lively, curious, absorbing mind, and that he quickly got the point I was reaching for. I tried not to put an A on any students' first paper, but Ken's was the best I had. He made A with me from the start.

Soon we were friends, exchanging all kinds of ideas — in my office, on the campus, in my rooms at Fisher Hall, and the Sig house. Although I knew when he went abroad I would keep track of him I didn't yet realize that he would be a life-long friend. There were later meetings, in New York, in Boston, and here in Oxford, and each time I saw how he was growing in mind and heart and character. He was generously interesting in all my undertakings, and I took pride in his career. He made me feel I had some part in his accomplishment, and I think he knew how much he meant to me.

Whenever and wherever with him I have felt a fullness of life. That won't change now. I've told him of my lasting friendship, that's what it is — lasting…"

Excerpt of letter written by Walter Havighurst to Elenore Grubb, September, 2, 1979.
Our space is not only the home to many rare and unique items, but it is a tangible result of a friendship between a student and their former professor. The kindness and appreciation that was shown between Grubb and Havighurst demonstrate the stuff of what true friendships are made. To see the items cited in this post, please visit our reading room or contact our staff members.