To celebrate the start of the 2015 College Football Season, and Miami's season opener against Presbyterian College, I wanted to talk a little about a member of the Cradle of Coaches who spent time at both schools, Bo Schembechler.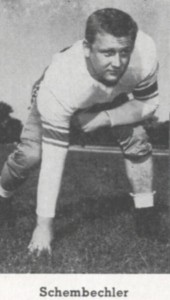 Schembechler is most known for being a College Football Hall of Fame coach at the University of Michigan, and the Ten-Years War with rival/mentor Woody Hayes at Ohio State University. However, before his coaching success he was a student-athlete at Miami University.
Schembechler enrolled at Miami in 1947 and played football and baseball. As a football player, he played for Sid Gillman ('47), George Blackburn ('48) and future coaching rival Woody Hayes ('49-'50). His senior season would also be Woody's last at Miami as he was hired by Ohio State. Schembechler would follow him there as a graduate assistant, where he remained for two seasons.
After a year in the military, Schembechler joined the Presbyterian coaching staff, in 1954, under head coach Bill Crutchfield. The Blue Hose (Presbyterian's nickname) had a record of 6-3 that season. Schembechler would later be an assistant for another Cradle member, Ara Parseghian, at Northwestern University, before re-uniting with Woody at Ohio State.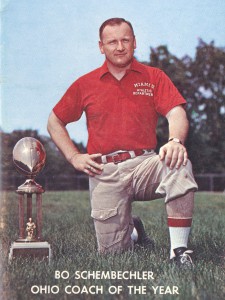 In 1963 Schembechler would return to Miami as it's head football coach, replacing John Pont who left for Yale University. In six seasons at Miami, Schembechler accumulated a record of 40-17-3 (69.2 winning percentage) and two Mid-American Conference Championships ('65 and '66).
His success at Miami led to him being hired by the University of Michigan. There he had a record of 194-48-5 with 13 Big 10 Championships in 21 seasons.  Schembechler retired from coaching in 1989 with 234 career wins and is a member of the College Football,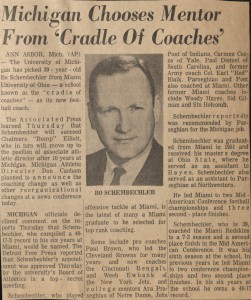 Miami University and Cradle of Coaches Hall of Fames.
As part of the Cradle of Coaches Archive at Miami Univeristy, in the Players and Coaches collection, are several Schembechler related items.  Some of the items include a playbook from his time at the University of Michigan, some programs, interviews and newspaper clippings.  If you're interested in learning more about Coach Schembechler please stop into the Walter Havighurst Special Collections, on the third floor of King Library anytime Monday through Friday, 8 a.m. to 5 p.m. Good luck to Miami against Presbyterian this weekend!
Johnathan Cooper
Manuscript Librarian