Since 2008 researchers of music and theatre have benefited from the generous donations of Mr. Larry Moore, a Miami University alumnus 68, MA 70.
Mr. Moore, a New York-based freelance arranger and orchestrator, has been praised by the New York Daily News as "one of the most ingenious practitioners in his profession."  For the New Amsterdam Theatre Company, he supplied additional orchestrations for Victor Hebert's Eileen and Sweethearts; Jerome Kern's Roberta, Rudolph Friml's The Firefly, and the Gershwin-Romberg Rosalie.  His restoration of Cole Porter's show Jubilee was performed by the New Amsterdam Theatre Company as well as during the Indiana University Cole Porter Centennial Celebration.  For the Goodspeed Opera House, he provided orchestrations for Oh, Kay! And The Chocolate Soldier. With Michael Tilson Thomas, he orchestrated the New York City Ballet's Tea- Rose, based on unpublished Gershwin piano pieces. His adaptation of Babes in Toyland was commissioned by the Houston Grand Opera and later performed by Chicago's Light Opera Works and Opera Omaha. For Utah Festival Opera, he provided additional orchestrations for Frank Loesser's Greenwillow.
Recordings include Fifty Million Frenchmen, Babes in Arms (both for New World Records), the complete Show Boat (for Angel-EMI), Love Lives On (The New York City Gay Men's Chorus), Unsung Sondheim, the Lost in Boston series (for Varese Sarabande), and solo albums for Jason Graae, Liz Callaway, Judy Kuhn, and Rebecca Luker. For city Center's Encores!, he has provided editorial work and/or additional orchestrations for Call Me Madam, The Boys from Syracuse, and Pal Joey (all recorded by DRG.) His choral arrangements for Leonard Bernstein's "Dream With Me and "The Wrong Note Rag" are published by Boosey & Hawkes. His own choral music is published by Yelton Rhodes Music of Los Angeles.
The manuscript portion of the collection predominantly contains pieces written for the New York City Gay Men's Choir. There are several holiday selections as well as medleys of pop culture tunes. The show manuscripts include The Brain from Planet X, Finnian's Rainbow, Babes in Toyland, and several other shows.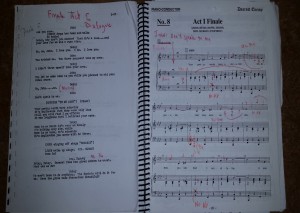 Musical score – manuscript of Dearest Enemy
Personal materials include a wide range of correspondence and contracts related to Mr. Moore's work in the music industry. There is a section of documents related to Mr. Moore's affiliation with the American Society of Composers, Authors, and Publishers (ASCAP).   Additional items of interest include report cards and diplomas from kindergarten through his master's degree, and family photos.  The collection includes thousands of playbills and programs from various productions that Mr. Moore has attended.
The printed music collection includes hundreds of popular songs from the 1900's forward. Well-known artists include Leonard Bernstein, George and Ira Gershwin, Cole Porter, the Beatles, and Henry Purcell. While the bulk of the manuscripts are in Special Collections, many of the books and media are held in the Amos Music Library.
Some of the latest donations include full productions of Roberta and Dearest Enemy from draft to performance. Some unpublished materials including the musical theatre Libretti, like the original 1934 Anything Goes, the full score of Mr. Moore's Cole Porter musical Jubilee, a script for Bernstein's CANDIDE that Mr. Moore proposed production for the Middletown Lyric Theatre.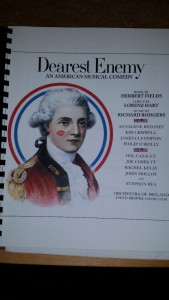 Complete production of Dearest Enemy
Thanks to a great staff in Special Collections and Archives who sorted, organized, housed for preservation and created a finding aid for Mr. Moore's collection and a wonderful article in the winter 2015 edition of The Miamian and subsequent emails from his friends seems to have also benefited the Libraries by his donations to his Alma Mater.
This October Mr. Moore will be visiting Miami University and he will be in Hamilton on October 7, 2015 as a guest speaker at the Michael Colligan History Project (colliganproject.org) with his presentation "Everyone Want To  Be Sondheim."