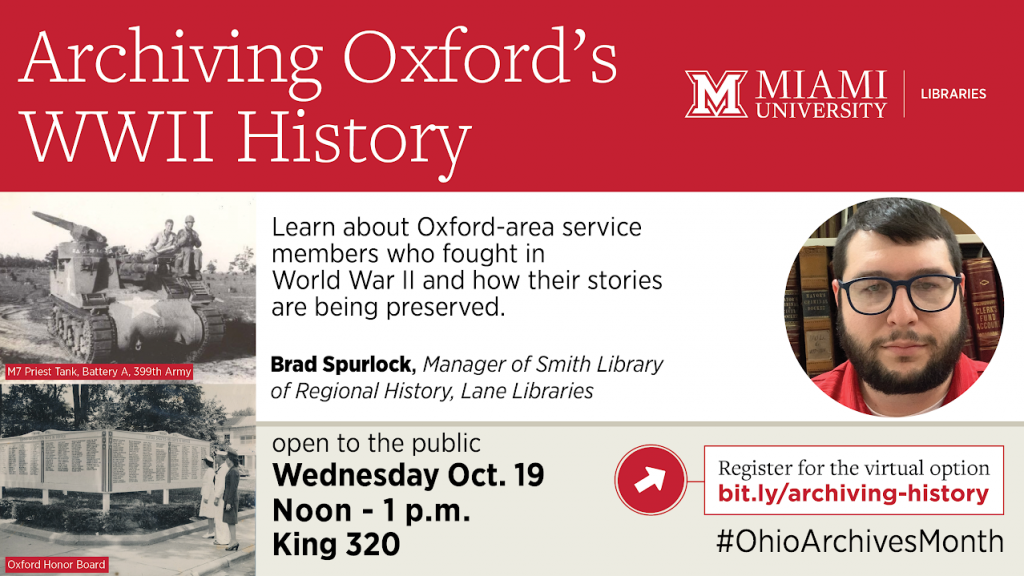 Thank you to all who attended our first lecture last week! The panelists shared helpful information and answered many questions from our attendees.
Our second lecture, "Archiving Oxford's WWII History" featuring Brad Spurlock, Manager of Smith Library of Regional History & Cummins Local History Room, is on Wednesday, October 19, 2022, at 12 PM EST. We welcome in-person and virtual attendance as this lecture will be conducted in a hybrid format. This lecture will be held in King Library in room 320. Registration is required for our virtual attendees. Please register at: http://bit.ly/archiving-history.
Mark your calendars for October 24, 2022, for our third lecture, "Miami Presents: 100 Years of Research Excellence" featuring Suzanne R. Kunkel, Executive Director of Scripps Gerontology Center for Miami University. Our fourth lecture, "Miami Presents: From Studio 14 to Seinfeld" features Candace Pine, Rare Books and Manuscripts Librarian for Miami University, is set for October 26, 2022. Registration and location information will be provided during the week of October 17, 2022, for these lectures.