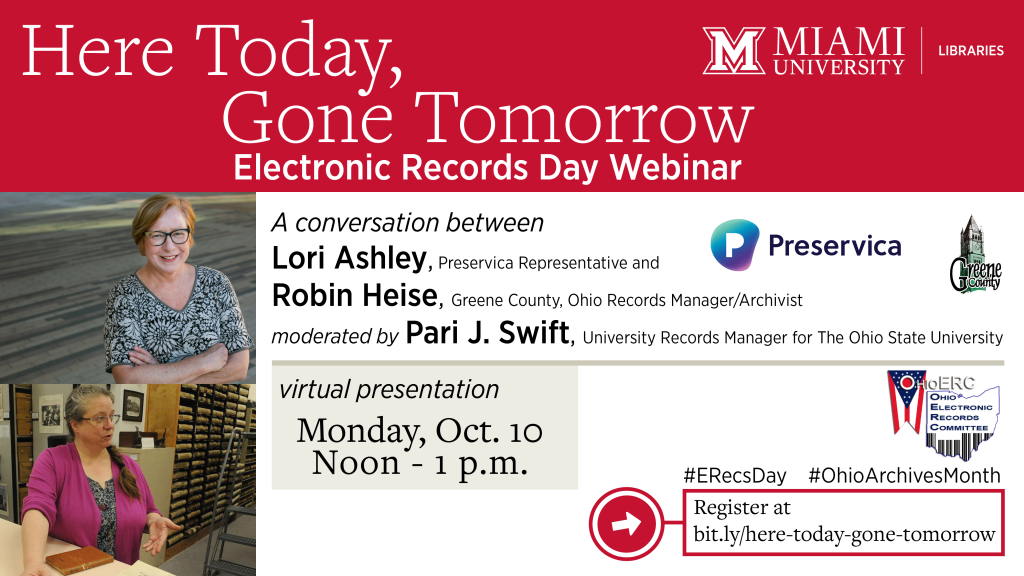 Happy Ohio Archives Month!

To celebrate, the Walter Havighurst Special Collections and University Archives are happy to announce that we have a series of four lectures planned for October.

Our first lecture, "Here Today, Gone Tomorrow: Electronic Records Day Webinar", will be presented by Lori Ashley and Robin Heise. Lori is a Representative for Preservica, a company that provides software to organizations, companies, and government bodies to preserve their digital documents. Robin is the Ohio Records Manager and Archivist for Greene County, where they house over 30 types of records from newsletters to reports. In the age of materials being digitally born and digitized, libraries and archives have been researching digital preservation methods and tools. Pari J. Swift, the University Records Manager for The Ohio State University, will be moderating this discussion. Please join us on Monday, October 10, 2022, at noon EST when Lori and Robin discuss how to not only manage these digital files but to also preserve them for years to come. For more information on this topic, feel free to view a blog post on Preservica's website which can be found here: https://preservica.com/blog/document-management-vs-digital-preservation.
Please register at: http://bit.ly/here-today-gone-tomorrow. Registration is required to attend.
Our following lecture, "Archiving Oxford's WWII History" featuring Brad Spurlock, Manager of Smith Library of Regional History & Cummins Local History Room, is on Wednesday, October 19, 2022, at noon EST. We welcome in-person and virtual attendance as this lecture will be conducted in a hybrid format. This lecture will be held in King Library in room 320. Registration is required for our virtual attendees. Please register at: http://bit.ly/archiving-history. More information will be provided during the week of October 10, 2022.