Update: Class of 1958 alumnus honors mother's legacy with bequest to Miami University Libraries
One of the pleasures of working in Special Collections is having the opportunity to meet individuals who share our passion for libraries, history, literature, the book and other forms of the written record, and the sheer joy that research and discovery can bring.
Sometimes those people are faculty members, or researchers from out of town, or donors of beloved books or papers. Sometimes they're students, encountering these joys for the first time. Looking in their eyes, you see the familiar gleam of excitement.
Once in a great while it's someone who fits all of those categories. Such an individual is John H. (Jack) White, Jr.
Originally from Cincinnati, Jack attended Miami when the library was the Alumni Library (now Alumni Hall), and there was no Special Collections department. But his history professor, W.E. Smith, and Ned King, the Librarian, shared a special treasure with him: the Covington Collection, full of wonderful early books on the Old Northwest Territory, and off-limits to most students. Apparently they saw the future historian in Jack, and he has never forgotten the thrill of delving into those volumes, now one of the mainstay collections in the Walter Havighurst Special Collections.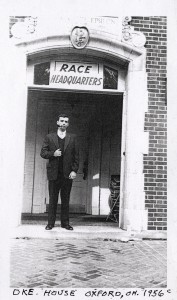 Jack graduated from Miami in 1958 with a degree in European history and obtained a job at the Smithsonian Institute, where he found himself curating transportation artifacts and materials. His love of history, combined with a knowledge of machinery and a fascination with the details of transportation, led to his nationally-acknowledged expertise and the authorship of a number of books and articles about railroads, steamboats, and the human drive to travel farther, faster, cheaper and more comfortably. His many awards include an honorary doctorate awarded by Miami in 1996. Later this month he travels to St. Louis, where he will receive the Captain Donald T. Wright Award for his distinguished contributions to river-related literature from the Herman T. Pott National Inland Waterways Library.
When Jack retired from the Smithsonian in 1990 he chose to live in Oxford. Returning as an adjunct professor in the History Department at Miami, he also began a long relationship with Special Collections. That relationship has been marked by Jack's continual generosity, including the establishment of an endowment to honor Janet Stuckey on her retirement in 2011 (the Stuckey Fund) , and most recently through the establishment of a very generous bequest to Special Collections.
But Jack's support of Special Collections has gone far beyond his financial gifts, as appreciated and as important as those are. Jack has been a constant and vocal supporter of Special Collections at the university and in the community. He has beat bushes for us. He has drummed up interest. He has sounded our trumpets.
It seems only right that we recognize him and forever connect him with Special Collections.
On Tuesday, March 17, we will celebrate our spring exhibit, The Ready Ones, with a reception from 4 to 6 p.m. At the beginning of that program Dean Jerome Conley will name the Special Collections exhibit gallery in honor of Jack and (at his request) his mother, Christine S. White. It was she who insisted he attend Miami, he says. Without her he wouldn't have had the remarkable life he has. And we wouldn't have Jack in our lives.
We hope you'll join us in recognizing Jack's many contributions to Special Collections, as well as his mother's gift of her son to Miami, the Smithsonian, the history of transportation, and us.
It just wouldn't be as much fun without you, Jack.
Elizabeth Brice
Assistant Dean for Technical Services & Special Collections