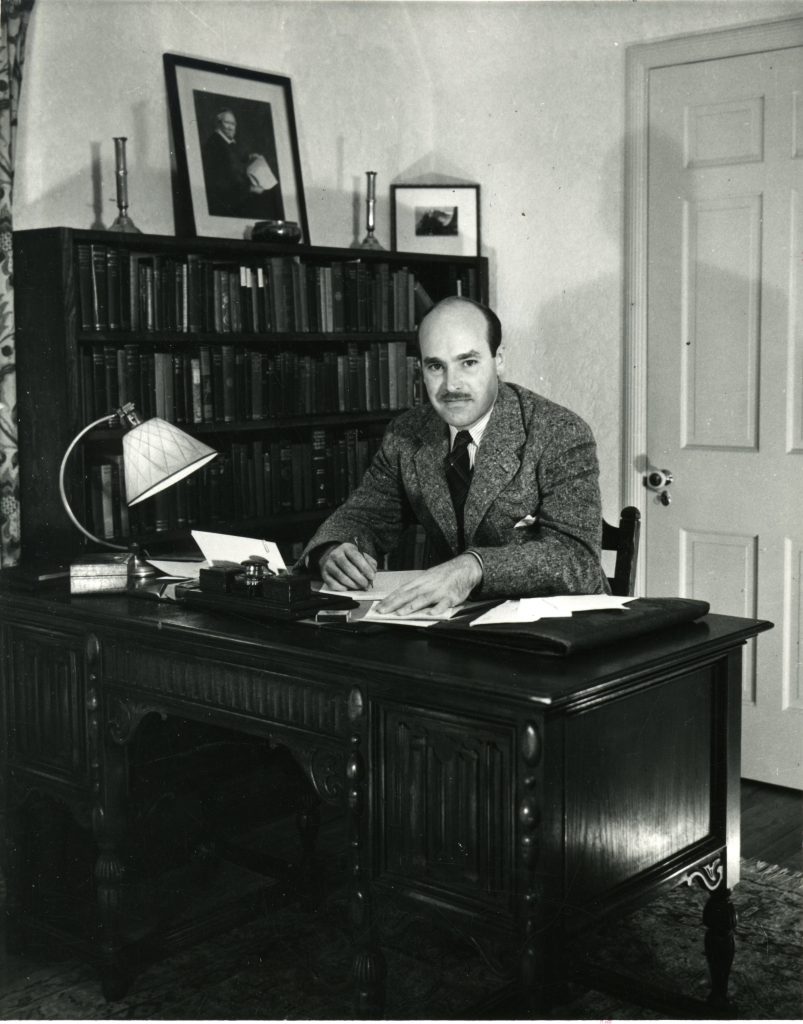 The Walter Havighurst Special Collections and University Archives has been the home for primary sources for 50 years. Our materials have helped our researchers answer their questions or have taken their research on a path that led to more than what they imagined. While many recognize us for our exhibitions, classes, and research materials, the question is asked quite regularly: "Who was Walter Havighurst?" In celebration of our serving for 50 years as a tribute to him, we would like to highlight Walter Havighurst on what would have been his 121st birthday.

Walter Edwin Havighurst was born on November 28, 1901, in Appleton, Wisconsin. He received his bachelor's degree from the University of Denver and his bachelor's degree in Sacred Theology in 1924 and 1926, respectively. He also studied at Kings College at the University of London during the Winter of 1926 and Spring of 1927. In 1927, his brother Robert Havighurst, who was a chemistry professor at Miami University at the time, encouraged Walter to come to Miami for a visit. He became attracted to Miami University's campus as it reminded him of his home in Wisconsin. Upon completing his Master's degree from Columbia University in 1928, he applied for a position at Miami University and was appointed as Head Resident of the former Fisher Hall dormitory and an English professor teaching creative writing and American literature. It was during this first year of teaching that he met his wife, then Marion Boyd, when they were assigned to the same departmental office. They were married on December 29, 1930.

After a forty-one-year career at Miami, Havighurst retired from teaching at Miami University in 1969. During this time, he accomplished the following:

Won 4 awards (one of which he was awarded 3 times)
Received honorary membership to Phi Beta Kappa
Received 4 honorary doctorate degrees
Wrote 29 books (3 of which were with his wife, Marion Boyd Havighurst), 22 articles, 45 short stories, and over 300 book reviews
Complied works for 7 anthologies
Contributed chapters to 5 works
After retiring, Havighurst completed 5 additional works. While this is only a portion of his accomplishments, he touched the hearts of many students during his tenure. (One of which will be featured next month!) Quite a few former students of his would attend a number of our lectures about his life and his areas of interest and would speak about their experiences with him. He was known as Mr. Miami. He knew many details about Miami University and its history. In 1958, Havighurst published The Miami Years: 1809-1959, a book to celebrate Miami University's sesquicentennial and recount its history until that time. Labeled as a retirement year project, Havighurst updated the book and changed the title to The Miami Years: 1809-1969 to provide 4 additional chapters to highlight the events and changes on and around campus from 1960-69.

Havighurst passed away on February 3, 1994. His memory is still cherished by those he touched. Dr. Phillip Shriver said it best in his tribute to Havighurst:

"As we remember this remarkable man who lived for so long among us and who set our souls humming with the music of his words, it seems only right that he be included with the Bishops, the Scotts, the McGuffesys, and those other great men and women of Miami history whose names will always be at home on the wide spreading campus. Yes, spring will soon be on hand, the earth will warm anew, and the rebud will bloom again among the white sycamore trucks along the Talawanda. And when they do, Walter, we will think of you."

Excerpt from "A Tribute to Walter Havighurst" by Philip R. Shriver, 1994.