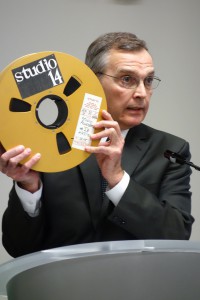 We regret to say that today we learned of the passing of Miami University alumnus, Rick Ludwin. A longtime figure at NBC Television, Ludwin began his career here at Miami. During his time as an undergraduate student, Ludwin hosted "Studio 14," a variety-comedy show that aired on Miami's WMUB-TV station. Then, after earning his Bachelor of Arts degree in 1970, Ludwin went on to graduate school at Northwestern University, and soon after he began working in broadcasting for stations WXYZ-TV Detroit and WLS-TV Chicago. Eventually, he became a producer on both Bob Kennedy and Mike Douglas' television talk shows.
It was during his time working in Chicago television that Ludwin met and impressed Brandon Tartikoff, who soon after was appointed President of NBC Entertainment. Tartikoff then offered Ludwin the position of Director of Variety Programs at NBC in 1980. By 1983 Ludwin had been promoted to Vice President for Specials and Variety Programs. Later, in 1989, he was named the Senior Vice President for Specials, Variety Programs and Late Night, and then in 2005 Ludwin was promoted to Executive Vice President for Late Night and Primetime Series.
Looking back on his early years with the network Ludwin admits, "I thought I'd be here a year and be fired or would leave out of frustration, and here I am all these years later. It worked out pretty well."
Things did indeed work out well. As a result of his 32-year career with NBC, Ludwin is credited for the success of series such as "The Tonight Show with Jay Leno," "Late Night with Conan O'Brien," "Late Night with Jimmy Fallon," "Saturday Night Live," "Unsolved Mysteries" and, most notably, "Seinfeld." Furthermore, in addition to serving as an executive on numerous successful NBC programs since the 1980s, Ludwin also made cameo appearances on "Seinfeld," "Saturday Night Live," "Late Night with Conan O'Brien" and alongside comedian Bob Hope. Ludwin also supervised numerous landmark primetime specials, including the EMMY Awards, Golden Globe Awards and "Saturday Night Live" primetime specials. Plus, he worked on NBC's 60th and 75th Anniversary telecasts, and helped to oversee the television special "Motown 25: Yesterday, Today, Forever."
Throughout his career, Ludwin maintained strong connections with Miami University. He regularly visited campus to give talks to students and recently, on March 19, 2019, the Williams Hall TV studio located on campus, the place where Ludwin began his career by hosting "Studio 14," was named the "Rick Ludwin Studio" in his honor. Furthermore, Ludwin was a great friend to the Walter Havighurst Special Collections and University Archives. He participated in several special lectures here, and he generously donated many interesting items related to his career in broadcasting to us, all of which can be viewed by anyone who wishes to visit us here in King Library. This includes a small display that is currently up in our reading room, which features items from Ludwin's career, including several "Seinfeld" scripts, one of which is signed by members of the cast.
Rick Ludwin passed away after a short illness on Sunday, November 10, 2019 at his home in Los Angeles. He will be missed by many.
For more about Rick Ludwin:
Rick Ludwin Collection: http://archivesspace.lib.miamioh.edu/repositories/7/resources/535
"And Now, Live From Miami…" Exhibit opening reception, featuring Rick Ludwin: https://spec.lib.miamioh.edu/home/opening-reception-and-now-live-from-miami/
Special Collections Lecture Series – "Studio 14," featuring Rick Ludwin: https://spec.lib.miamioh.edu/home/annual-lecture-2013-studio-14/
"The Seinfeld Connection" Exhibit: https://spec.lib.miamioh.edu/home/the-seinfeld-connection/
WMUB Archives: https://digital.lib.miamioh.edu/digital/collection/wmub-merged