With the many and varied resources in Special Collections, it's always a challenge choosing which ones to focus on for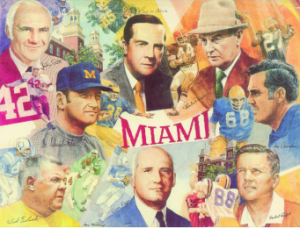 exhibits and special events. This October we will be celebrating two fascinating collections and we hope you will join us.
On Homecoming Saturday, October 19, we'll host a reception for our main exhibit this semester, Cradle of Coaches: A Legacy of Excellence. From 4 to 6 p.m. in the Special Collections Exhibit Gallery and Reading Room, and the adjacent room 320, all on the 3rd floor of King Library, we'll celebrate the legacy of our coaching heritage with an extended exhibit, additional media, and refreshments. At 5 p.m., after a welcome from Interim Dean Jerome Conley, Nick Selvaggio, one of the original donors of the Cradle of Coaches Archive, will talk about the origin of the collection. Then Johnathan Cooper, the exhibit curator, will lead guests on a guided tour of the exhibit.
On the following Wednesday, October 23, at 4 p.m., Miami alumnus and former NBC vice president Rick Ludwin will give the inaugural Annual Special Collections Lecture. Each year this new lecture series will highlight one of our many special collections.
"STUDIO 14," Miami University Television and Radio, 1966-1970, will highlight the Rick Ludwin Collection, which includes recordings of Miami radio and television productions made during Ludwin's student days. The lecture is being presented in honor of Professor Emeritus William Utter, former faculty sponsor. It will be held in King 320 and will be followed by a reception at 5 p.m.
Both events are free and open to the public. Please join us to learn more about the amazing resources available here in the Walter Havighurst Special Collections.
Elizabeth Brice
Assistant Dean for Technical Services and
Head, Special Collections & Archives