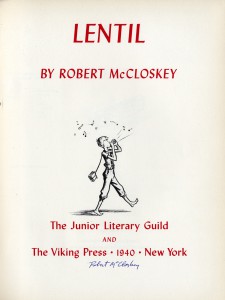 September marks the centennial anniversary of the birth of Robert McCloskey, the much-honored and beloved children's author and illustrator who was born in Hamilton, Ohio on September 15, 1914. A new documentary by Sam Ashworth will be premiered during the McCloskey Centennial Celebration Event on the Miami Hamilton campus, Saturday, Sept. 13, at 7 p.m. in the Wilks Conference Center. A panel including his daughters will discuss his legacy.
Following graduation from Hamilton High School, McCloskey attended art school but like most artists found it difficult to make a living. So he turned to writing and illustrating children's books. His first, Lentil (1940), was based on his Ohio boyhood. The next became a classic: Make Way for Ducklings (1941).
McCloskey had spent time in Boston first as an art student and then as a muralist and had noticed the comic journeys of ducks and ducklings around the city's Public Garden. His charming rendering of the clash of human and animal travels won him a Caldecott Medal in 1942.
Additional works followed. Homer Price (1943), Blueberries for Sal (1948), One Morning in Maine (1952), and A Time of Wonder (1957) were all award winners, and also won fans of all ages. Among his many honors: two Caldecott Medals, two Caldecott Honor Awards, two Ohioana Book Awards, and honorary doctoral degrees from Miami University (1964), Mount Holyoke College (Mass., 1967), and the University of Maine (1990). In 2000, the Library of Congress presented him with its Living Legend Award.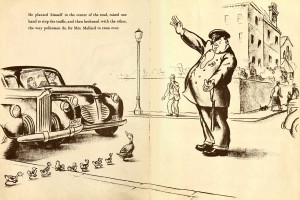 The Edgar and Faith King Children's Literature Collection in Special Collections holds all eight of the works he authored as well as two authored by others and illustrated by McCloskey. Most of them are also available in the Instructional Materials Center, King Library ground floor.
McCloskey and his family settled on an island off the Maine coast after World War II. He spent the rest of his life in that beautiful environment, very different from southwestern Ohio, and died there in 2003. But the Ohio boy who made good lives on in the wonderful stories he told and the wonderful pictures he drew.
Happy Birthday, Bob.
Elizabeth Brice
Assistant Dean for Technical Services & Special Collections