Earlier this week Miami University hired football coach Chuck Martin to become the newest member of the Miami coaching fraternity also known as the Cradle of Coaches. On behalf of Miami university Libraries and the Walter Havighurst Special Collections we'd like to welcome Coach Martin to Miami.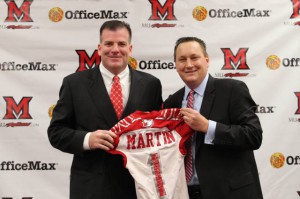 Coach Martin got his start in coaching at Mankato State University, now called Minnesota State University Mankato, as a graduate assistant under head coach Dan Runkle. From there he became the linebacker coach at Wittenberg for head coach Doug Neibuhr. After a few years Neibuhr left Wittenberg for a position at Martin's alma mater, Millikin University, and Martin followed him, this time in the role of defensive coordinator. After two years at Millikin, Martin joined Rick Rasnick's staff at Eastern Michigan University as the linebacker coach.
In 2000, Martin accepted the defensive coordinator position at Grand Valley State University (GVSU), under head coach Brian Kelly. In four seasons as defensive coordinator GVSU they won three conference championships and two national championships. When Brian Kelly left for Central Michigan University in 2004, Martin was named head coach. In six seasons as the head coach for GVSU, Martin led them to five conference championships and two national championships. During this time he amassed a record of 74-7 (91.4%).
Growing up Martin was a huge Notre Dame fan, and in 2010 he left GVSU to become an assistant at Notre Dame under Brian Kelly. While at Notre Dame he eventually moved into the offensive coordinator position, and helped lead the Fighting Irish to a national championship game appearance in 2012. Now he is the head coach at Miami University, looking to turn around a program that has only won eight games in the last three seasons.
Martin is looking to carry on the legacy of the great Miami coaches who came before him. Coaches likes Sid Gillman, Woody Hayes, Ara Parseghian, John Pont, Bo Schembechler, Bill Mallory, Randy Walker, and Terry Hoeppner, to name a few. The Walter Havighurst Special Collections here at Miami University has lots of great items from these coaches, ranging from playbooks, correspondences, programs, videos, speeches and more. Currently items from this great collection are on display, so come in and take a look at them before the exhibit closes on December 13, 2013.
Johnathan Cooper
Visiting Librarian