Hello, it's Candace Pine here again – intern in the Steward and Sustain department. I'm very excited to share with you that I have put together a small exhibit, which is currently residing in one of the display cases in our reading room. I thoroughly enjoyed the experience of putting this exhibit together from start to finish, and I hope that soon I may be able to turn it into a digital exhibit as well. However, in the meantime, please feel free to stop by and check out the display in person!
✤✤✤
Tourism the Old-Fashioned Way: Travel Guides to England and Scotland
Planning a trip to a new place, either to a new country, or within one's own country, used to be a very different experience from what we are used to today. In a time way before the internet, how did people find out about places they had never been to? They consulted books. Many travel guidebooks were published during the 1800s, and they contained information about places of interest that people might want to visit, plus included drawings or photographs of certain locations that were featured in the guidebooks. Sometimes guidebooks were even framed as a story of someone's travels through a certain region. And those kinds of resources were often all that people had to go on when making plans for a trip.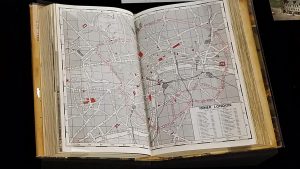 Map of London, The Shell Guide to Britain, Shell-Mex and B.P. Limited, 1964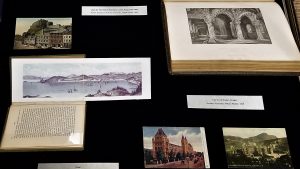 Oban, Nelson's Hand-Books for Tourists: Oban, Staffa, and Iona, T. Nelson, 1859 (left); Interior of Roslyn Chapel, Scotland Illustrated, William Beattie, 1838 (upper right); Postcards
✤✤✤
Today, old travel guidebooks may not be of much use to actual travellers, but they are not worthless. They contain a great deal of interesting historical information, and some wonderful artwork. The items featured in this exhibit highlight England and Scotland in particular, and showcase why those countries have attracted so many visitors over the years.