The Miami University Libraries Walter Havighurst Special Collections and Archives received several John Hough James manuscript letters from a generous donor, Mr. Arthur F. Humphrey III.
The letters consist of personal correspondence, land deeds, and a court case.
John Hough James (1800-1881) was a native of Urbana, Ohio and a graduate of Cincinnati College.  He was a lawyer, banker, railroad builder, scientific farmer and stockbreeder, legislator, politician, editor, lecturer and writer.
One letter, dated 1 December 1845, written to his son John Henry James while the elder James was in Philadelphia with his wife and daughters describes encountering President John Quincy Adams while dining at a nearby Jones Hotel restaurant. James describes approaching Mr. Adams and how they spent over an hour visiting with the former President. It's not every day one has the opportunity to spot a former President let alone sit and chat with him for any length of time.
The letters regarding land transactions were John Hough James serving as legal representative and also the seller of land in Urbana, Ohio
One letter, dated 17 November 1828, involving Mr. James as legal representative before the State of Ohio defending Andrew Murphy. Mr. Murphy was charged with selling "Spirituous Liquor" without a license. It appears from the letter that Mr. Murphy did this on more than one occasion.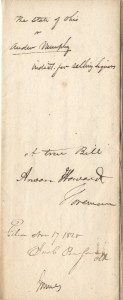 A friend of Henry Clay and William Henry Harrison, James utilized his work as a lawyer and legislator in advising Whig leaders in Congress and the General Assembly of Ohio.  As a banker and railroad builder, James was a pioneer in the development of western banking and transportation.  He was treasurer and president of the Mad River and Lake Erie Railroad, building one of the earliest railroads of the country.  He also pursued farming and stockbreeding.  James founded Urbana University, the first Swedenborgian College in the world, giving the land for the campus and serving as a lifelong trustee for the institution.
The Havighurst Special Collections and Archives  collection features the diaries of John H. James beginning in 1821 and concluding in 1881 and correspondence sent and received by members of the John H. James family from 1814-1863. The letters describe James' life as a student, his experiences in the Ohio State Senate, the creation of the Urbana Banking Company, and finally, various trips and excursions taken by James and his family.
These items add to the richness that is the John Hough James papers while providing a view into the personal and legal lives of men, women, and family, and insight into United States and Ohio history.
Our generous donor Mr. Arthur F. Humphrey, a former trustee of the Johnny Appleseed Museum in Urbana, also included images of the James family so look for those in future posts!