I am excited to announce the release of our first wholly digital exhibit: A Gift of History!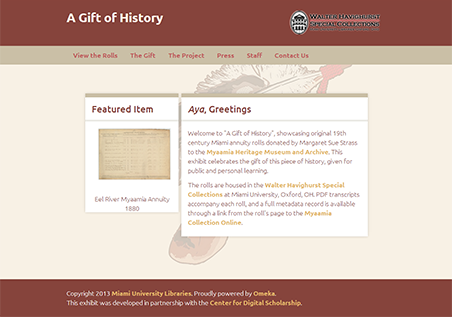 This exhibit features the original 19th century Miami annuity rolls which were donated by Margaret Sue Strass to the Myaamia Heritage Museum and Archive. Part of the agreement to the donation was that the rolls would be kept at Miami University, here in Special Collections, to be viewed by interested scholars, students, and Myaamia for genealogical research.
The rolls donated include:
Myaamia annuity, 1880
Myaamia annuity, 1881
Eel River annuity, 1880
Eel River annuity, 1881
Myaamia census, 1882
Myaamia census, 1882, duplicates
Eel River census, 1882
To make them more accessible, we digitized the rolls and they became the foundation of our new
Myaamia Collection Online
– a resource that is already receiving new donations. While we are excited at the prospect of further expanding the collection, we wanted to commemorate the original gift of the annuity rolls that was its beginning.
For some time, Elias Tzoc in the Center for Digital Scholarship and I had discussed developing an exhibit in Omeka, but we were limited by Omeka's difficulty in managing compound objects like the annuity rolls, each comprising several sheets of paper. However, in a stroke of genius, Elias was able to import the compound object viewer from the Myaamia Collection Online in CONTENTdm to the Omeka platform, allowing us to move forward with the exhibit you now see. This exhibit demonstrates the power of open source platforms like Omeka, allowing designers to import and adapt tools to their specific needs.
In addition to the rolls themselves, the exhibit also details the importance of the time for the Miamis in Indiana when these rolls were compiled: in 1881, 63 registered Miami were granted citizenship to the state of Indiana and the United States, making them the last large group of Miamis in the state to receive citizenship to the United States. The exhibit also provides information on the process by which we digitized the rolls and created a digital collection around them.
This was my first major project here in Special Collections and it has been a fascinating (and, yes, sometimes frustrating) process to bring the collection and this exhibit together, and I am extremely grateful for the opportunity to have worked with these rolls. I would like to thank Elias, Jody, John, and Lori for their help with the project, and invite you all to explore this fascinating gift of history.
Marcus Ladd
Special Collections Librarian