One hundred and fifty years ago, in July of 1863, Confederate General John Hunt Morgan led 2400 troops across the Ohio River and for three weeks terrorized citizens as he moved eastward through  Indiana and Ohio. "Morgan's Raid" produced the only battles of the Civil War fought in Ohio. The Battle of Buffington Island was fought both in Ohio and West Virginia on July 19, and the Battle of Salineville was waged on July 26th and has the distinction of being the northernmost battle fought during the Civil War (according to the plaque at the site of the battle). Morgan was captured shortly after the battle.
After reading news accounts about the sesquicentennial of Morgan's Raid I wanted to see what we might have on John Morgan in Special Collections.  I discovered several histories of Morgan's Cavalry and his exploits in the "North". I also came across a novel, The Sycamore Tree,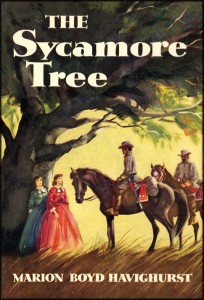 by Marion Boyd Havighurst, the wife of Walter Havighurst, who uses Morgan's Raid as the historical setting for her story. The chronicle of Morgan's Raid, capture, and eventual escape is intriguing, and for those unfamiliar with it I would like to share some of what I discovered.
General John Hunt Morgan was encouraged to take his cavalry into Kentucky by his superior, General Bragg, with free reign to go wherever he chose in that state, and if circumstances permitted, capture Louisville. Bragg, however,  specifically forbade Morgan from crossing the Ohio River. As Morgan planned his raid he confided to his brother-in-law, his second-in-command, Basil Duke, that he intended to disregard Bragg's orders and ride through Indiana and Ohio, hoping to join with the army of Northern Virginia in West Virginia or Pennsylvania.
Morgan's cavalry crossed the Ohio River on July 8th and their ride through Indiana and Ohio caused considerable panic. Indiana proclaimed martial law and Ohio called up fifty thousand militia. Whitelaw Reid offered this description of the invasion: "… the mania for plunder which befell this command and made its line of march look like a procession of peddlers, was something beyond all ordinary cavalry plundering." The author, Jack Rhea, states that the citizens of Ohio referred to Morgan as "Morgan the terrible."
On July 19th Morgan's forces were soundly defeated at the Battle of Buffington Island. Morgan regrouped his remaining men and moved north but was defeated again in a brief battle at Salineville one week later and was finally captured.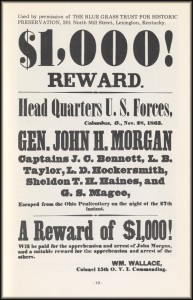 Morgan and his officers were sent to the Ohio State Penitentiary in Columbus, with the intent to treat them as horse thieves and criminals rather than as soldiers, and as retaliation for the way certain Union soldiers were being treated in Confederate prisons. Four months after their capture Morgan and six other prisoners escaped by digging up the stones in their cells with kitchen knives.  They reached an air chamber and tunneled under the walls into the outer yard. From there they climbed the wall using bed clothes as ropes.
Whitelaw Reid describes the findings reached by the State investigation that ensued:
"It was thus disclosed that the neglect which enabled the prisoners to prosecute the tedious task of cutting through the stone floors undiscovered, had its origin in the course-minded suggestion of one of the directors of the penitentiary that the daily sweeping of the cells might be dispensed with, and "the d—-d Rebels made to sweep their own cells." This poor effort to treat the prisoners of war worse than he treated the convicts, enabled them to cover up their work and conceal it from any inspection of cells that was made."
Morgan caught the Little Miami train to Cincinnati, jumped off outside of town and made his way back across the Ohio River to Kentucky, and eventually to the Confederate lines. In September of 1864 he was killed in an attack in Tennessee. He is buried in Lexington, Kentucky.
For this brief account of Morgan's Raid I relied primarily on our copy of Whitelaw Reid's Ohio in the War: Her Statesmen Generals and Soldiers, published in 1893. Reid's history devotes nineteen pages to Morgan's drive through southern Ohio.
We have several other volumes in Special Collections on John Morgan including History of Morgan's Cavalry, written by Basil W. Duke, Morgan's brother-in-law mentioned above . Duke was captured at the Battle of Buffington Island.  We also have The Thunderbolt of the Confederacy (John Morgan and his Raiders) by Jack Rhea, Morgan's Raid in Indiana by Louis B. Ewbank, and Morgan and his Captors by Rev. F. Senour. Harpers Weekly had a front page article on the Raid, along with the illustration used above, in its August 15, 1863 issue. Please stop by Special Collections to read more about this fascinating episode in Ohio's history.
Jim Bricker
Senior Library Technician