"Hi. I'm Mama Jazz and I'm delighted to be back with you tonight!"  That was the greeting often used by the lady with the smooth voice, Mama Jazz!
Phyllis Campbell, also known as the incomparable "Mama Jazz" to her listeners on Miami University's WMUB 88.5 FM public radio station, hosted the Mama Jazz radio show for nearly 30 years. WMUB merged with WXVU in Cincinnati in 1997. Campbell had a "unique voice" which drew listeners to her show.  Her spunky spirit and tremendous knowledge of jazz, is what made her popular with her listeners around the world. During her nightly show she interpreted the stations call letters as "With Mama Until Bedtime." Campbell also worked in other capacities at Miami University from 1967 until her retirement, first in the personnel and guidance department and later as administrative assistant to the dean of the graduate school.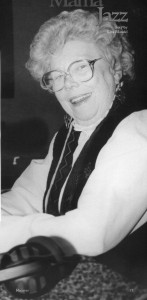 Her Mama Jazz show got its start in 1979 as a 2-hour format, becoming so popular that it eventually became a 4-hour, 5-days-a-week show. Campbell has been described as "feisty as all get-out, passionately devoted to jazz and unabashedly loyal to her legions of fans."
Campbell, who was born in 1922 in Eaton, traveled by train to Cleveland and Chicago in the early 1940's to see big band performances by Duke Ellington, Stan Kenton and other jazz legends.  In 1993, the George H. Buck Jazz Foundation in New Orleans honored Campbell for preserving the music of New Orleans jazz musician George Lewis by locating lost masters and having them digitally transferred to compact discs.
The Campbell Family has generously donated, personal memorabilia, photographs, clippings, her reel-to-reel and 120 min. audio cassettes and 200 reel-to-reel tapes and 500 audio cassettes from her radio programs to the Miami University Archives.  Within in the collection are interviews with the jazz greats Lionel Hampton. This collections allows her memory to live in our hearts and ears!