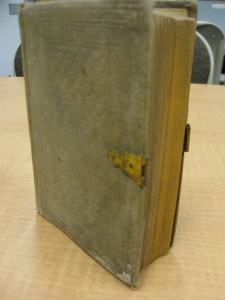 In the archive, you never know what treasure is waiting to be discovered. I found this book the other day. I thought I had found another autograph book, but when I opened it up I was amazed to find a photo album from 1862.
By the 1860's photography was becoming more common. Matthew Brady was already taking war time photographs of battlefields and soldiers, but they were still uncommon enough to be significant. It lead to many questions; who were these people, why did this student collect these particular photographs. What was their story?
Luckily I have so much material at my fingertips, so I decided to do some research. The owner of the album John A Colescott was a senior at Miami University in 1862.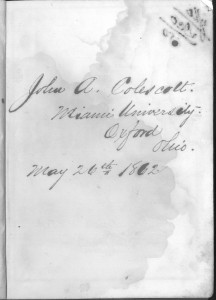 His photo album contains:
• Six pictures of Administrators and Staff of Miami University
• Eight pictures of Fellow Miami University Seniors
• Two pictures of Miami University Juniors
• Three Identified Men, with no known connection to Miami University
• Two unidentified Men
• An Unidentified Woman
• An Identified Women who was a student at the Oxford College of Women
The Civil War had already begun, and so I wondered were these boys getting ready to graduate Miami and join the fight? Is this why these photographs were taken? So I started looking through our Civil War Materials.
John Colescott did not fight in the Civil War. He became a public school teacher upon graduation but many of his classmates did enlist in the army.
Discovering Robert McFarland's materials is where things got really interesting. R.W. McFarland was a professor of Mathematics at Miami University and became a Lieutenant Colonel of the 86th Ohio Volunteer Infantry. McFarland was very passionate in his belief in the evils of slavery, going so far as to assault a student who debated that the Bible supported the institution.
In this three page letter, the student's father complains:
You speak of the treatment you receive from Professor R.W. McFarland of Miami University, for whom I hold the utmost contempt for his overbearing and tyrannical treatment of students who hold political opinions antagonistic to his own, and believe him to be unsuitable and unfit to occupy the position of professor in any college. A professor of an institution of learning, who will so far forget his duty to his pupil, and has so little control of himself, as to suffer himself to be carried away by his anger and resentment so far as to commit a breach of the peace, an assault and battery upon the person of a student, a boy, one who has not the right to vote itself, for merely holding and expressing sentiments differing with his own and will write an insolent and insulting letter to the parent calling the son a traitor, as professor McFarland did to me, is not a good citizen, is not fit for the station he fills, and should be sent to seek some other employment. You request the particulars connected with the treatment my son received at the hands of the professor, which I will endeavor to do as I learned them from a citizen of Oxford who was present… David and some gentleman living in the vicinity of Oxford, were conversing on the slavery question. While thus engaged Professor McFarland came up and commanded him to stop, hush, shut up, or something indicating his displeasure, which command David declined to obey, whereupon the professor laid hold of him and they got into a scuffle breaking some glass in a grocery or apothecary shop… I had the worthy professor prosecuted before the mayor of Hamilton, charging assault and battery against him, to which he pleaded guilty, and was assessed with a fine and costs of prosecution, which proves him to be the aggressor
While serving in the US military McFarland kept up a correspondence with his friends and supporters naming suspected confederate spies, and asking for intelligence on their activities.
In this letter marked "Strictly Confidential" Professor McFarland was asked about specific residents of Oxford Ohio that were suspected of being "disloyal" and "traitors". John Millikin goes on to say:
I wish to know all about what was said and done (at a celebration that lead to speeches calling for succession), not only by the young men, but by the others, male and female. I shall in 'due time', wish to know, the character of the young men, now in the senior class, and to know fully and certainly, who are unmistakably loyal and reliable. Mr Beckett and I wish you to keep your eyes and ears open-to note carefully what you shall see and hear, and to be as cool and quiet as possible.
This correspondence gave a tiny look at the upheaval that Oxford was in during the civil war. Oxford was home to well known Confederate spies Virginia and Lottie Moon, but the majority of students and professors that joined the war effort supported the Union.
It is fascinating where the trail will lead you when you research in the archive.
Happy American Archives Month!
By Elizabeth Maurer