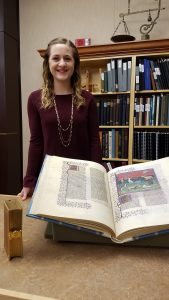 Hello, my name is Candace Pine and I am currently interning here at the Walter Havighurst Special Collections and University Archives. I'm a graduate student working on my Master of Library and Information Science degree through Kent State University, and the concentration I am focusing on for my degree is archives and special collections. So when it came time for me to participate in an internship (a requirement for my degree) I thought there could be no place better for me to go than the Steward and Sustain Department housed in King Library. And so far this internship has been a great learning opportunity.
✤✤✤
One of the perks I've experienced while interning in Special Collections is getting to help with putting materials away after they were used for a class presentation. And I know – that doesn't exactly sound like fun, let alone a perk, but if you love to look at interesting old books like I do, it's actually a great way to spend a half an hour of your time. I walked into our classroom to see that all of the tables were covered in books that needed to be boxed up in their own individually-sized boxes before they could be put away. But there was a catch – the boxes had not been kept in the same order as the books were laid out on the tables, which meant we were going to have to just pick up a box and then search for its corresponding book. And while that may not be the most effective way to go about putting things away, I was happy for the challenge. We were going to have our own little scavenger hunt, where every prize was a beautiful book. So we set out, boxes in hand, trying to match them to books by first looking for something that seemed like the right size and width, and then checking to make sure that the label on the box matched the book. However, we easily became distracted. The Head of the department, Bill Modrow, quickly started pointing out all sorts of interesting things to me, from a painstakingly made facsimile complete with beautifully illuminated pages, to some of the cuneiform tablets the archive owns, and (my personal favorite) a small book with a fore-edge painting. I learned about fore-edge paintings while taking a class on rare books, and it was exciting to see one in-person. I'll never understand how someone could have the patience and precision to paint an entire painting of the edges of the pages of a book, but it's truly amazing to see.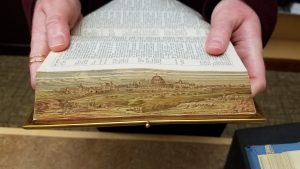 We continued with our scavenger hunt in this way, pairing books and boxes, but stopping occasionally to take a closer look at items we thought were especially interesting. And, while I couldn't actually read any of the books, which were mostly written in French and German, I couldn't help but be a bit mesmerized by them. I've always been impressed by the kinds of art that often went into old books – things like illuminated pages, marbled endpapers and/or covers, and (of course) fore-edge paintings – and there was plenty of lovely artwork to admire in the books as I put them away. But the thing that struck me the most was the feeling of holding books in my hands that were sometimes hundreds of years old. It's hard to imagine where those books have been and who else has held them during their long lives, but it's certainly fun to try. So, sign me up to help out the next time a set of old books needs to be put away. I'm always happy to get lost in a room full of books for a while.