"How much better – in order to obtain a good "sensible" effect – would it be to have the [musical] dynamics regulated by the emotions."

– Edgar Stillman-Kelley (1857-1944)
You might be surprised to learn that remote Oxford, Ohio produced America's first creative artist-in-residence at a college or university. Edgar Stillman-Kelley, a Wisconsin native, wrote music and taught at Western College from 1910 to 1934. He and his wife Jessie (Gregg) Kelley maintained their home base in Oxford until Edgar's death in 1944. The couple traveled from California to New York to Germany to promote the value of sacred and secular classical music through teaching and performing.
Please stop by Havighurst Special Collections and Archives (King Library, 3rd floor) to see a special exhibit featuring handwritten sheet music, a German notecard, and even a sterling silver baton! You can read more about Edgar and Jessie's legacy of creativity and education, and the contents of the Edgar Stillman-Kelley Collection, at the Western College Memorial Archives.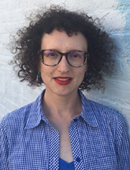 Margaret Breidenbaugh is a second-year MA History student at Miami University and a graduate assistant at the Walter Havighurst Special Collections & University Archives. Her research interests include women's travel writing, 19th-century German society and culture, and American attitudes toward the 20th-century world wars. Margaret aspires to a career in preservation and collections management. She enjoys translating German letters (including the one featured in this exhibit) and had a blast staging her first exhibit! Margaret is a classically trained theremin player.