At the Walter Havighurst Special Collections and University Archives, the staff has continued to share our many collections with Miami students, faculty, staff, and the greater Miami community. The work that is performed with our collections has been recognized by individuals and organizations around the world. Our staff has received many accolades while assisting students who have made discoveries in the classroom or researchers who are seeing our materials for the first time. The work that our student assistants perform allows our staff to do a number of great things. These tasks are different from the tasks the average library student employee. These tasks can involve using specific software such as Adobe Lightroom or researching our catalog by using advanced search strategies. We hire our student assistants based on their skills and interests so that they can only enjoy the work that they are doing and see the impact that their work has had on researchers who use our materials. One example of this, is our Social Media Team.
The Special Collections and University Archives' Instagram account (@miamioh.spec) started in October 2018 by Rachel Makarowski, our Special Collections Librarian. Although unsure of the results, Rachel forged ahead to ensure that the resources of Special Collections and University Archives were shared amongst a social network of special collections libraries and archival repositories around the world. Cody Sprunger, our Senior Library Technician, began assisting Rachel with social media outreach shortly after joining the Walter Havighurst Special Collections and University Archives in January 2019. After a full year of content creation as well as hosting and participating in Instagram challenges with other special collections and archives, Rachel and Cody believed that it was time to look at getting some student involvement in the creation of posts. When the university closed due to the COVID-19 pandemic, Rachel and Cody began to envision the role of a Student Content Creator. This student writer is Carson Minter. He is the second student assistant we would like to highlight in our Student Spotlight series.
Carson Minter
Carson is a second year student majoring in Creative Writing from Twinsburg, Ohio. He joined the Walter Havighurst Special Collections and University Archives during the 2020 Fall semester. He was initially trained on how to properly retrieve, reshelve, and handle materials by Rachel. He also learned how to search our Digital Collection, which has helped him substantially in identifying, researching, and drafting content for our Instagram account. Given Carson's skills in creative writing, Rachel and Cody believed that he would be a great addition to the Social Media Team. They both knew that creative writing and writing for a professional social media account would be very different from each other, but they were confident in his ability to adapt. He also has the creative eye that is necessary to photograph the items of his choosing or to choose eye catching digital items from our Digital Collections. Carson states, "I have been able to extend my writing style to more of a professional tone and take agency especially in the materials that I choose to report about which is the most gratifying thing about this work." In the past 6 months, Carson has managed to create a total of 27 posts for our Instagram account, 9 of which have already been published and 18 of which will be published in the future. His posts contributed to the gain of 92 new followers from January 2021 to present.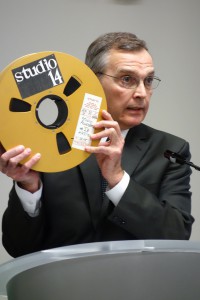 Carson has also applied his adaptability to the variety of tasks our department completes behind the scenes. He says, "I really do enjoy the variety that comes with the work I am doing. One day I might be drafting Instagram posts, another I may be inventorying DVDs and cassette tapes, and yet another putting together an exhibition for our Reading Room." Carson has been a part of the team responsible for inventorying and organizing a recent addition to our Rick Ludwin Collection. (For more information on Mr. Ludwin (MU '70), please click here.) This is a vital step when working with manuscript collections, as it lays the foundation for how the collection will be processed, arranged, and described in its final state. It takes a very focused and organized person to complete this task.
Not only has Carson helped to pioneer student involvement on the Instagram Account, but he has since become a cornerstone in outreach efforts for the department. As a part of these efforts, Carson has curated 3 mini exhibitions in a few of our Reading Room display cases this semester so far, with another one being planned. These mini exhibitions center around a theme that is chosen by either Carson or Rachel. In order to create these mini exhibitions:

He first searches the library catalog and our archives database using keyword searches to find an initial listing of items.
He then pulls the selected items and inspects the pages or content to see which ones he wants to display. Ones that will not be included are returned to the shelves.
Rachel then works with him to install the items, ensuring that preservation precautions are observed as is appropriate when items are displayed for any amount of time.
Carson then writes up labels for each of the items and ties them all together in the chosen theme when appropriate. Sometimes he also creates a blog post to celebrate the new mini exhibition.
Outside of the department, Carson spends his time as a member of MENtal Health Club, which aims to reduce the stigma of men's mental illness on campus by bringing attention to men's mental illness, hosting events, and sharing the on campus resources available for students. He is also a member of the Miami University Fencing Club. After college, Carson plans to choose a path where he can use his skills, pursue his interests, and work with passionate people. Carson says, "I've made it a personal mission of mine to try and surround myself with more passionate people. Working in a quiet environment does also put my mind at ease, but once I learned about the passionate individuals at Special Collections, I knew I would learn so much from them." We have also learned so much from you, Carson. We're happy that you chose to work with us. Thank you, Carson, for all that you do!