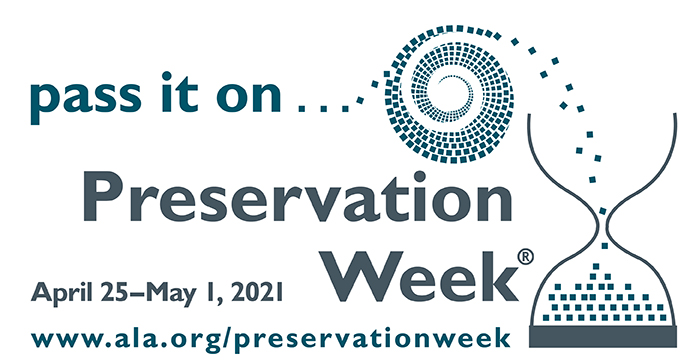 It's the last week in April, and you know what that means: it's Preservation Week!. This annual event, hosted by the American Library Association (ALA), spotlights the work involved in preserving cultural heritage materials for the benefit of future generations. This includes rare books, special collections, and archival materials, such as those found at the Walter Havighurst Special Collections & Archives.

Each year, ALA announces a theme and an honorary chair. This year's chair, Pulitzer Prize winner Nikole Hannah-Jones, leads the theme "Preserving Community Archives."

According to the Society of American Archivists, community archives are "documentation of a group of people that share common interests, and social, cultural and historical heritage, usually created by members of the group being documented and maintained outside of traditional archives." (Community Archives, n.d.) 

Community archives are crucial for understanding the history and legacy of marginalized groups. "As a journalist and founder of the 1619 Project, Hannah-Jones understands the significance of local and community archives collecting and preserving stories that counter dominant historical narratives. By exploring the history of civil rights and racial injustice in America, Nikole Hannah-Jones helps us examine and gain a better understanding of how these issues impact American society." (2021 Honorary Chair, Nikole Hannah-Jones, 2021) 

The stories told in community archives are often missing from the dominant historical record and are highly at risk of being lost forever. Preservationists, historians, and journalists like Hannah-Jones must work together to ensure their survival.

What is preservation?
Cultural heritage preservation, including library preservation, seeks to preserve and maintain historic materials of all kinds, from books to digital artifacts. Whether you're a professional conservator, or an enthusiast hoping to preserve your heirlooms, all preservationists work to counter the effects of destructive forces that cause our objects to deteriorate over time.

The ongoing work of preservation fights against the effects of ten "agents of deterioration:"
Physical forces
Thieves, vandals, displacers
Fire
Water
Pests
Pollutants
Light
Incorrect temperature
Incorrect relative humidity
Custodial neglect & dissociation (item is separated from the records of its creation and history)
(Source: Ten Agents of Deterioration, 2020)

You've probably seen the damaging impacts of some of these forces, like a bleached book spine (light), melted CD (incorrect temperature), or finding a mystery photograph of unknown subjects (dissociation).

If you're interested in learning more about preservation, including how you can preserve your own favorite things, this is a great week to get started. If you're in Oxford and plan to stop by King Library, we invite you to view the display case in the main entrance.

Check out the links and resources below, and don't forget to join us on the Walter Havighurst Instagram for a peek at our preservation work!
Preservation Week Resources
References
Ten Agents of Deterioration. (2020). American Institute for Conservation Wiki. https://www.conservation-wiki.com/wiki/Ten_Agents_of_Deterioration
2021 Honorary Chair, Nikole Hannah-Jones. (2021). American Library Association. http://www.ala.org/alcts/preservationweek/nhannah-jones
Community Archives. (n.d.) Society of American Archivists. https://dictionary.archivists.org/entry/community-archives.html#:~:text=n.,maintained%20outside%20of%20traditional%20archives