At the Walter Havighurst Special Collections and University Archives, the staff has continued to share our many collections with Miami students, faculty, staff, and the greater Miami community. The work that is performed with our collections has been recognized by individuals and organizations around the world. Our staff have received many accolades while assisting students who made discoveries in the classroom or researchers who are using our materials for the first time. The work that our student assistants perform allows our staff to do a number of great things. These tasks are different from those of student employees in other areas of the library as they can involve using specific software, such as Adobe Lightroom, or searching through our catalog using advanced search strategies. There are three of our students who deserve to have a bit more recognition as they have graduated earlier in May 2021.

Meet Emily
Emily earned a Bachelor of Arts in American Studies. She comes from Solon, Ohio, a suburb outside Cleveland. She joined the Walter Havighurst Special Collections and University Archives in Fall 2018. Over the years, Emily has had her hands in a number of projects with our Special Collections Librarian, Rachel Makarowski, and our University Archivist, Jacky Johnson; however in 2019, she was able to be a part of a project that kept her engaged in many ways.
Our Digital Collections Librarian, Alia Levar Wegner was in the beginning stages of curating materials for the Bearing Witness Exhibition with Cody Sprunger, our Senior Library Technician. She approached Emily to assist her in acquiring some materials and to keep a listing of contacts to borrow materials from. Right away Emily invested her time wholeheartedly. Her involvement started off on a small scale, but then she quickly became very instrumental in the creation of Bearing Witness and a concurrent exhibition, As We See It. Since she not only worked with us and was a Hillel Student Leader, she became the student liaison between Special Collections and University Archives and Hillel: Association of Jewish Students. Hillel is a student organization on Miami University's campus that provides a wide variety of social, educational, community service, religious and cultural programming focusing on deepening the understanding of Jewish life and Jewish issues on campus. Emily's passion for teaching others about the Jewish experience and her professionalism really shined when given this responsibility.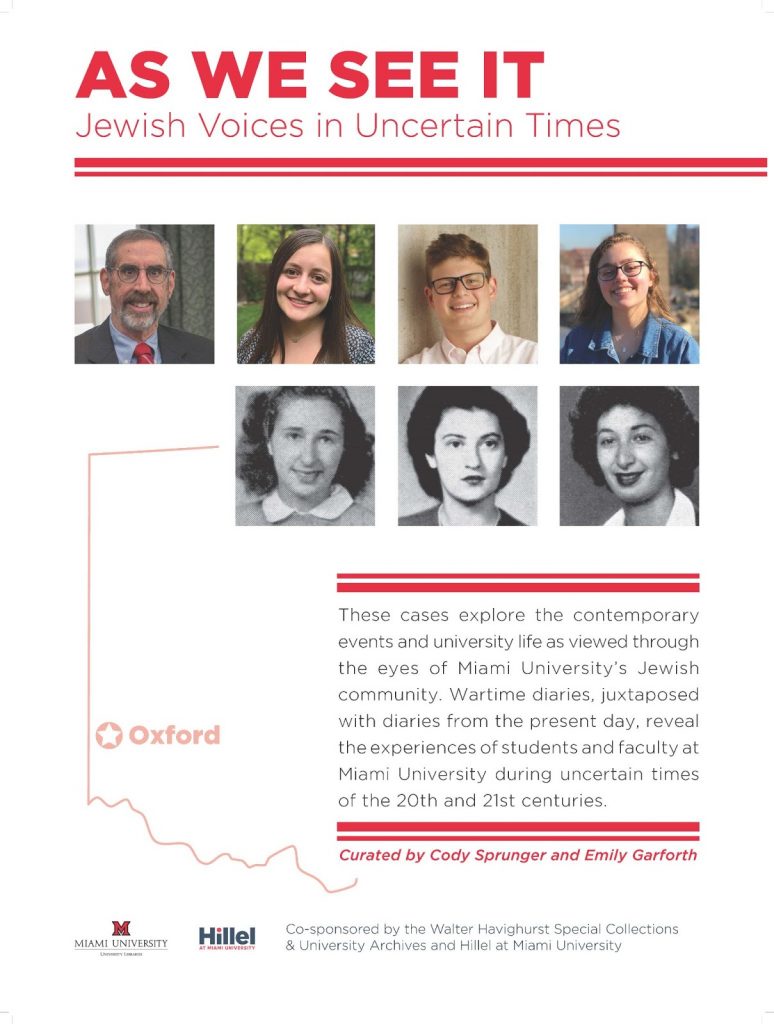 While gathering information and materials for the Bearing Witness Exhibition, Cody re-discovered diaries that were kept by students of a Miami University history professor, Dr. W.E. Smith, from 1942-1957. Ironically, Emily explored these same diaries during her visit to the department during her freshman year. Cody and Emily decided that these diaries should be displayed, but they wanted to do so in a more creative way. Emily thought that it would bring the WWII diaries to life. With WWII occurring between 1939-1945, students were bound to have more input into what everyday life was like during that time. Cody and Emily believed that it would be interesting to have two sets of diaries. One set from Dr. Smith's classes and another set of diaries from current Jewish students and staff to share their experiences. Emily was in charge of securing the current diaries. Five students, including herself, and two faculty members agreed to submit diaries. These two sets of diaries formed the As We See It Exhibition.
When Emily is not with us, she enjoys listening to music and teaching others about Jewish culture. She loves history and books as well. When asked why she joined us, she stated, "I was really interested in helping special collections in any way I could! I really enjoyed this type of work and so wanted to work here." A final thought that she had for us was:


"I'd just want to say thank you so much to Bill, Alia, Cody, Rachel, and Tiffany for making my years here so special and great"

-Emily Garforth
We're happy that you chose to work with us. Thank you, Emily, for all that you've done!