At the Walter Havighurst Special Collections and University Archives, the staff has continued to share our many collections with Miami students, faculty, staff, and the greater Miami community. The work that is performed with our collections has been recognized by individuals and organizations around the world. Our staff have received many accolades while assisting students who made discoveries in the classroom or researchers who are using our materials for the first time. The work that our student assistants perform allows our staff to do a number of great things. These tasks are different from those of student employees in other areas of the library as they can involve using specific software, such as Adobe Lightroom, or searching through our catalog using advanced search strategies. There are three of our students who deserve to have a bit more recognition as they have graduated earlier last month.

Meet Anna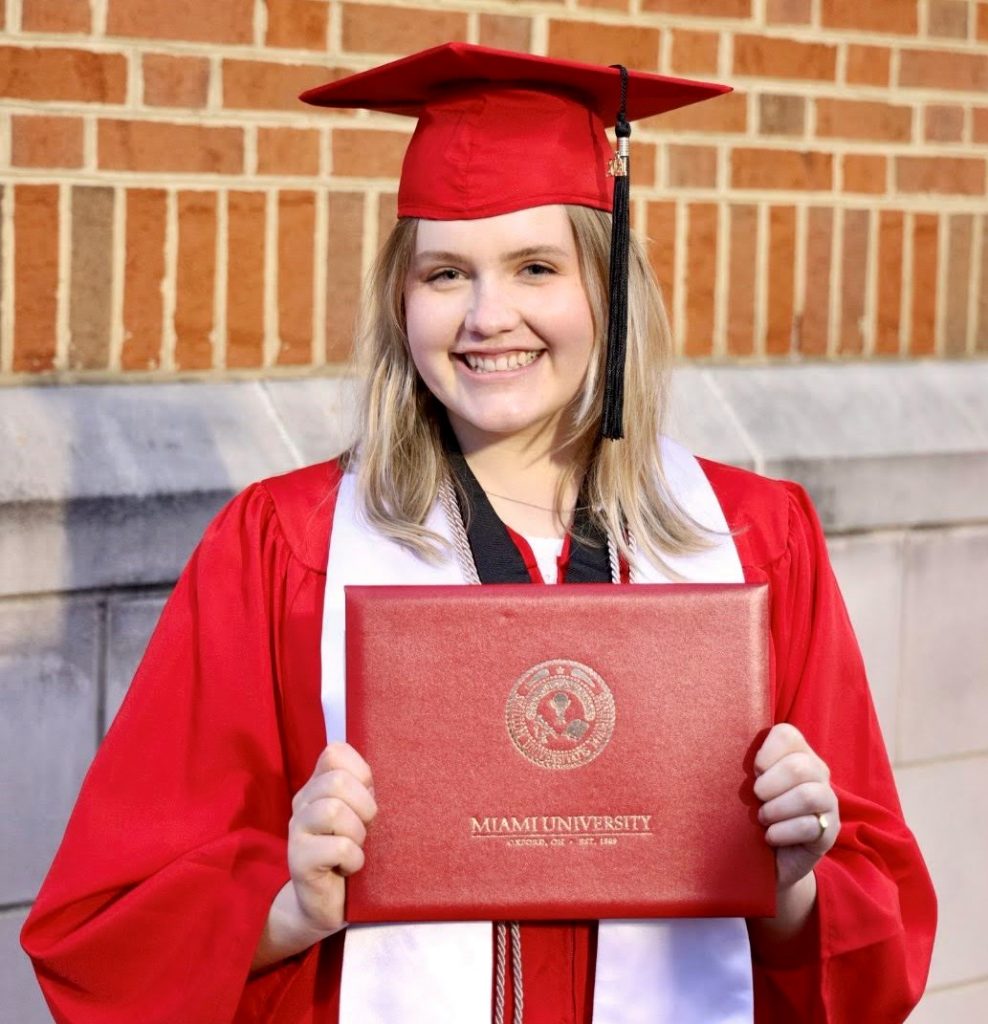 Last month, Anna completed a Bachelor of Arts in Strategic Communication and Political Science with a minor in Interactive Media Studies and Economics. Originally from Gahanna, Ohio, she joined the Walter Havighurst Special Collections and University Archives ("Spec" as it's commonly referred to) at the beginning of the Spring 2019 semester. She was hired to join a small team of students who were responsible for digitizing the 38,811 pages that make up all volumes of the Recensio yearbooks as part of the W.E. Smith Family Charitable Trust grant project. The digitization process is more involved than one would expect. Not only are the pages scanned individually, but each page is also cropped and straightened. The last two students who were highlighted, Megan and Abby, were part of this same project.
When asked why she applied for a Student Assistant position, she stated, "Sophomore year I wanted to get a job. Rather than sit at a desk doing nothing or working in a busy dining hall, I wanted to be able to work on specific projects and be a little more stimulated on the job". During the Fall semester of 2020, she was enrolled in PRISM, a capstone for Strategic Communications. According to the creator of PRISM, Bill Brewer, this capstone "serves regional non-profit organizations' marketing and communication needs while providing senior students experience in producing professional programs in a consulting capacity". Anna's team's client was Miami University Libraries. The Libraries challenged the team to help them develop a strategic communication plan that would help solve an identified problem. Alia Levar Wegner was the contact person for this project. With the project coming to a close at the end of the Fall 2020 semester, Alia created the opportunity for Anna to continue the project to bring the team's findings to life. The continuation of this project involved Anna's knowledge of strategic communication coupled with her viewpoints as a current student. This helped shape the narrative of the Go Digital Initiative. The Go Digital Initiative focuses on featuring library digital resources of which our students can take advantage. Consulting with Anna has given Alia, along with the libraries' strategic communications team, the information needed to advertise to a virtual patron in the college student demographic. There have been three videos that have been published so far on the Libraries' website and on the Libraries' YouTube Page.
Outside of the department, Anna is quite the artist. She is normally painting or making digital drawings. She likes to track all of these on her Instagram page @lifebyannagrace. This summer she could be caught experiencing nature by hiking in parks. One fun fact about Anna is that she created, Women in Social Entrepreneurship, a student organization with her roommate. While building this group, they learned "from entrepreneurs and activists about non-profits and humanitarian orgs in our communities". Since graduating, she will now be able to focus more on her career goal which is to continue her design and branding path that she has been able to experience with us at a more professional level. When asked to describe her experience with us, she replied:
"Thanks for creating such a welcoming environment! Everyone in Spec is so kind and so eager to help out. I really appreciate the attention to growth and the dedication to making my (and everyone's) experience positive and educational! My time here has been so impactful."

-Anna Gyde
We're happy that you chose to work with us. Thank you, Anna, for all that you've done for us! We will miss you terribly!