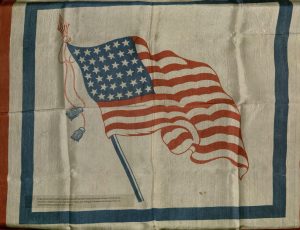 Working with or in a Special Collection and Archives is amazing, in-part because you never know what you will find and discover. Researchers come in with questions, that can open new doors into possible research and connections, and even when browsing the collection you can find things you haven't seen before.
As today is Presidents day I thought I would take a minute to take a quick peek at some of our Presidential materials. There are so many more than I will mention today, so stop by for a visit or contact us if you are interested in more information, or to learn more about what we have.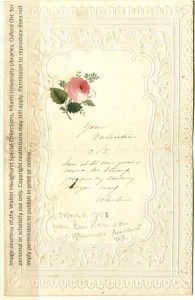 Miami University is the Alma mater of the 23rd President of the United States of America. Benjamin Harrison received his degree from Miami in 1852, while his future wife studied at Oxford College for women. Naturally, of all the US Presidents, the majority of what we have relates to Benjamin Harrison. The image above is a silk campaign handkerchief. We have letters, and records from literary societies he was a member of, photographs to name a few items. Among my favorites is a valentine he sent in 1851 to Helen Kemper. It is fun, because it is a humanizing look at Benjamin Harrison, the young man.
For his 1892 reelection campaign, Benjamin Harrison ran with another Miami graduate, Whitelaw Reid. In the Archives we have many campaign handkerchiefs with their faces embroidered on them and a the desk they worked at, as students, with Whitelaw Reid's laundry bill stuck to the inside. Miami University Special Collection and Archives is home to an Official 1892, Presidential Election Ballot and many campaign ephemera. Our Presidential peek would not be complete without mentioning our materials from our Founding Fathers.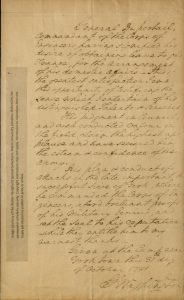 We are home to a letter of recommendation letter for General Louis Le Begne de Presle Duportail, written by General Washington in 1781. The content of the letter may not seem exciting, but looking at the context of the letter is fascinating. The letter closes "Given at the camp near Yorktown this 31st day of October 1781. General Duportail was granted leave from the French Army in 1777, joining the Continental Army at Benjamin Franklin's request. He was a military engineer and commanded the Continental Army's Engineering corp. This letter was written days after the victory over General Cornwallis in Yorktown, the last major battle of the US Revolutionary War. In part due to this letter he General Duportail was promoted to major general of the French forces.
Another founding father we have represented here, is John Adams. This is a letter, dated June 3, 1816, to Richard Rush. The answering letter can be found in the National Archives database. The last presidential letter I will highlight today is our Lincoln letter.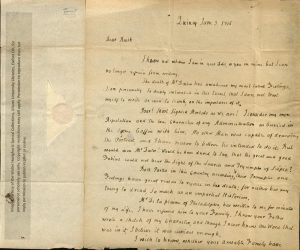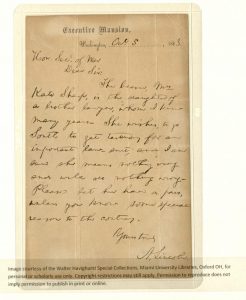 This letter, written on Executive Mansion stationary. In October, 1863 Abraham Lincoln, wrote this pass for James Collins' daughter. James Collins was an attorney that Lincoln knew from Illinois. Kate Sharp needed to cross enemy lines, and get her husband's business papers, after he passed away. This letter also bears a faint thumbprint that has been verified as Abraham Lincoln's thumb print, by the Illinois Historic Preservation Agency and Abraham Lincoln Presidential Library and Museum.
There are countless discoveries waiting to be made in Special Collections and Archives. If this has piqued your interest, stop in, talk to one of our librarians or staff members. We would love to pull out these materials for you to look at and read, and talk more in depth about any of the materials we have.
By Elizabeth Maurer