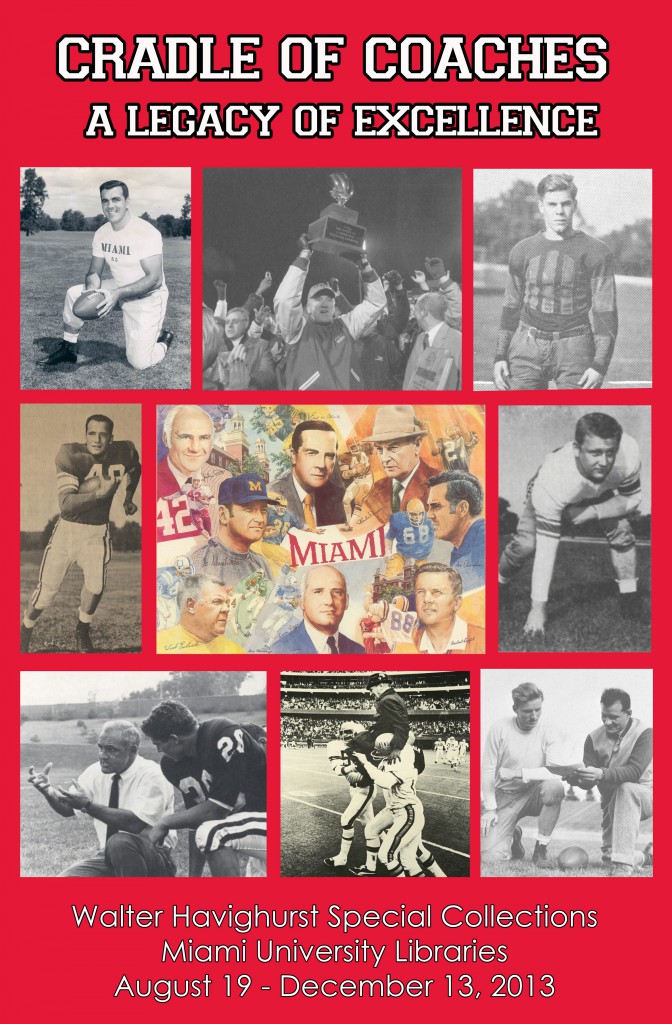 This fall in the Walter Havighurst Special Collections will be an exhibit honoring Miami University's Cradle of Coaches.  The term "Cradle of Coaches" was coined by Bob Kurz in 1959, due to the number of successful football coaches from Miami University.  At this time Earl Blaik (Miami '18) had already won three NCAA National Championships with Army, "Weeb" Ewbank (Miami '28) had just won back to back NFL Championships with the Baltimore Colts, Paul Brown (Miami '30) had won seven professional titles (4 in the AAFL and 3 in the NFL) with the Cleveland Browns and one NCAA National Championship with Ohio State, Paul Dietzel won the NCAA Championship with LSU in 1957, Woody Hayes (Miami Head Coach 1949-1950) had won two NCAA Championships with Ohio State and Sid Gillman (Miami Head Coach 1944-1947) was revolutionizing the passing game with the Los Angeles Rams.  Other coaches, such as, Ara Parseghian (Miami '48), Bo Schembechler (Miami '51), and John Pont (Miami '52) were off to promising starts to their career.  Over the following decades the list would only grow to include names like Carm Cozza, Jim Young, Dick Tomey, Larry Smith, John Mackovic, John Harbaugh, Sean Payton, Bill Mallory and many more.
In college football Miami coaches have accounted for over 4000 wins, 112 Conference Championships and 13 National Championships while winning roughly 60.0% of their game.  There are three Miami coaches (Woody Hayes, Bo Schembechler and Jim Tressel) in the top 15 in career wins and eight in the top 75.  In the NFL Miami coaches have won over 800 games and 13 League Championships (AAFL, NFL or AFL) with three coaches (Paul Brown, Weeb Ewbank and Sid Gillman) in the top 30 in career wins.
Since Mr. Kurz coined the term, the Cradle has grown into more than just football, coming to include all sports.  Within Miami Universities Athletics there is a Cradle of Coaches Association responsible for selecting members to it's Hall of Fame.
To honor these great coaches Gerald and Steve Stout and Nick Selvaggio decided to purchase materials from these coaches and donate them to Miami University Libraries in 2000.  Since then, thanks to more donation from them and others, the collection has grown into what it is today, with large collections of Paul Brown, Weeb Ewbank, Sid Gillman and John Pont with smaller collections of Ara Parseghian, Carm Cozza, Bo Schembechler, Terry Hoeppner, Randy Walker and several others.  The collection consists of playbooks, newspaper clippings, correspondences, awards, memorabilia, photos, program, videos, and speeches.  The highlights of this collection will be on display from August 20th, 2013 to December 13, 2013 in the Walter Havighurst Special Collections of Miami University with an accompanying online exhibit.
John Cooper