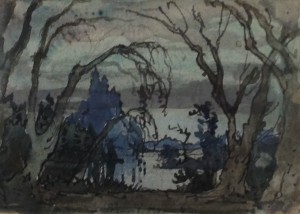 Recently I shifted the framed art in the André and Catherine de Saint-Rat collection, which drew my attention to how little this collection is known and used. In class presentations and private viewings I most often pull books and portfolios, rarely adding one or two framed pieces. It's easier to pull books or even posters than larger paintings and the requests I usually get are almost always for books. However, the fine art pieces are very impressive and possibly the most valuable part of the larger de Saint-Rat collection. Among couple dozen framed paintings and lithographs by various artists from different time periods, several are by Alexandre Benois, who was an extremely important 20th century figure, especially in the context of the de Saint-Rat collection. He was possibly the most influential artist, art critic, theater designer, and author of the Silver Age. He was responsible for the creation of the group Mir Iskusstva (World of Art), establishing the aesthetic for stage design through his work with Diaghilev for the Ballets Russes, as well as for the recognition of many artists, whose careers may not have happened without his involvement.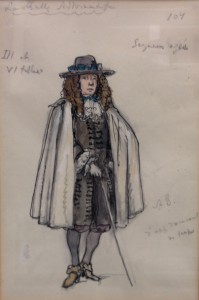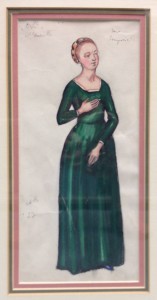 Alexandre Benois (1870-1960) came from a famous family of artists and architects in Russia, which continued the tradition for several generations. He attended the Academy of Arts in Saint-Petersburg, but did most of his training with his older brother and on his own. IUrii Annenkov, also well represented in the de Saint-Rat collection, remembered Benois as an autodidact, whose passion for art extended to all time periods, all nations, and all forms. Benois authored several multi-volume works on art history, painting history, and Russian art. Annenkov also credits Benois with being the father of Russian graphic arts. Before the beginning of the 20th century in Russia there were master draftsmen, but with the influence of Benois there emerged such graphic artists as Konstantin Somov, Eugene Lancer, Leon Bakst. His support extended to young artists working in other forms, as well. Marc Chagall was one of Benois' protégés. The creation of the World of Art group by Benois and Diaghilev helped Russian art expand its range and focus. With the financial help of Princess Maria Tenisheva and Savva Mamontov, who were passionate supporters of artist colonies in the 19th and 20th century, Benois and Diaghilev were able to publish the art magazine "World of Art," spreading their influence farther. The very first issue of the magazine in 1898 challenged the prevalent ideology of realism. Annenkov insists that this influence and the influence of Benois' linear, clear, and very architectural work was ideological rather than stylistic. His unmistakable compositional elements, extreme expressiveness and elegant brushstrokes are very recognizable and, while still representational, go beyond realism in their transparency and weightlessness.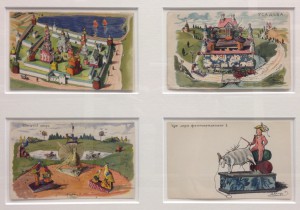 Benois moved to Paris in 1926, around the same time as most of his peers. The political situation in the new Soviet Union prevented most of these artists from working freely and without fear. It's interesting that even now, in the time when Russia is beginning to claim back its famous sons and daughters who had to flee the Soviet Union, Benois' article in the Russian Wikipedia still states that Benois "left Russia in 1926, failing to return from a business trip and without returning his per diem." When Benois did not return, the country lost a lot more than his per diem.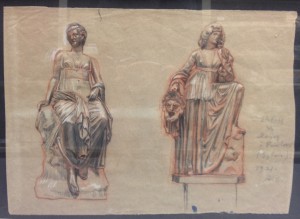 The originals of Benois' drawings and watercolors are not the only examples of his remarkable work. He illustrated many books, which are also a part of the de Saint-Rat collection. The Bronze Horseman is probably his best-known illustrative work. There are several editions of it illustrated by Benois and other artists in Special Collections. There is also a lot more to Alexadre Benois than can be addressed in a blog entry. Stop by Special Collections to discover more about this remarkable figure and to see the pieces in person.
Masha Stepanova
Slavic Librarian