I picked Jack London's The Call of the Wild for this blog post when the temperature was in the teens and snow covered the ground. Our fourth printing of the 1903 edition of London's Yukon tale about Buck, the mixed Saint Bernard, Scottish shepherd dog, would have been a suitable blog topic but instead I chose our 1960 Limited Editions Club copy. What makes it so appropriate is the wool mackinaw material that the volume is bound in.
The monthly newsletter of the Limited Editions Club from February 1960 describes the cover thus:
… it is bound in a fine quality (and mothproof) wool, of a "buffalo plaid" weave in green and black (to live with the illustrations), such as might have been used to fashion the mackinaws worn by Perrault and Francois in the story. The striking wool jacket is embellished with leather patches stamped in gold on the front and the shelfback. The book has a woolen outer coat of the same Far North material by way of slipcase.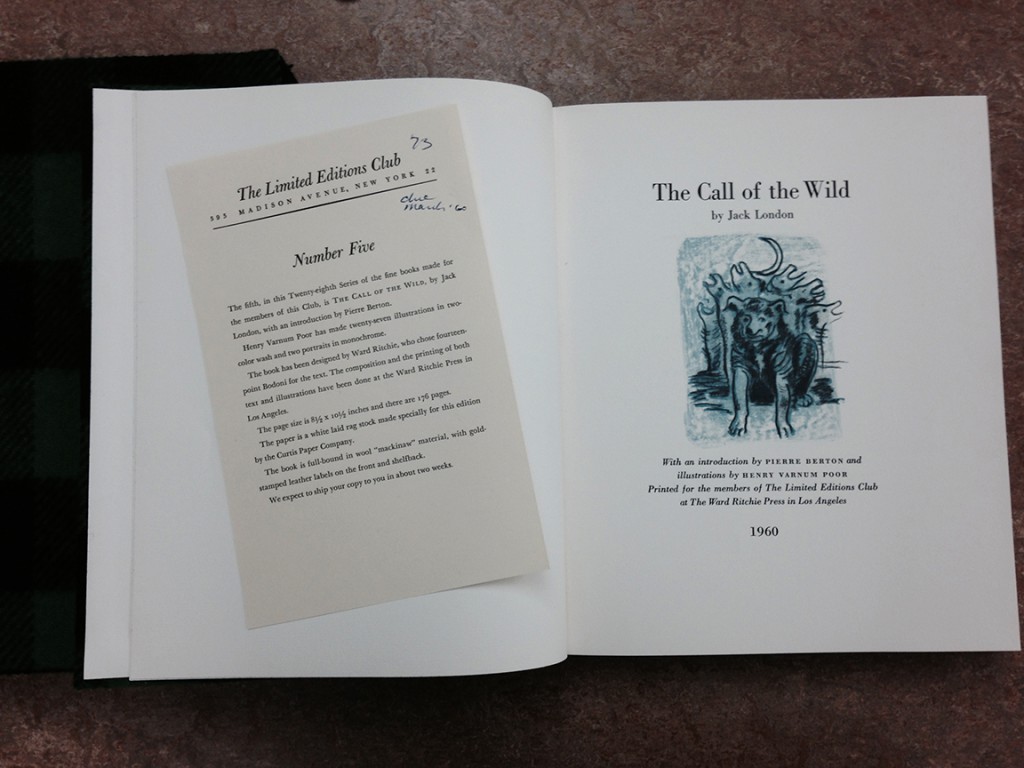 Ward Ritchie Press is responsible for the printing of this edition. Our copy is Number 111 of 1500 copies and is signed by the artist, Henry Varnum Poor who made the illustrations. Twenty-seven illustrations are in two-color wash and two portraits are in monochrome.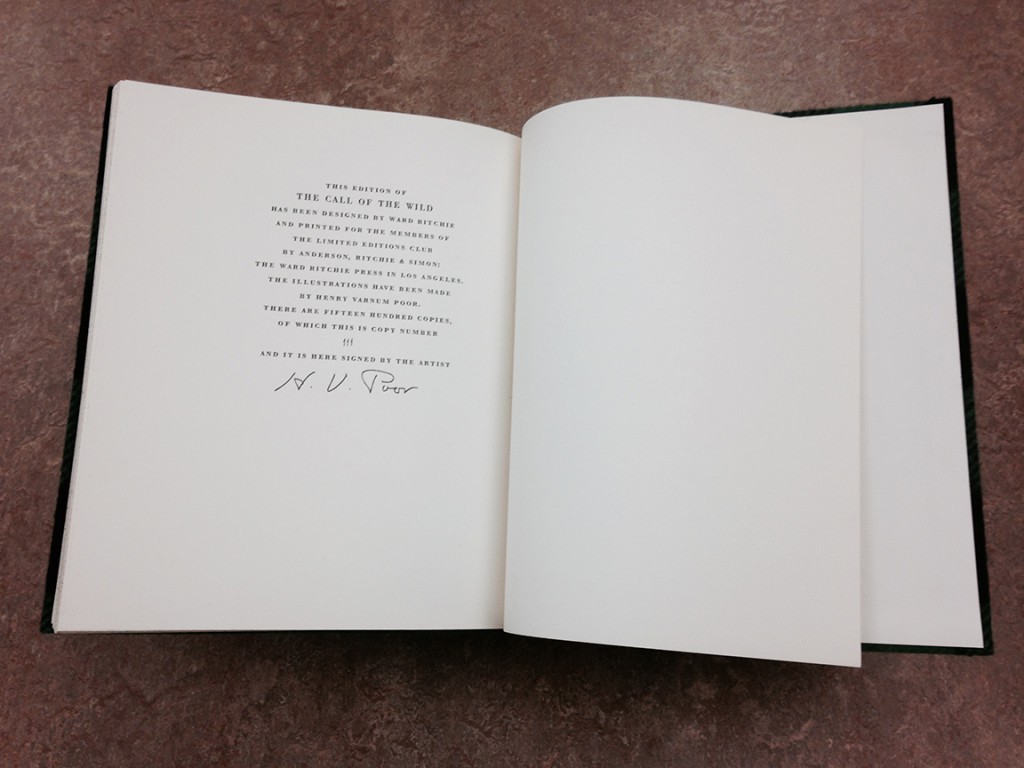 The Curtis Paper Company made a white laid rag paper for this special edition. The pages are 8 ½ by 10 ½ inches, giving the book an almost squarish appearance. The type chosen for the text is fourteen point Bodoni.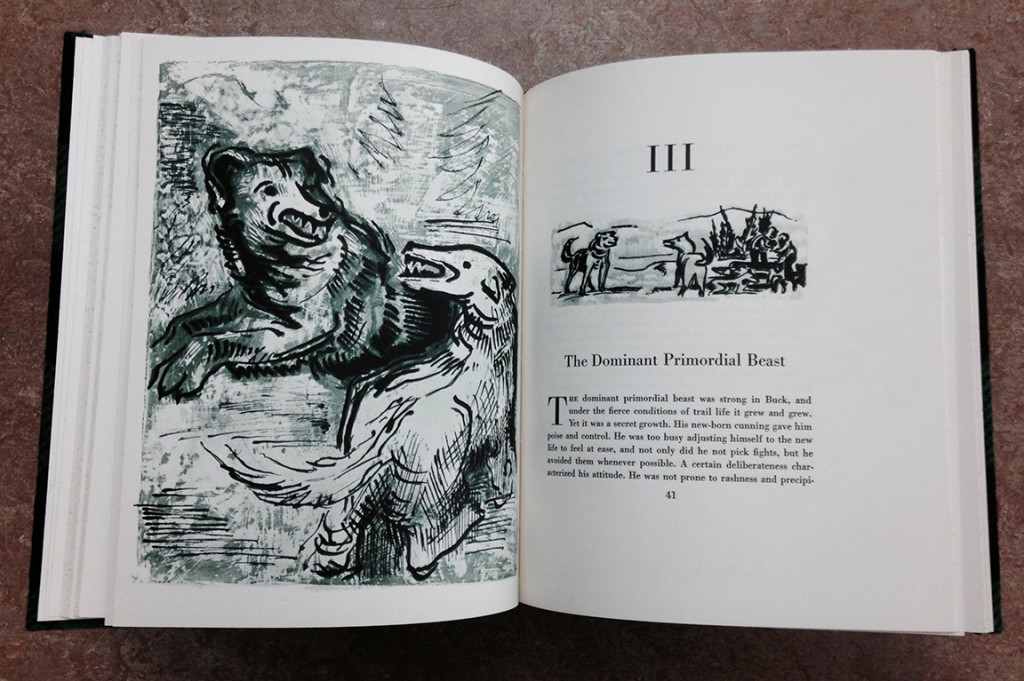 The Call of the Wild was first serialized in The Saturday Evening Post in 1903. Later that year it was published in book form by Macmillan. It has not been out of print since.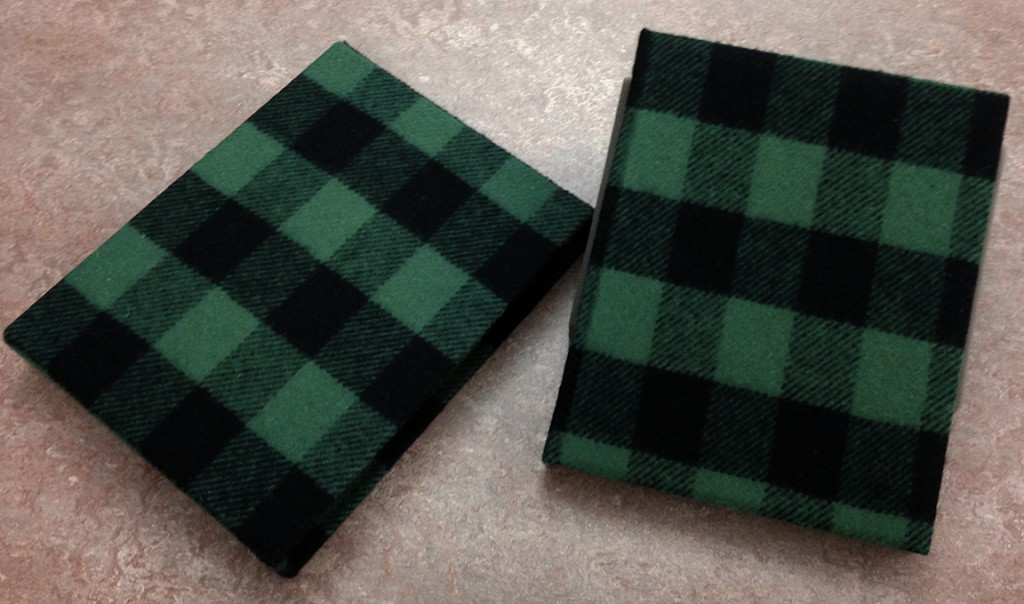 This volume would be the perfect choice when one wants to "snuggle up by the fire with a good book."
Jim Bricker
Senior Library Technician